My Meyer Lemon Tree!
Hello all!
I am new to growing, in general, and I ordered a 3-4 year old Meyer Lemon Tree, and have had it for about 6 days now. I think it just got over the transplant shock yesterday. It seems to be growing. I noticed there were these little purple fuzzies coming out of the area where I had trimmed the tree a few days ago. I fertilized for the first time yesterday, using a teaspoon of Miracle Grow Blood Meal and a teaspoon of Jobes organic vegetable and tomato fertilizer. My tree is really green but when it came it had these white spots all over the leaves. They come off when you wipe them down but they seem to reappear later. They haven't seemed to have any negative effect but they still worry me and I don't like them. I have been using a paintbrush and plain water and trying to get them off each leaf. I have definitely removed a good amount of it but its still there. At first I thought it may have been a fungal growth or a powdery mildew but I am not sure. Anyway here are a few pictures. Please let me know if the little purple fuzzies are the start of flowers!!?!?!? Also, let me know what you think about the white spots. OHHHH and by the way, I have my tree by my window in my room and I water it every 3 or 4 days. In the day time its usually between 72-80 degrees and at night it is usually between 60 and 70 degrees with 60 being an ultimate low. I have 4 lights on the plant. 2 100W 3000K CFLS, 1 45W 2700K CFL, and 1 75W 7500K plus whatever sun it gets during the day. I have the lights on at timer: 12hours on, 12hours off - The time they are On is from 7am to 7pm.
Check out my pics and please answer my questions and feel free to comment and make suggestions!
In the two pictures below you can see the white spots as best as I could show them on my camera. Please let me know what you think it is and how I can get rid of it!!!! (It is sort of difficult to see the spots because there are glares on the leaves from the lights but you can see them, the glare is more yellow/red and the spots are totally white and they feel powdery):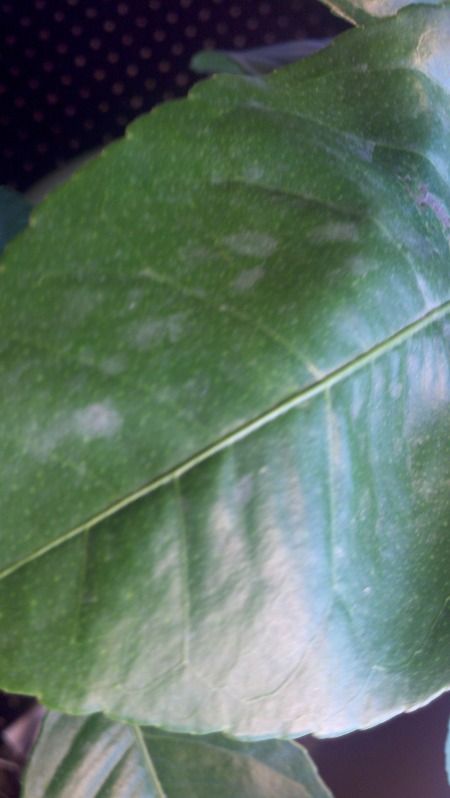 Here is the picture of the purple fuzzies (maybe beginnings of a flower). This image is of the very end of a branch. I am also seeing this appearing in other places: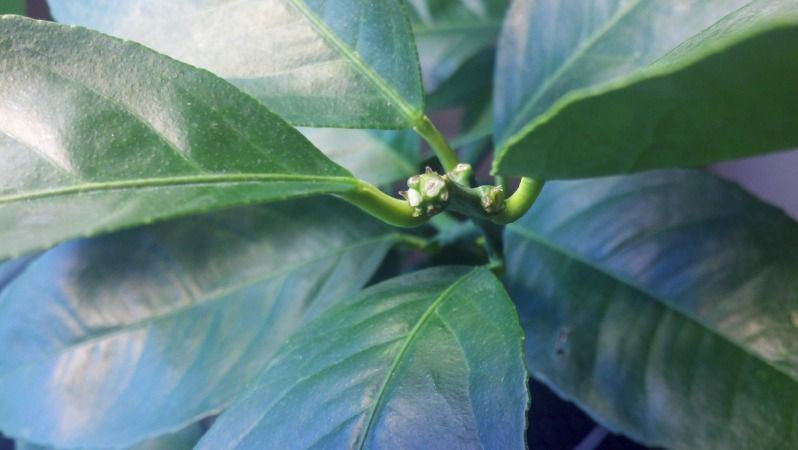 It's kind of tough to see the purple-color in this picture but believe me those little things are PURPLE!
Next I have a picture of my "FOR SURE" new growth. So, I know the thing is definitely growing: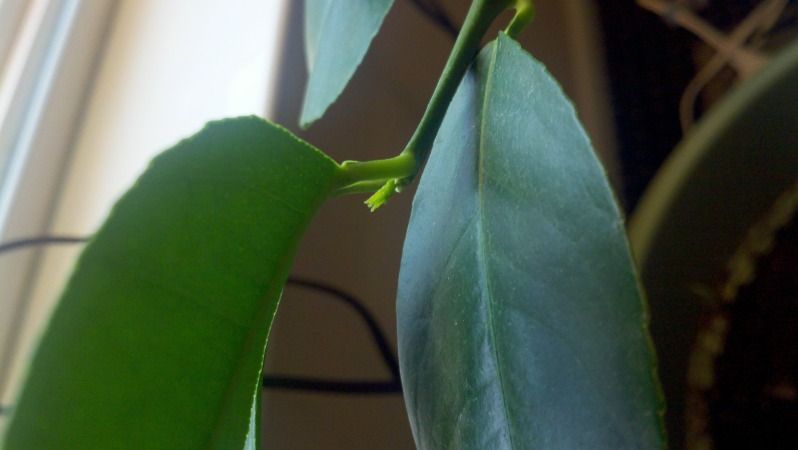 See those little guys coming through? Those weren't there before and I can see it is actually a group of 3 or 4 individual tiny leaves or leaflets and this point! HAHA.
My last picture is of the full tree. It was kind of leaning to one side when I got it and the main branch shooting out from the stem/trunk was broken near the top. I put it back upright and taped it. It seems to be growing back pretty well. I un-taped it the other day and let it get some air for the day. I saw what it looks like underneath. It is healed on the one side where it wasn't COMPLETELY ripped off and on the other side it has a mean gash with some splintered "outer layer," but inside the gash you can see it is connected. Overall, it looks like it bound back together and I re-taped it today just to ensure it is a tight seal and it will be able to get water and nutrients to the tippy top. I also used a wire and connected it from a sturdy part of that wild branch to my window: to pull the branch upright. Hopefully this "training" will fix the lopsidedness. Well without further to do, here she is, in all her entirety, and glory: "Andrea the Lemon Tree":