Is this Elsa Spath?
adiro
(5b/6a Canada)
July 13, 2008
Hi, I purchased several clematis throughout the spring and summer, and they are my first.
I bought two labeled Montana Alba, with a beautiful picture on the label. One of them didn't flower yet, one gave me some blooms, in spite of staying really small ( no more than two feet tall). When I planted it, I found a fingernail size label in the dirt, saying Elsa Spath. The big label hanging on the plant was Montana Alba, that was I was hoping for. The flowers look like this:
;
Unfortunatelly, thinking it's a montana I was hoping on it growing large and covering the fence, however it looks so small and insignificant behind the hydrangea that I have in front.... many catalogues list it as a compact container variety, is it elsa spath and will it stay small?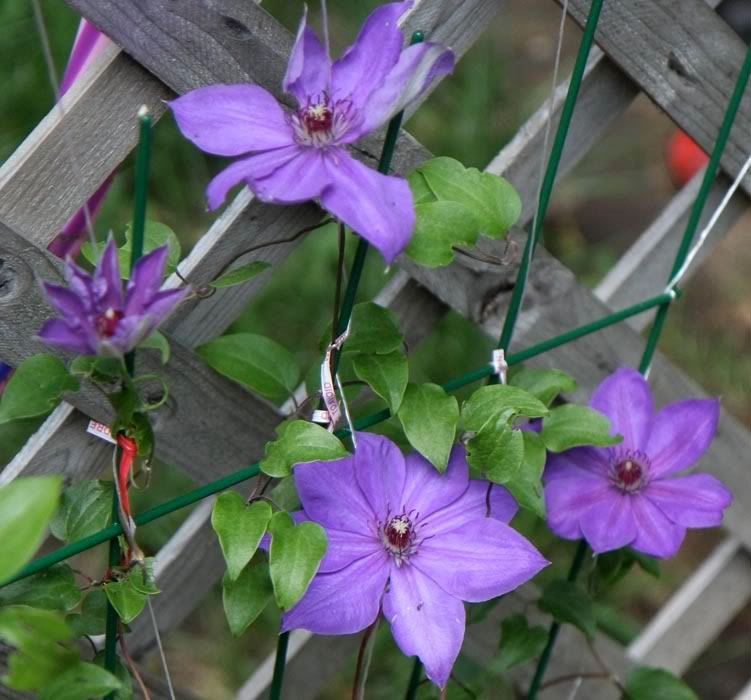 The flowers are much smaller than the Elsa Spath description adn they look darker than the pictures I've found too.
Please confirm, or ID otherwise, thank you!
PS: Thanks to Carol, that explained how to post pictures, I was also testing the techinque in this post, I just opened a Photobucket account :)