Help with Disease ID on Citrus Bush
aberry1401
(8)
June 23, 2013
Please help if you can. I just started gardening a little over a year ago, so every new obstacle in the garden is a new research project, and the latest has me pretty confused. I have three citrus plants: one Meyer lemon, one blood orange, and one mystery citrus bush that I believe may be another Meyer lemon. All three are in the ground in my back yard in San Antonio, TX (zone 8), and all three have received the same treatment this year, BUT the mystery citrus has had a rough time lately. (The other two are doing well, growing fuit for the second summer in a row.)
About the Plant (believed to be Meyer lemon, but I did not plant it, so I do not know for sure):
This bush or tree has not successfully produced a piece of fruit in the last two years (the only two years that I've been in this house with it). This year it blossomed like crazy, then had severe leaf drop followed by complete shedding of all the multitude of little baby citrus fruits that were starting to grow. Some of the fruit yellowed before it fell off, some did not. After that, some of the leaves began to regrow, but there is definitely still something wrong with some of them. They are discolored with randomly distributed yellow spots on the upper leaf surfaces of affected leaves and rough brownish patches showing on the undersides.
I am thinking about removing the bush since I don't want a non-producer (or a disease spreader) in my limited back yard space, so please help if you know what this is.
Here are the questions I'm trying to figure out:
What is this disease (see pictures below)? Is it responsible for the bush's leaf and fruit loss? What are the chances that whatever this is will spread to other nearby citrus plants? What are the chances that it's in the soil and will spread to a new citrus bush if I were to try and replace this one?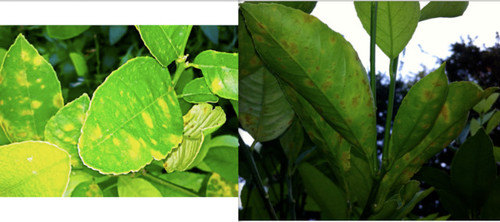 This post was edited by aberry1401 on Mon, Jun 24, 13 at 13:29