Asao seedling
I have a dozen or so clematis growing in my garden mingled with assorted roses, mostly heirloom, and various perennials. A few years ago I posted a picture of one I wanted to identify here on this forum, but had no luck. I suspect the color was off too much. In anyway, that clematis is gone now, a victim of one of the gophers that regularly invade. This past year I lost another, 'Asao'. A few months ago I noticed a small plant emerging nearby. I thought that perhaps the gopher had overlooked a bit of root and 'Asao' was coming back. It certainly was a healthy plant, eagerly growing along a low fence.
Today it bloomed, It is not 'Asao', or at least it is not unless clematis, like roses, can produce some uncharacteristic blooms when the weather is hot. The shade of pink is the same. However, instead of concentrating on the edge of the petals like the color does with 'Asao', here that same raspberry pink is heathered all over each petal with a few darker streaks.
I think it is simply gorgeous. In fact, I like it even better than the parent plant. I'd better get it into a gopher basket soon before I lose it, too.
And if this is indeed a unique cultivar, I'm going to name it after my mother. She was of mixed Irish and Scottish descent, so a heathery clematis would be a perfect tribute to her.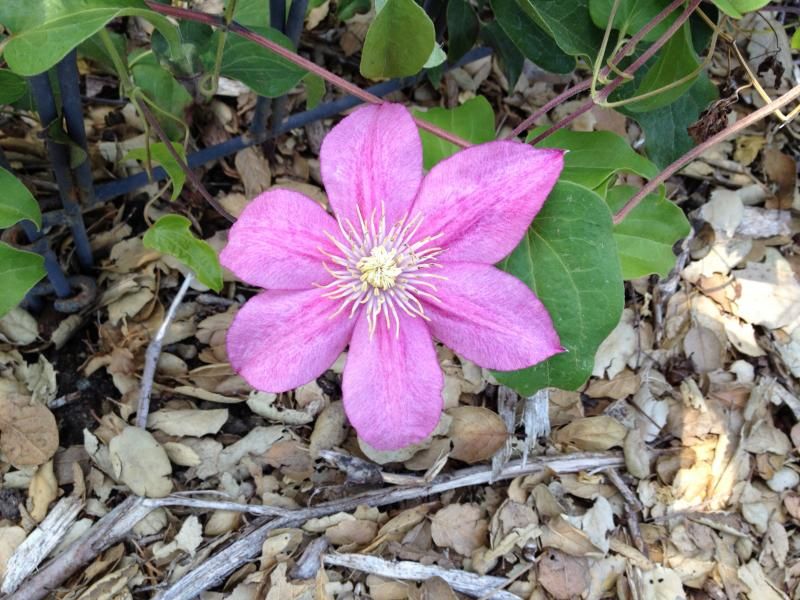 Rosefolly