Labor Day photos
Dzitmoidonc
(6)
September 3, 2012
Some random photos taken between the rain. We are experiencing the remnants of Isaac. Mild winds and bands of rain punctuating peeks of sun. Not really cactus weather, but some have chosen to open.
I think this is Coryphantha elephantidens.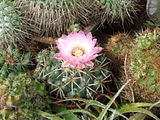 Some kind Huernia, although the bloom appears to come from the Drosanthemum.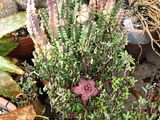 This is Rhipsalis houtelliana, something like that. This plant blooms about 8 months of the year. Wonder why they couldn't use some of those genes to cross with the ones that have the Va-Va-Va-Voom flowers.
A few flowers from some of the Cleistocactus. Although the ones here make most of them in the spring, a few are produced all summer.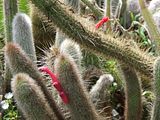 The same plant last spring.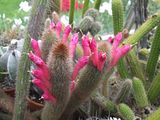 And if I can post a sad looking plant, this South African succulent sure is tough. The slugs eat the leaves, the constant rains make the leaves mildewy, but it still gives me flowers in the fall and spring. Do not open this thumbnail if you are the sensitive type.