jade plant concerns, turning purple, wrinkled weak leaves
Hello, I'm afraid after months of searching information on the internet and my best attempts to follow advice given to others, I have to resort to asking about my problems directly. This is my third attempt at growing a jade plant, and it is again looking sickly. The first two I over-watered, rookie mistake, and they rotted. But after receiving another nice potted cutting for my birthday I was determined to keep this one alive.
I let the soil dry between watering over the Summer and it seemed to do fine. The soil is dark and has something that looks like mulch in it but I didn't really ask what it's made of, the person who gave me this cutting has a very large and healthy Jade. It drains pretty quick I guess, it gets pretty dry in 1-3 days.
The problem started about a month ago, the bottom of some leaves turned dark purple and new leaves seemed weak. I did some research but found mixed answers. Then at the end of August I moved to a different apartment.
I put the plant on a window sill facing West that has a tall building right in front of mine. It didn't really change much, getting a little darker and less green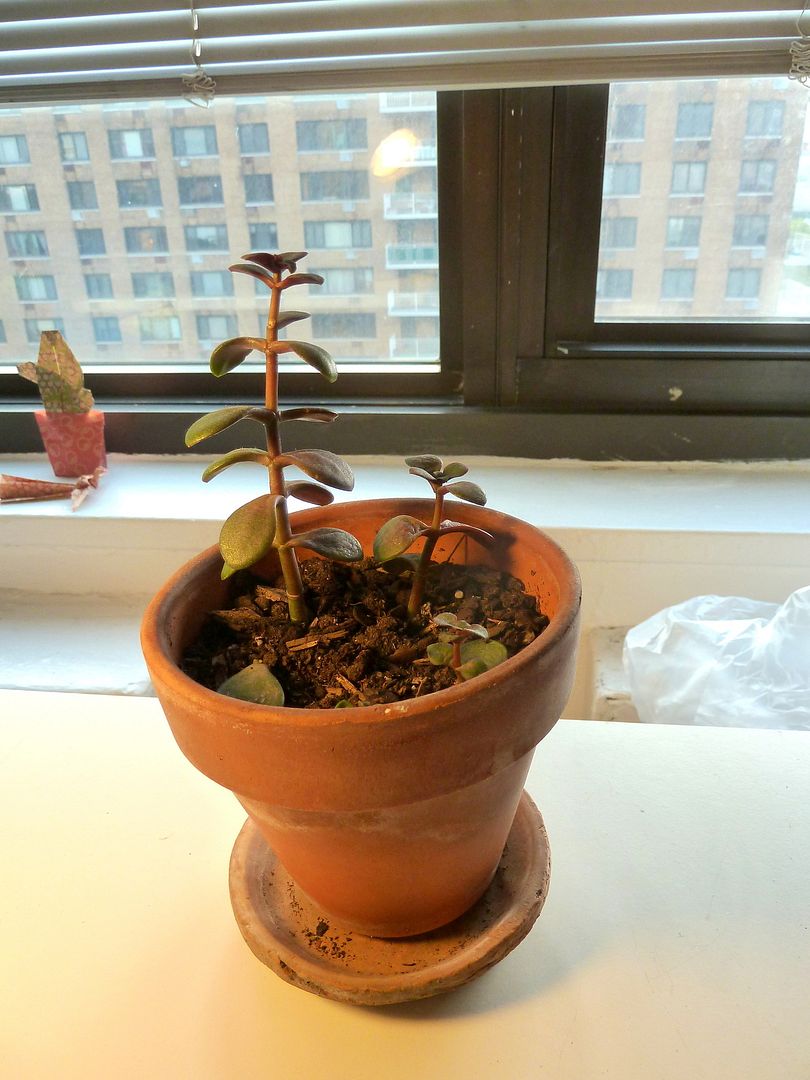 It used to be right on the sill, but when I came back from a trip this weekend (being gone 3 days) it was almost completely purple and withered. (the weird yellow light is from my lamp). I moved it on to my table where it is in the picture.
I checked and I think the roots are fine, the stem is still stiff and the little cuttings have grown nice roots. I poked around a little and it doesn't look like it is rotting, but the leaves are really soft. I immediately gave it plenty of water, but again I'm afraid of giving it too much and risking rot.. Today it seems to be doing better and some of the leaves became plumper and greener.
I'm just worried because I couldn't find any good information on why in the world it is purple. It might be getting too much light, that would be my first guess, but perhaps it's an infection?
Also, I want to know if anyone could tell me precisely how much I should be watering it, over the Summer I tried to make it about once a week or fewer. I'm not sure how to handle the winter season though, that's when my last two died. The site here says " if the plant experiences the cool then water should be withheld, and expect leaf drop as well as some of the branches. If the plant is indoors, it still will likely shed in preparation for the main growing season- the late fall/early winter" It's cool here, so does that mean I should stop watering my sickly looking plant? It doesn't seem right. Also why is winter the main growing season? I tugged at some leaves and they're securely on the stem, so it's not really doing the dropping thing. I live in Brooklyn NYC now and it's getting pretty cold now(70-60), how cold should I let the plant get?
Another thing is that I have no idea what to do about fertilization, I never had plants before and don't really understand it >_>'' When should I give it fertilizer, it is good to give it some now? what fertilizer should I get?
here are some more photos, click the images for a bigger picture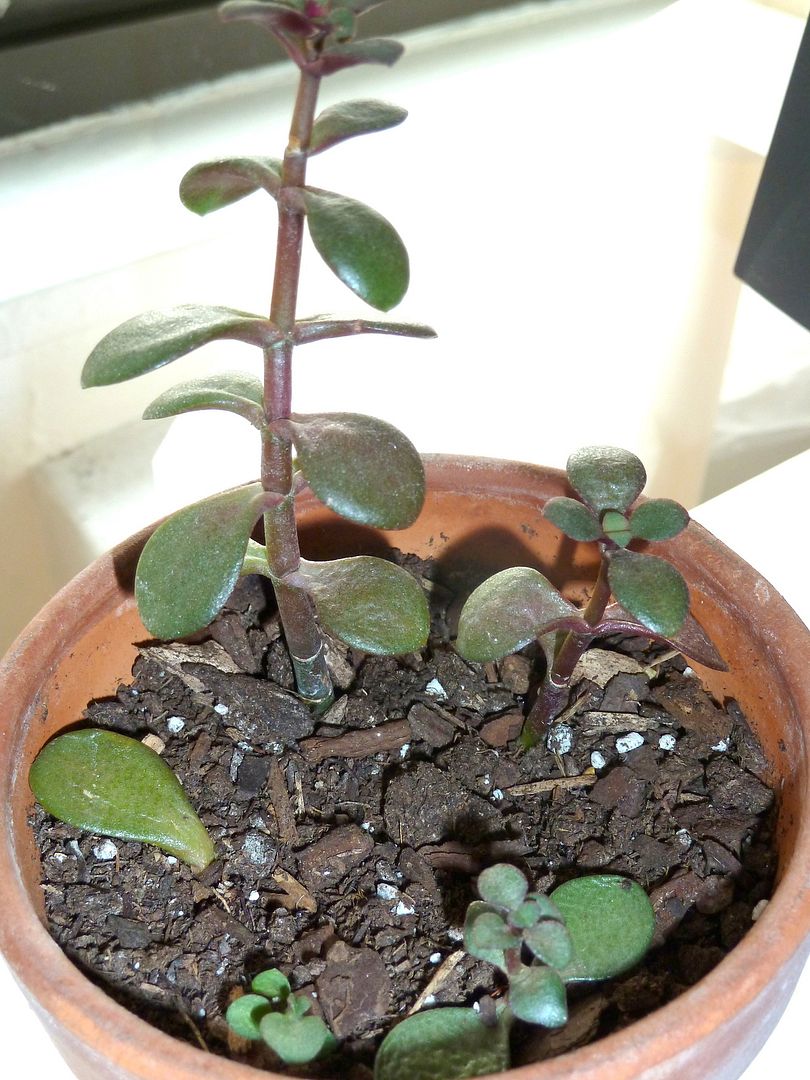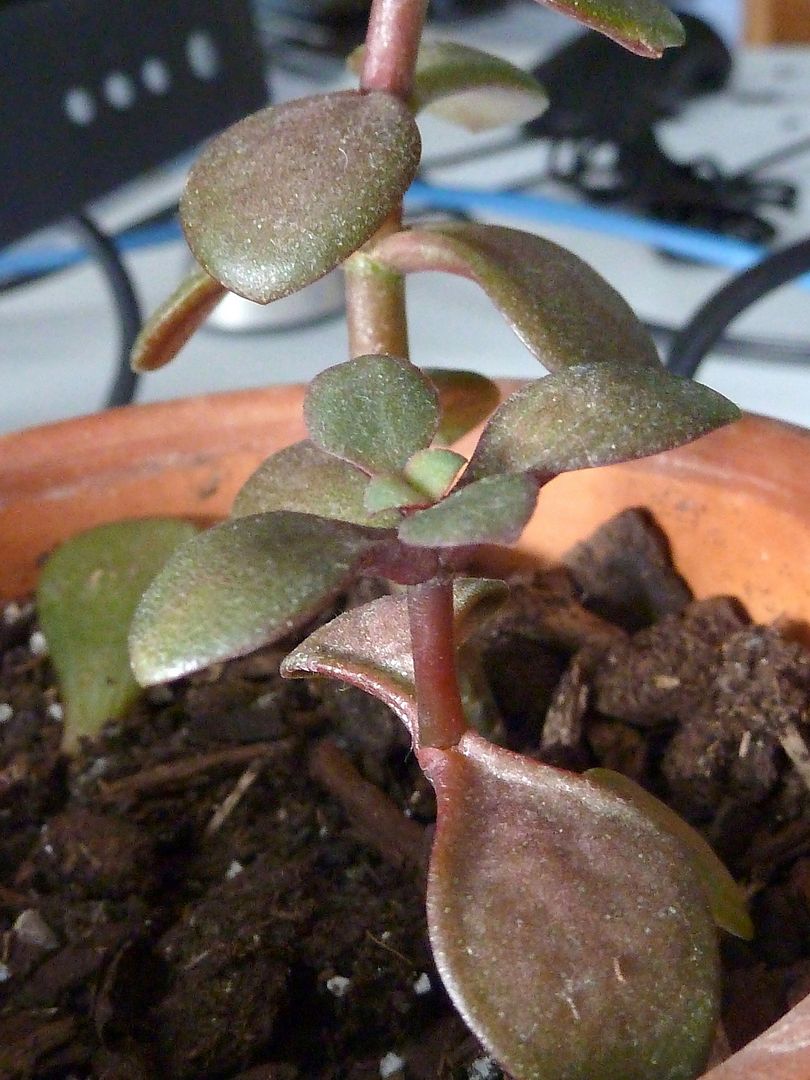 dry purple leaves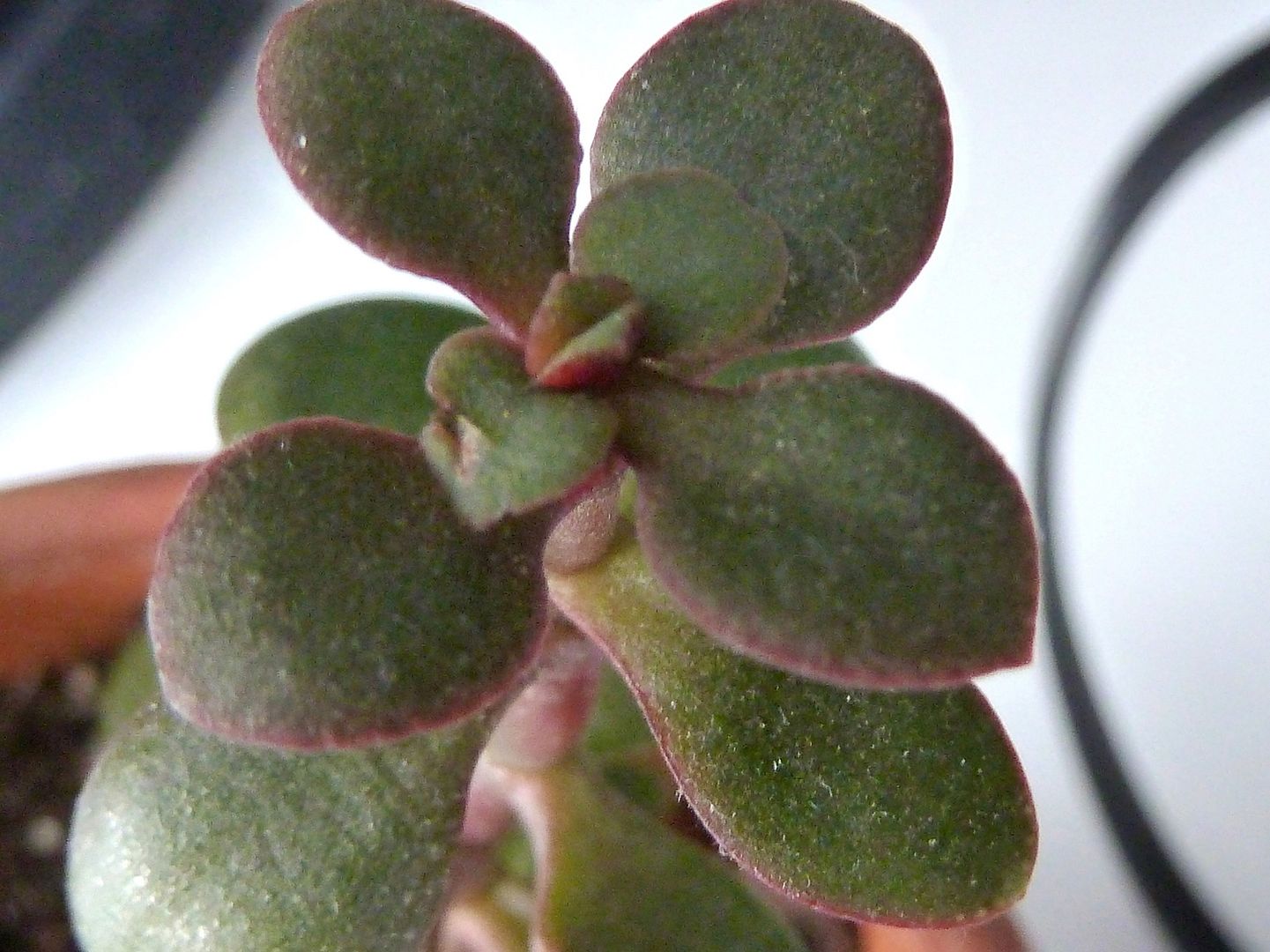 these leaves haven't grown in a while now and look damaged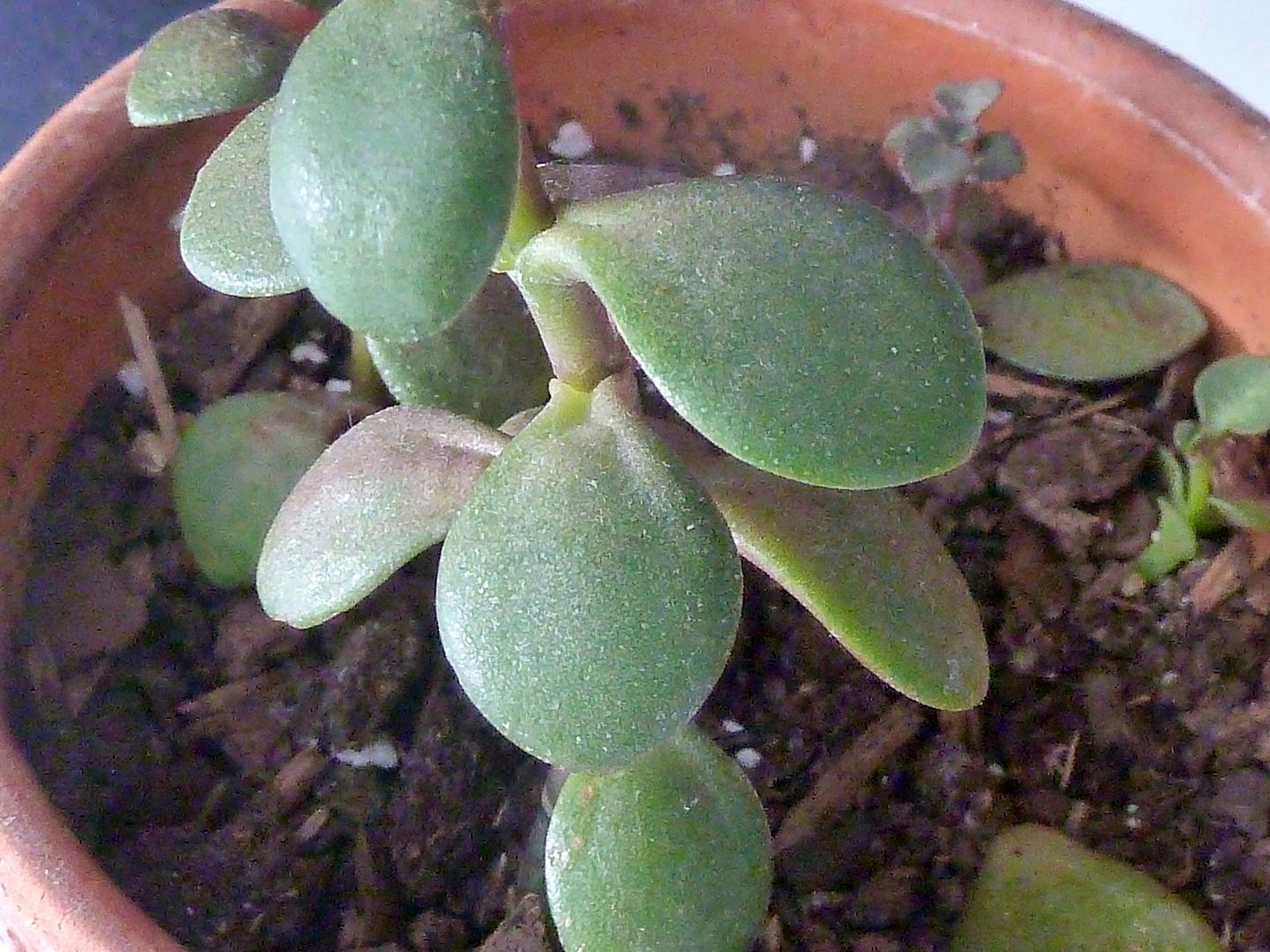 some leaves that plumped up again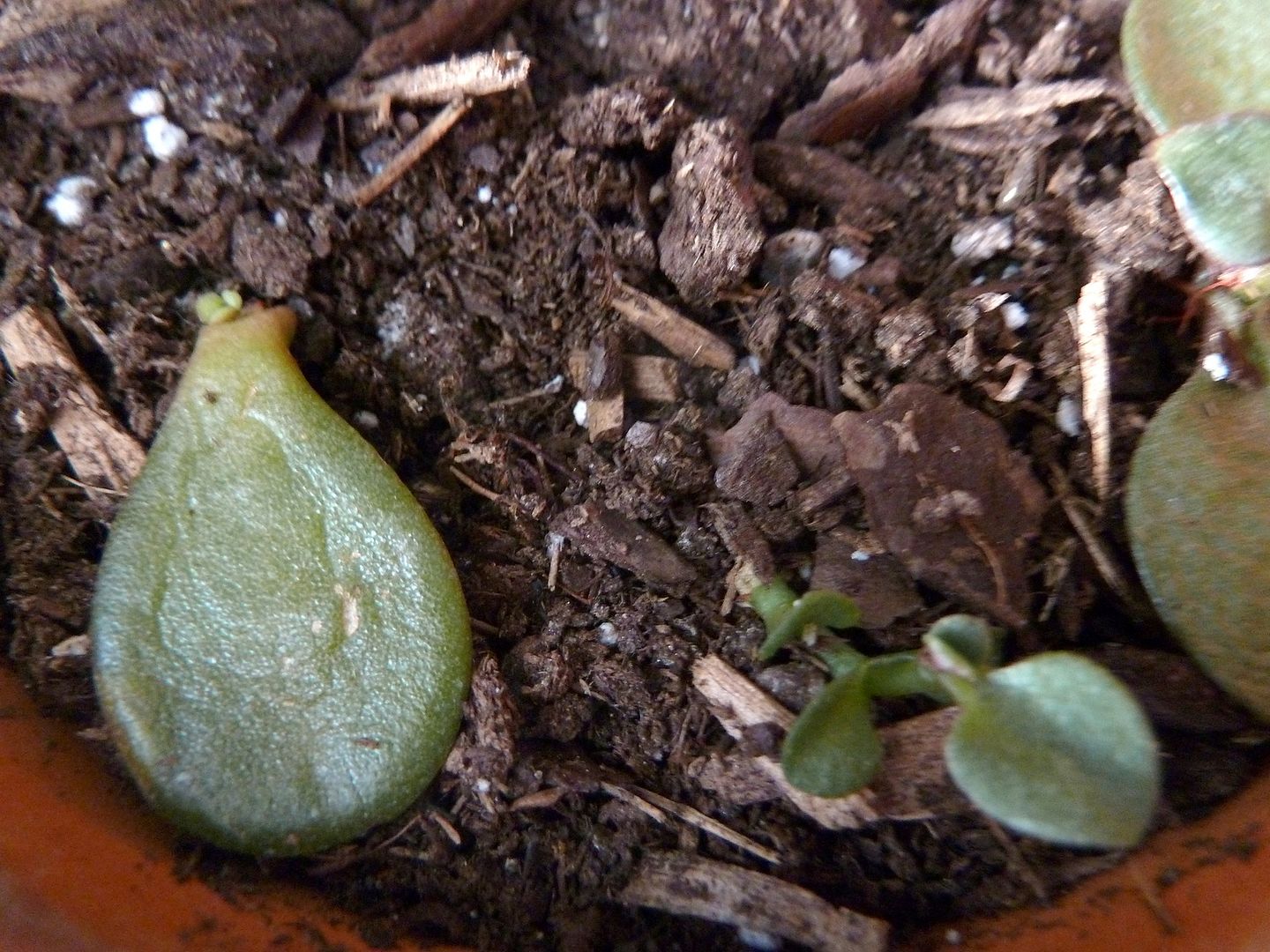 the little cuttings, actually the small stem one was from the last plant I over watered, and the leaf is from the original plant. I actually just noticed that leaf has two little guys at the very end starting to grow.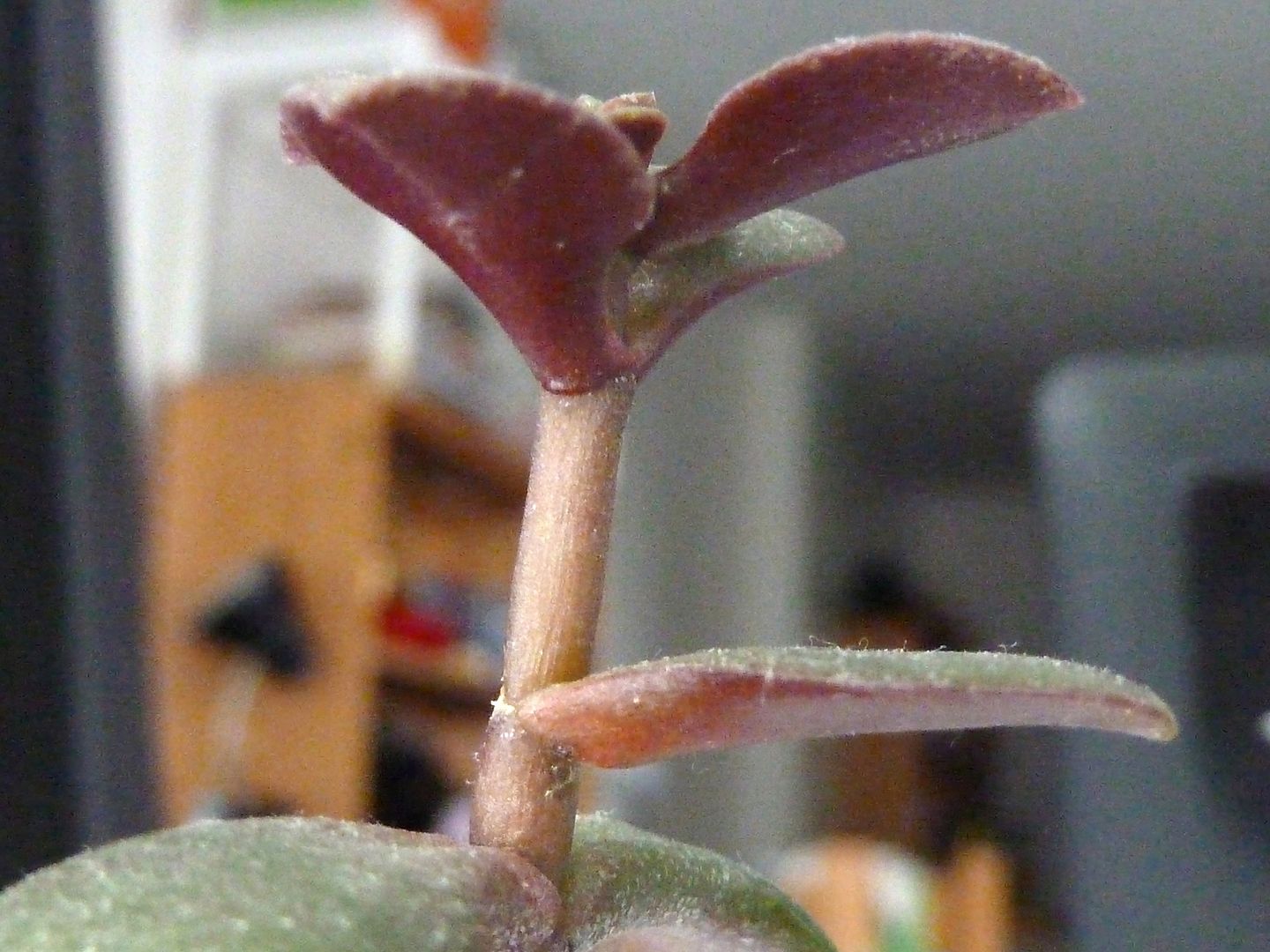 the underside of the leaves that is really purple.
not sure what's up with the white dots in the photos, they really don't show up that much in real life, and the fuzz stuff looks just like normal dust when I look at it : / The plant is really small, smaller than my hand, so the photos really blow it up.
Thanks in advance to anyone who attempts to help me out!!