First Fall Orders Arriving
nckvilledudes
(7a NC)
September 23, 2007
I received the first of several orders of clematis I have ordered for fall delivery on Friday. The first to arrive was from Donahue's where I ordered Prince Charles, Carmencita, Royal Velours, and Mrs. Robert Brydon. I should have taken shots of the root systems on the plants I received but I didn't have the camera with me at the time and was anxious to get them potted up.
All of the plants arrived in 2 1/2 to 3 inch pots that were about quart sized and all had really good root systems. The Mrs. Robert Brydon probably could have been directly planted in the ground but since it is back to being hot and still dry here I decided that all four would be potted up and grown out until spring and then planted.
I must say that I was really impressed with what I got from Donahues this year. I have ordered from them in the past and in fact, my first two viticellas--Madame Julia Correvon and Purpurea Plena Elegans, were ordered from them many years ago. I can't quite remember what sized pots they came in back then but I don't remember them being as mature as the ones that I got this year or in as big a pot.
Earlier this season I purchased a Donahues clematis from a local garden center and what they were selling were plants in 1 to 1 1/2 inch sized pots-typically called liners and smaller plants that are typically what the big suppliers buy and pot up and grow out prior to selling. That little plant cost me $10 plus tax. The ones that I ordered from Donahues this fall were much larger plants, in larger pots, and the cost for the four of them with shipping was $47.00. Here is a picture of the four plants.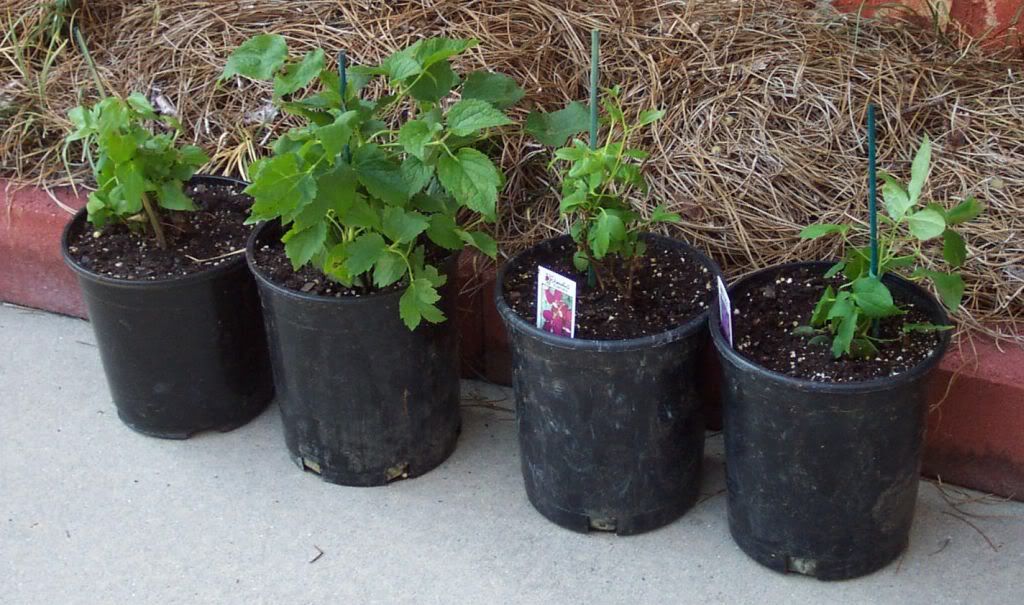 Perhaps it would be a good idea for us in the future to pictorial display our purchases (with root systems showing if possible-sorry the excitement made me pot up without getting pictures) and our general costs and impressions of our plant purchases. This will help document who is selling what, at what price, and the condition of the plants we received.