Lets see those Euphorbias!!!
bsmith717
(6)
October 18, 2012
I was first introduced to the Euphorbia by a friend I work with. He has had his Euphorbia Trigona for almost 20 years and it is a massive plant. He had the piece he gave me in a cup with water for over a year so needless to say the roots were massive! It was about 10" tall and I was actually quite worried about killing it as over the years I have loved more plants to death then I care to admit to. But after potting it ant waiting about 8 months for it to trust me it has been growing like a wild beast ever since.
Here is is when I first got it. Due to its phallic appearance we gave it a nick name that is a fusion of two words, the first part is another name for a rooster and starts with a C and the other is cactus. I'm sure you can figure it out...
Here it is when I got it.
Here it is in front of my daughters favorite outdoor toy for size reference.
Where it sits now, in the cold season.
My newest acquisition a Euphorbia trigona "red"/"royal red". we shall see how long this one takes for me to earn its trust...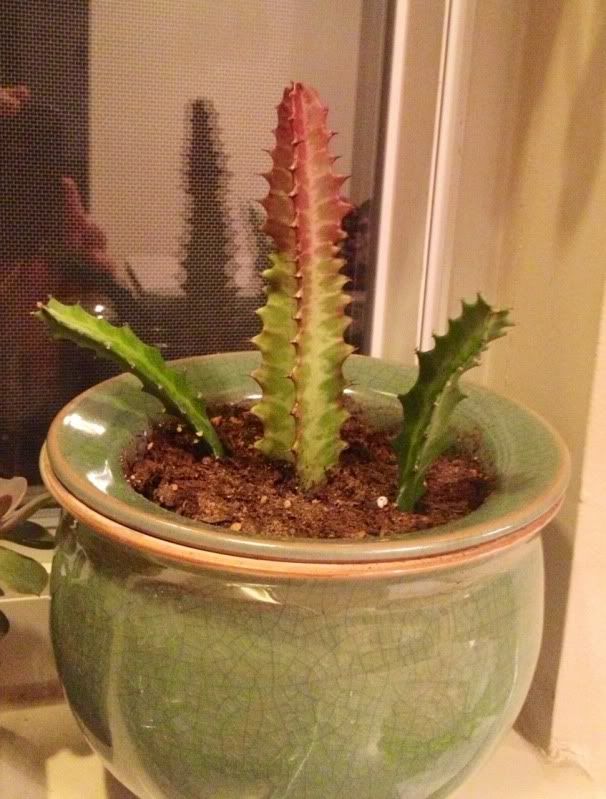 So what do you have in the Euphorbia family and what stories do you have to tell about them????