Calamondin crisis -- slowly dropping leaves for months
brooklyn_oranges
July 19, 2014
Hi all,
I realize the web is full of posts similar to the one I'm about to write, but after spending considerable time reading through them, I have yet to find an answer that really seems to speak directly to the problem our orange tree is having. I do apologize in advance if the question seems redundant.
The problem is basically that our calamondin has been slowly but steadily dropping leaves for several months and is now getting to the point where its foliage looks alarmingly thin. Apologies are due again for the length of the following saga, but I'll try to provide as much detail about the history of the plant as possible, in hopes that there may be some useful clues.
We've had the plant for about two and half years. It was a robust and healthy specimen to begin with, full of oranges and very thick with foliage. We keep it inside year-round, as we don't have a yard, but we do have south-facing windows, so it gets quite a bit of direct sun throughout much of the year, which we augment with a growing light when needed. Early on, we made the common mistake of watering a bit too often, leading to an episode of leaf-dropping. We corrected that problem quickly, and the plant rebounded well. That was maybe two years ago.
Since then, the plant has had a few minor ups and downs -- mite issues and heat stress mainly. But all in all, nothing too major. I guess I'd say that while it would sometimes lose leaves, those losses were almost but not quite offset by new growth. Occasionally, a small branch would die off, quickly turning black. This was disturbing, but it didn't seem to affect the overall health of the plant. We would just trim the dead branch and go on. The plant had several periods of robust leaf growth, and has produced a steady output of fruits. In other words, it seemed pretty healthy overall.
About a year ago, we repotted it in a larger pot, replacing a basic plastic container with a fiberglass one. Around that time, we also put a thin layer of coconut husks as a mulch to try to keep the soil from drying out as quickly as it often does during the summer.
These changes seemed to suit the plant fine, and it continued to produce fruits and new leaves. At some point last summer or early fall, one of the five or six main trunks of the plant died off entirely, so we trimmed that trunk down near its base. Again, the rest of the tree seemed healthy, so we weren't terribly worried.
An additional questionable trend throughout the plant's life has been that many of the new leaves have been misshapen. On top of that, most of the newer leaves weren't as deep of a green color as the older ones. We took that to mean there may have been nutrient deficiencies. Which reminds me to mention that we have been giving it a basic Miracle-Gro fertilizer since pretty early on. I don't remember exactly how much or how often, but basically we tried to err on the side of caution, and typically gave her less than the amount recommended on the product, and less often. Probably something like a half dose, half as often as recommended.
We pruned the tree pretty conservatively also, mainly just for aesthetic purposes or to keep certain branches from getting too long for the rather small space of our New York apartment.
This past spring, the plant put on a tremendous flush of new leaf growth, followed by a similarly impressive production of blossoms. I don't really remember us doing anything unusual to provoke this growth spurt. It just happened as the days started getting longer.
Around this time, we tied a few small sticks between the some of the branches to try to shape the position of the trunks and space them apart a bit more, as some crossed quite close to others.
And then, for no apparent reason, the leaves started to drop off. The rate has varied, but it's usually anywhere from 2-5 per day. Many of the new oranges shriveled up and died while still very small. We of course checked for mites and didn't really find any. We tried experimenting with watering, giving her less or more, watering more or less frequently, but none of that seemed to make much difference. After maybe 4-6 weeks of this problem, we bought a citrus fertilizer (link at the bottom of the post), and added what was again a conservative amount, a bit less than the recommended dose. Around that time, it seemed like the devastation did slow a bit. Many leaves started looking notably greener, and the plant actually started putting out new leaf growth again in some spots.
Unfortunately, this reversal did not last long, and the plant again started dropping leaves. Even more distressingly, a number of branches have turned black and died off, leading to two more entire trunks doing the same. At this point, even some of the healthiest, greenest leaves have started to succumb to whatever is afflicting the plant.
Needless to say, we have been maintaining an extremely close eye on the watering regimen throughout this trying period. Still, I recognize that we may be watering too much or too little, despite our best efforts to be careful. Generally, it has been a relatively cool summer in NYC, and we've been watering roughly every 3-5 days.
A couple of additional details: we tried adding a small amount of vinegar to the water a couple of months ago. Didn't seem to have an impact, but it's hard to be sure. We also have been regularly misting the plant during the summer months, often with a bit of dish soap in the water to drive mites away.
And that's pretty much the whole saga. I will add some photos to the post tomorrow, when I have the daylight on my side. But I wanted to go ahead and get the post up tonight in hopes of getting some feedback ASAP. The plant still has some good leaves, so hopefully we can figure out the problem and get her back on track. Many thanks in advance for any insight folks are able to share. And of course I'll be happy to add any further info that may help.
http://zooxie.com/dr-earth-fertilizers-citrus-fruit-fertilizer.html?utm_source=google_shopping&gclid=CKjPvMTw0r8CFdBi7AodIksAmQ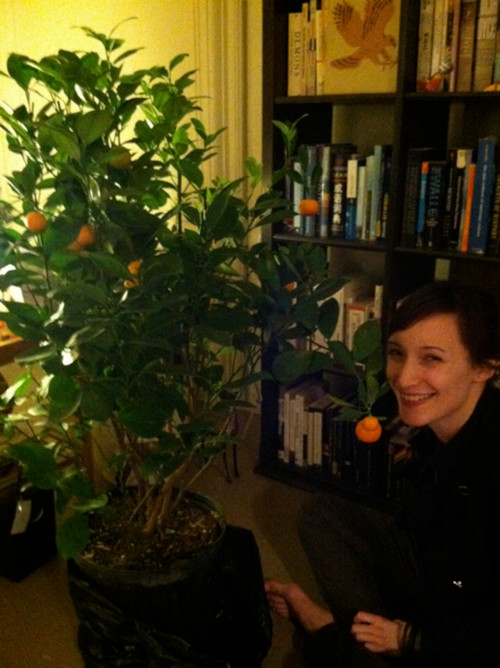 This post was edited by brooklyn_oranges on Sun, Jul 20, 14 at 18:20