Propeller Plant - show me yours!
Last week I bought a crassula falcata "Propeller Plant" in a 3.5" pot. I thought I was getting a plant that would be more of a short pinwheel, but on checking the internet, I found that it will be at least 12" tall. I have a sunny porch with southern exposure, and I think it will do well there in the summer. But for now I need to get it through the winter.
I tried to water it, but the soil is so dry the water ran right out. So I plan to remove the soil from the roots, wash away all the bad dirt and repot in a gritty mix.
I've done a search on GW and have seen Propeller Plants that are in hanging pots, and some that are upright.
So I have several questions - What should I expect - upright or pendant, and how big a pot should I use? Is it a fast grower?
I ask about the pot, because it makes a difference if it's going to be hung or not.
Here's a link the the article I thought was most helpful - it's from the Columbus Garden Society, and I live in Michigan. Their thoughts about over-wintering were very helpful.
Thanks for any suggestions!
Lenore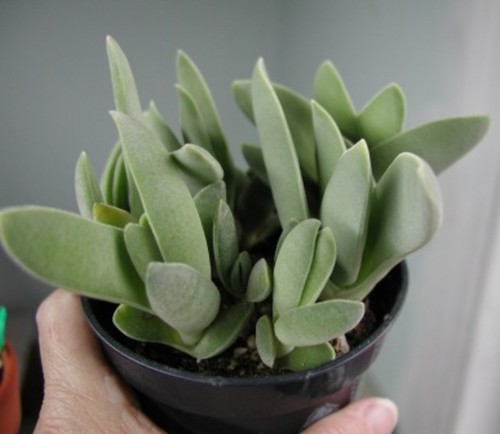 Here is a link that might be useful: Columbus Cactus Club - Crassula falcata