My Norway spruce screen--pics, finally
Folks:
Two years ago I planted about 300 Norway spruce seedlings in a staggered double row. Here are some pics I took this winter and last summer. I am starting with just one pic to make sure i get at least one in. the photobucket site for me is so, so very slow, and it seems I can get the codes to paste in just one at a time, and then I have to reload the page, which takes forever.
Yes, I need a fast connection--for my sanity, at least.
Anyway, here is the first pic. Last summer I reported that a few of my seedlings--maybe about 20 or so--were showing free growth. that is, after the first flush that came from the winter bud, after a brief pause, they resumed growth and kept on growing for up to two more months. the pic here is of the fastest growing of these. When I planted it it was a 20" seedling. the first year it grew about 10 inches, then this last year it grew about 40" For scale, the cage it is protected in is 47" high. the snow is maybe 15" deep here.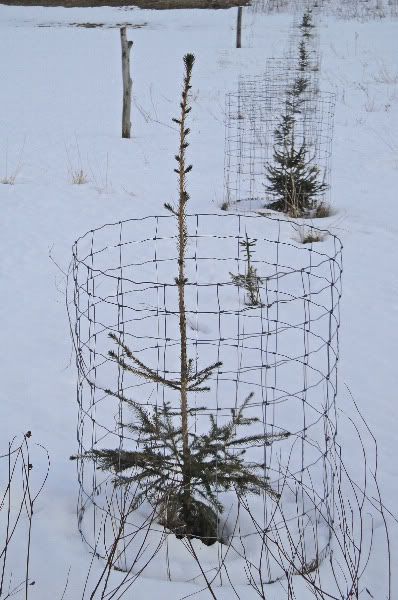 --spruce