Online nursery reviews: Conifer Kingdom
firefightergardener
(7/8)
March 30, 2012
Though my collection has reached both my space capacity and financial budget, I have still made a few new nursery discoveries and as before, I'd like to share my experience with them. Hopefully it can be a useful tool for others considering sources or looking for rare plants.
This order was from Conifer Kingdom, a Japanese maple and conifer nursery out of Oregon. Their website states their nursery staff has 20+ years in the industry and it shows in their product. I'll stay with the format I've used for some 15 nursery reviews. One star(*) is poor/unacceptable, three stars(***) is average and five stars(*****) is exceptional/outstanding.
INVENTORY: ***** I've scoured in internet for the last four years and only a few nurseries have collections this vast. In addition to several hundred varieties, ranging from somewhat common to extremely rare, they have what appears to be a dozen or more introductions/finds of their own. Conifer Kingdom offers plant sizes from ban pots(BP) to #3 and above. I think with most online sources, 5-7 gallons is the largest that will ship. Any collector or gardener would be thrilled to scan their photos and inventory. Just take a look(link below).
Japanese maple growers would also be very pleased with their offerings as well.
STOCK QUALITY/SIZE: ****
On quality alone, it's pretty easy to give them five stars. The plants are meticulously grown with care and it's readily apparent, at least with my order, that they don't ship ugly specimens. The size of the plants is about average to the size of the pots. Most gallon specimens seem to be 2-4 years old, and 2 gallons 3-7 years old.
CUSTOMER SERVICE/GENERAL EXPERIENCE: *****
Shipping was excellent, fast and very affordable. The entire box was $31, though your prices, particularly across the country, may vary. The plants came in bags, twisted off and staked to keep them in place. I didn't notice a broken or bent brench amongst them.
I visited the nursery in person and met a fellow named Dick who's probably been in the industry since I was in diapers. He was very courteous and seemed genuinely interested in the customer's satisfaction, a dying trait in some nurseries.
VALUE: ****
Conifer Kingdom offers some really choice and rare plants. Some plants are in the $18-24 range while some of the rarest command a serious price(almost $100 for a 2 GAL plant), but taken as a whole, most of the prices are reasonable. Combine the quality of the plants, how rare they are and the professional approach and you have an above average value for your shopping dollar.
www.coniferkingdom.com
How things arrived.
The maples were tucked away safe and sound.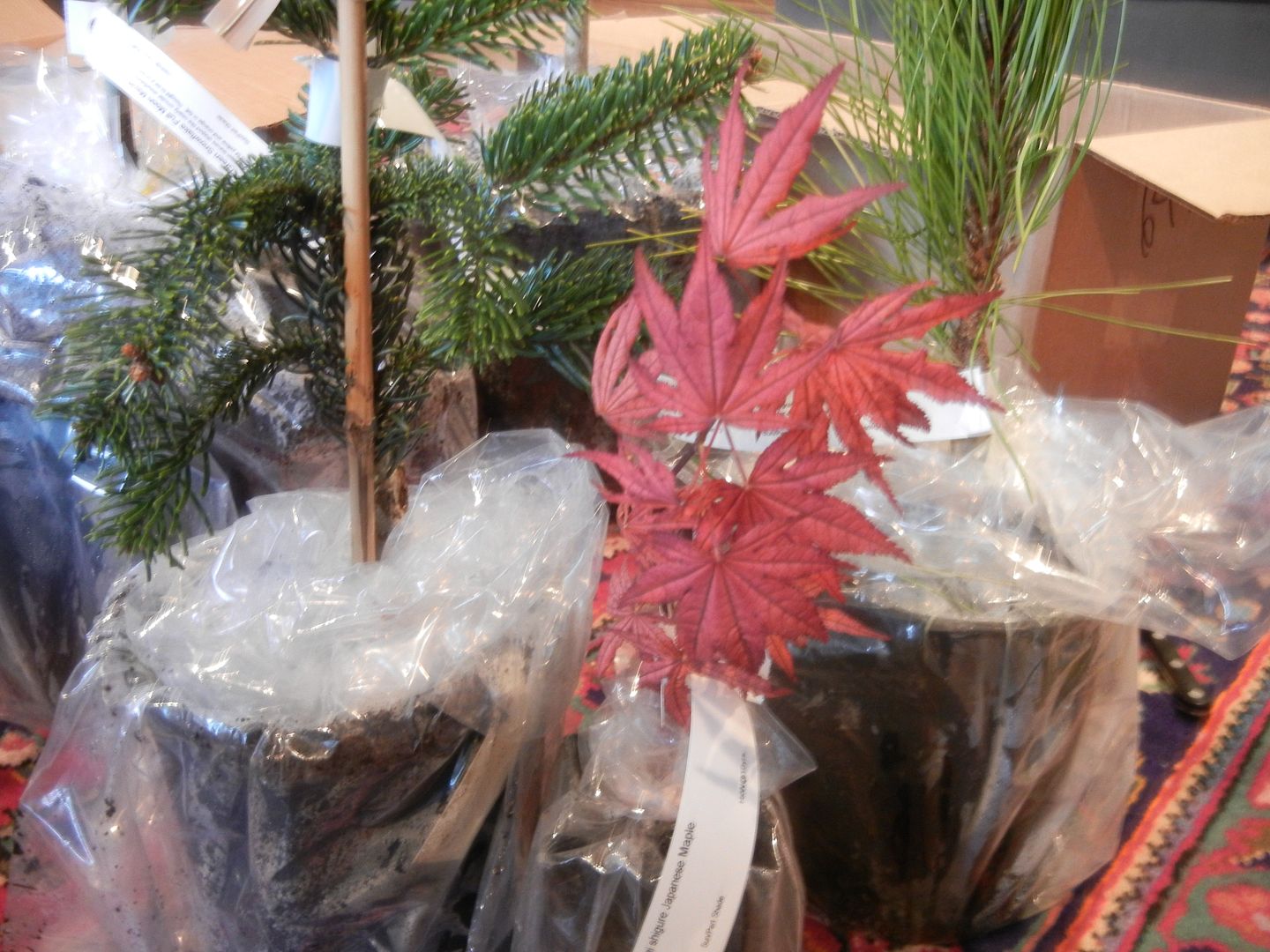 Abies nordmanniana 'Berlin Dahlem' $36
Abies koreana 'Olhtacca' 2 GAL $48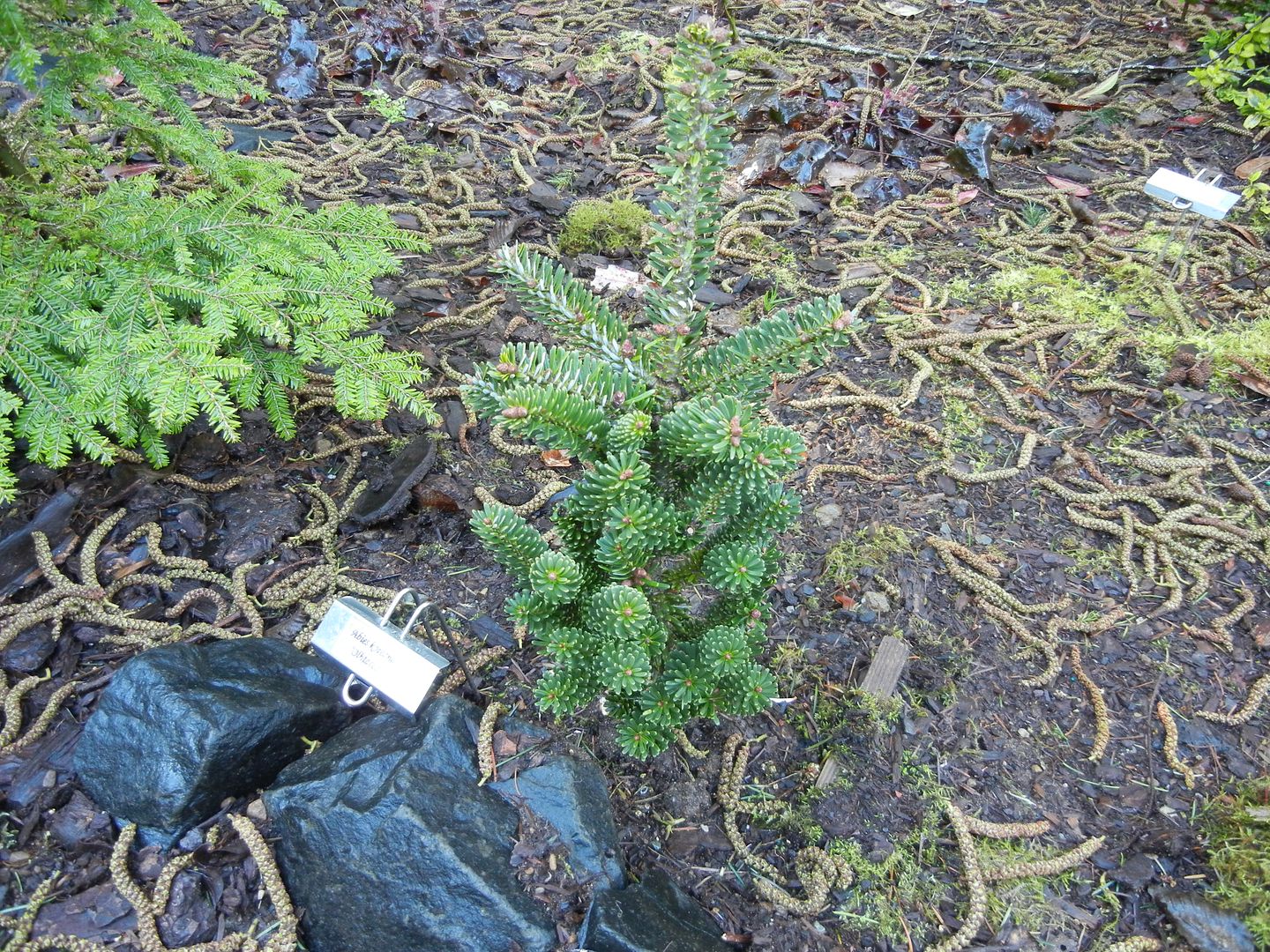 Pinus parviflora 'Shikoken' 2 GAL $64
Picea glauca 'Ketch Harbor' 2 GAL $60
Picea abies 'Middle Finger' $45. Another rare introduction, this is a narrow upright similar to, but considered an improvement over Picea abies 'Hillside Upright'.
-Will
Here is a link that might be useful: Conifer Kingdom Nursery