Finished Kitchen pics
trailrunnerbiker
September 22, 2007
I enjoy this forum so much and since Steven posted his wonderful kitchen I figured I would post what we did too. I wish I could get the garden moving along better since those french doors open to a partial wasteland...you guys are going to have to come for a week long work party !
I have posted bits and pieces but never the whole thing. I was waiting to get an island but that is going to be sometime in the future since I haven't found anything I like yet. My cab guy and several others had said they would make me one from salvaged wood but...hasn't happened.
We had the kitchen gutted to the studs. This involved removal of lathe and plaster...lots of coal dust. The house had the kitchen in the back ( now a guestroom ) and also had 2 kitchens when it was a duplex in the past. We left it in the center of the house. The last time it was remodeled was in the 80's.
I found old salvaged leaded and stained glass windows to create "transoms" to bring in light. We added a skylight over the area where the Twins are and the exterior french doors in the sunroom were added when we gutted that room . All this was to try and bring in light. The interior french doors were added 4 years ago..they were salvage also.
All of the glass cabinet doors are salvage Arts and Craft windows with the original wavy glass. The sinks in the kitchen and sunroom are salvaged soapstone...the sunroom one is an Alberene Quarry sink and has the original tag in place on the front.
Counters around the sink/cooktop are teak. My cab guy made them and I finished them with Waterlox. The counter for the baking area is 30" deep and is soapstone as is the landing area next to the ovens and around the sunroom sink. The counter for the coffee bar is salvaged marble from Columbus GA . It still has the "lip" where the slab overlapped on the old building. The sides are leftover teak since the marble was not quite long enough. This was my idea and gives an inset look . All cabs were local custom. Full-extension glides. 2 Lee Valley pullouts...lower cab by sink and next to Twins.
We have the Caldera gas 36" cooktop, Miele builtin deepfat fryer,Tradewind 1400cfm hood liner w/ custom wood hood, Miele double ovens w/Perfect Clean, Bosch SHU66 dishwasher. Frigidaire Twins. We do not have a disposal and I don't miss it. I have a little galvanized pail.
Most of the art work is photos from our hometown of N.O. The kitchen was my attempt to bring some of that feeling to this house. Lighitng was from lots of different places and I would have to go back and look it up.
Gas insert fireplace was done 4 years ago as was tile. The mantle is original. The whole rest of the area around the fireplace is new and was finished with leftover teak . We "found " that great chimney hidden in the wall. My contractor didn't want to expose it but I cleaned it gently with a putty knife and sealed it with poly.The ceiling was raised back up to 10 1/2 ft from 9 ft...rest of house is 12 ft. The vent for the fireplace and the hood both are ducted in the new ceiling. Below are 2 pictures and the rest are at the link. Thanks for looking ! Caroline
fireplace wall: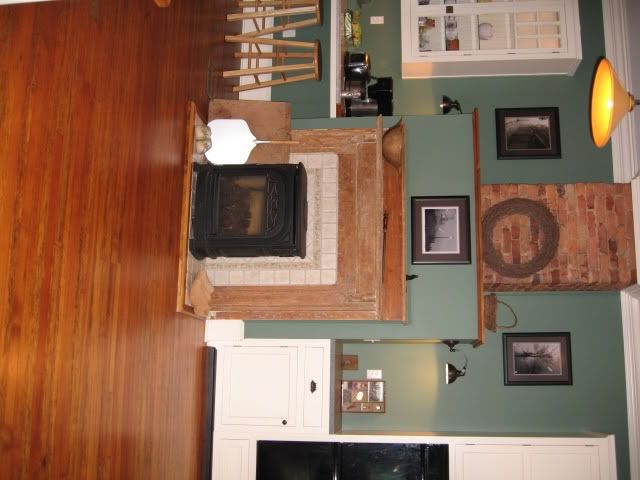 baking area:
Here is a link that might be useful: Finished Kitchen