Photos of Tubers...need advice. :c(
eigdeh
(z6 NJ)
April 19, 2010
Howdy!
New to DahliaÂs, not new to gardening.
I bought a box of two DahliaÂs from the "Netherland Bulb Company" at my local nursery today. I read the box and it stated to plant the "root" so that the top is 1 inch below soil. When I opened the box I was surprised to see tubers! Not the first time boxes were wrong! Oh well box might also be wrong about depth to plant them, more below.
I got excited when I looked in the box and saw 11 tubers instead of the 2 promised, but when I researched on the web to find out if I should have gotten the roots as stated on the box I watched a YouTube video from "Lance the Dahlia Guy" that stated tubers growing from tubers were not going to produce plants. Oh well, I "think" 9 of the tubers fit this category. :c( Learn something new everyday.
Two areas I am confused about:
Lance the Dahlia GuyÂs YouTube video stated that most places recommend to plant the tubers between 4 and 6 inches deep, but he plants them between 2 and 4 due to the fact that it takes the ground a long time to warm up in NW Washington. So why does my box state to plant them 1 inch deep? How deep should I plant the tuber here in NJ keeping in mind I will plant them in pots till mid May?
See photos below for other questions:
Below is a photo of all the tubers I got in the box. Are all the loose tubers on the plate the kind that broke off other tubers and will never produce plants?
Below are the two clusters. I can take closer shots if necessary: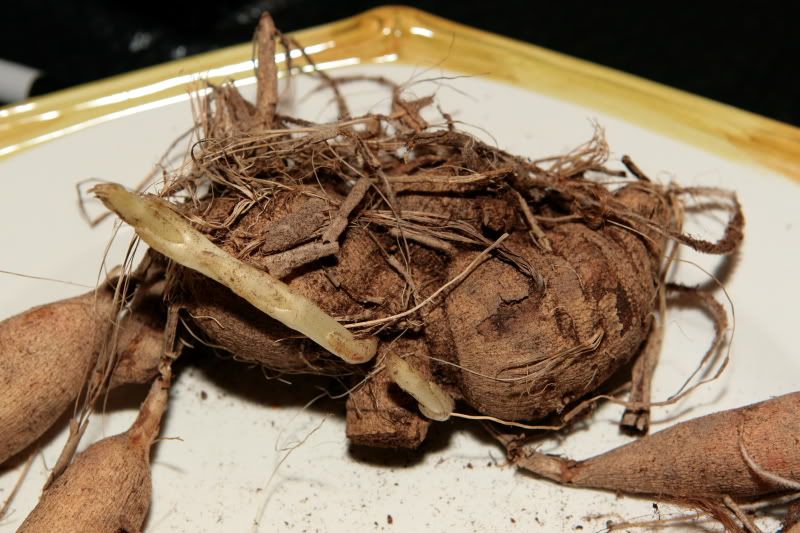 Should I divide these for better yield? Are there any eyes that you guys with experience can see? To me these are not as obvious as the ones I saw on YouTube, but I am new to this. I am assuming that the two stems that are about 2 inches long will grow fine when planted?
Are the mother tubers on these clusters?
And how deep should I plant these?
If these are divideable I would love to try it.
Thanks!
Ken