Bowiea Bloom is boring
karyn1
(7a)
November 27, 2012
My Bowiea volubilis is blooming for the first time. It's still small, about egg size. It can be seen in the background. The flowers are pretty boring. My Bowiea gariepensis blooms are nothing special but much nicer then it's cousin's. It should be in bloom in the next month or so.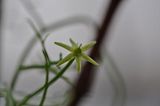 A couple other blooms in the GH
Jatropha podagrica (Buddha Belly)
Huernia?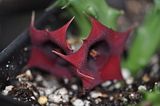 COT blooms finally getting darker.