Bear with me. . . .
laurelin
(z5a/4b Upstate NY)
November 18, 2007
No, really, BEAR with ME: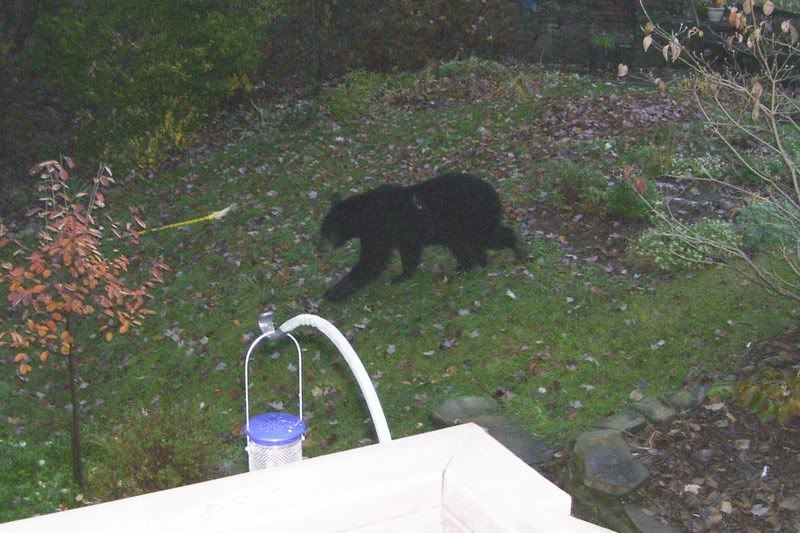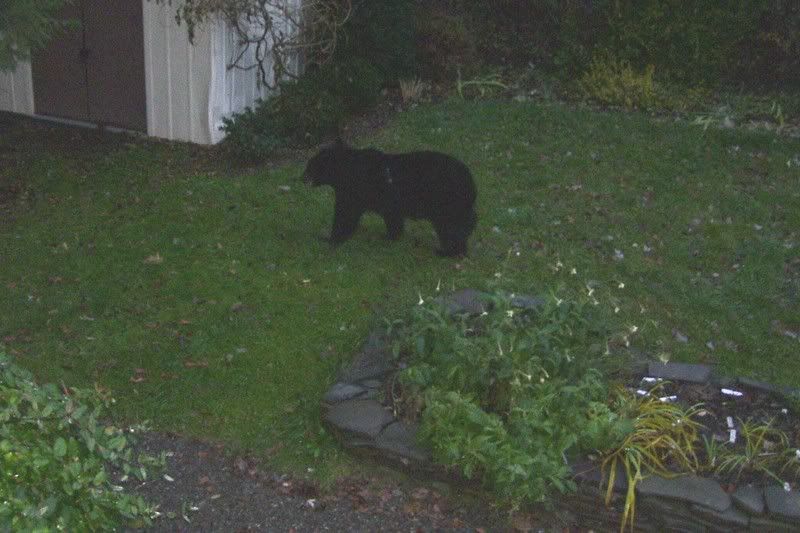 I feel sorry for the bear - to get to my yard, it had to travel down through town, most likely via the ravine beside my house, under several major roads and a RR line. It raided my bird feeder, which is where I found it. I always look out my back window at the feeder as I walk by there, and that afternoon I saw BIG BLACK EARS sticking up over the hedge of black currants. WHOA! The kids were half freaked-out, and half-thrilled. ("Look, kids! It's your home-school nature lesson for the day!")
The bear wasn't afraid of me at all. (Not that I got close or did anything stupid to attract its attention - I viewed it safely from a distance, from the deck.) I called the sheriff, just to let them know it was in town and in a residential neighborhood with lots of kids and traffic from a main road nearby. The bear ambled off, but returned during the night to finish breaking into my squirrel-proof feeder. I haven't seen it since then. Still, I was delighted to have the experience. (Nature dweeb that I am - I'm also the person that sees a snake, skunk, tortoise [fill in the critter, except for woodchucks - they are NEVER COOL] and says, "Oh, COOL!" instead of "EEEEK!").
I know Rick goes into the great outdoors to find wildlife to photograph [beautifully, I must add]. But, I never expected to have a big-game wildlife picture to show all of you here, from my own back yard!
Laurel