Neglected Meyer Lemon
born_free
(Sydney)
October 5, 2013
Hi All
I am a newbie to this forum and to keeping plants alive.
We have a Meyer Lemon tree in a pot that has been neglected. Although it looks alive it has very few leaves. Some leaves have very yellow veins and are dropping off. It keeps blooming however I have since found out that this is an indication of stress and not new growth.
I have treated leaf miner with a home made soap and oil spray. It is now being watered regularly. Recently I've given it a good feed and added new mulch. To treat the yellow veins I've given it a good watering of Epsom salts and iron chelate. I take off the new flowers as I see them.
What else can I do? A friend with a green thumb has mentioned it probably has a dry root ball as water just flows straight though it.
Do you have any handy hints for me? How can I treat a dry root ball - do I just keep saturating it?
Thank you in advance ... I really hope it's not too late for TLC!
As an FYI, we are in Sydney Australia and it's spring.
Regards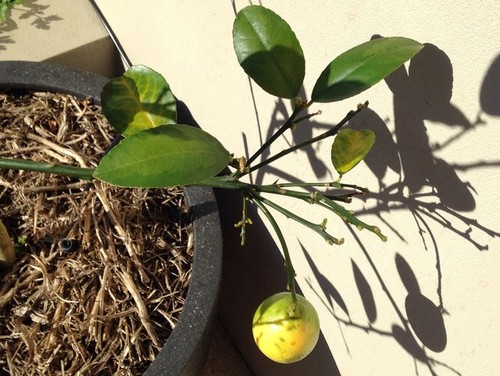 This post was edited by born_free on Sun, Oct 6, 13 at 3:05