Some new ones for me this year
annabeth
(Zone 8 No Cal inland)
September 17, 2009
I just thought I'd add to the dahlia viewing.
Here is a pic of three varieties that are new to me this year and I love all three of them! Lyn's April is the red one, Kenora Jubilee is the white, and CG Coral is the bright coral one.
This is Appleblossom:
This is Bo-De-O, and I have to say that while it is nice and it is prolific, I am looking for a more golden colored dahlia for next year. Does anyone have any suggestions for a nice golden yellow? It doesn't matter what form or size. I saw 'Mary Lou' on Hamilton's web site and I am considering it. Anyone grow it?
Worton Blue Streak, a little unopened yet in this pic:
I am very impressed with the two in this photo. The dark red is Rip City and the coral-ly pink is Parkland Tribute. I like them individually and I like them together. Rip City seems to keep a long time in a vase too.
This last one is only sort of new to me. I got it last year but never had a bloom on it because of slug sheering. I just made that term up but I think it's pretty descriptive of what happened. Them dang slugs just ate every sprout that came up, again and again, until I got fed up and moved it to another location late in the season. A plant came up but didn't have time to bloom before frost. This year it has proven to be a wonderful dahlia. Also, it has special meaning for me since it is my grandmother's given name: Verda. This picture and every other one I've taken do not do the bloom justice for beauty. I recommend it highly. I'd love it even if it didn't have that name.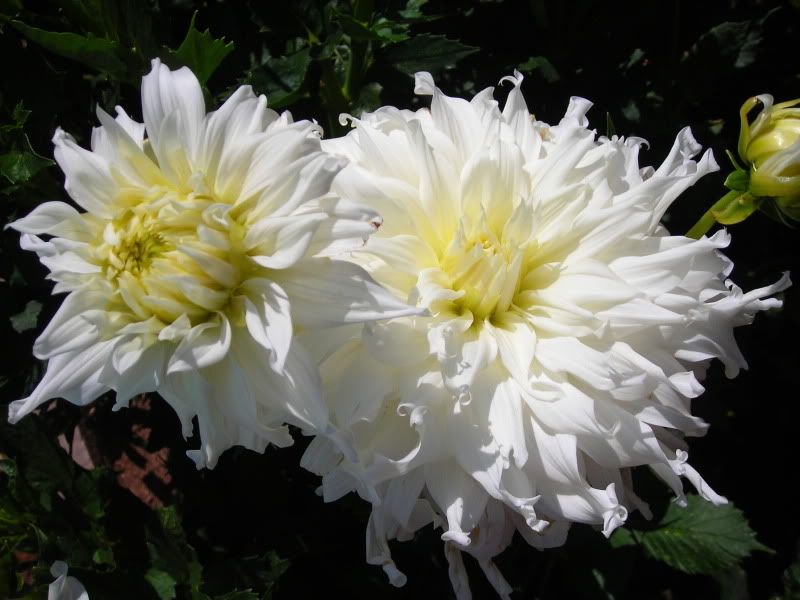 Annabeth