Citrus issues (with pics!)
networkguy
November 30, 2011
Hi all..first post :) Long time lurker. Im a new homeowner, and never had much of a green thumb, but Im trying!
I live in Phoenix AZ, and have a lemon and orange tree in my back yard. Im watering now once a week for about 30 mins, but during the hot months was watering 2x/week. I havent added any fertilizer. The trees are well established. When I searched I have diagnosed everything from too much water, too little water, cotton cushion, algae, aphids, OY! Its like going to webmd and diagnosing a head ache hehe. Would love some help from the experts!
OK, first my lemon tree. Some of the fruit looks a little wilty, some of the leaves look burned on the end, and some have white spots. I have looked for bugs, but havent seen evidence of any. The leaves arent sticky either. Here's the pics: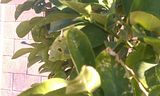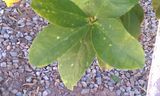 With the orange tree, Im just seeing the leaves curling inward (cigar leaf curl or something Ive read?):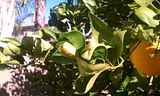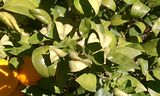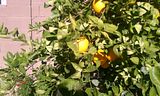 So what say the experts? Thank you all for your help!