Rescued from certain death
karyn1
(7a)
December 22, 2011
At the hands of my Mom. I was at her house last night and saw this really cool looking plant. It was potted in what looked like a soggy mix of coir and peat and sitting on a shelf with almost no light. I know it's a grafted Euphorbia lactea cristata but what kind of euphorbia is it grafted onto? I was also wondering if the brown spot was the begining of rot or hopefully just some trauma?
before repotting in a proper mix.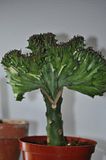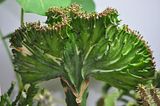 These are the brown spots I was concerned about.