HAVE: Beautiul Wood burned sign for the garden 4 your plants
I wood burn signs for Gardens. Looking to trade for plant trades come spring. Here is how this would work.
1. We work out the trade now.
2. I do the wood burning during winter months.
3. Spring, we swap.
Each sign takes time to burn, Color (I use Oil pencils).
Then 2 coats of poly.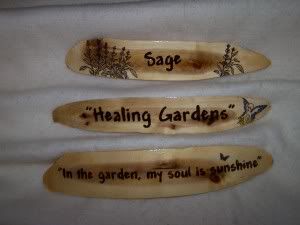 I am interested in the not so common plants. Pernnials, Clematis..Make me an offer..Please post here, what you have to offer.
Debi