Large Norway Spruce - is this on the way out?
chester_grant
(6)
June 7, 2011
This NS was planted as a 7 footer six years ago, and I previously posted about my concern about its rusty looking interior needles. Folks said not to worry.
Its new candling is fine - except the leader; see picture. The leader is 20 ft up so it was hard to reach and cut down, needed a ladder and a fully extended double pole cutter...
http://s293.photobucket.com/albums/mm45/chester_grant/?action=view&current=IMG_1052.jpg" target="_blank">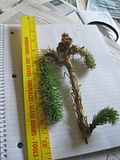 http://s293.photobucket.com/albums/mm45/chester_grant/?action=viewät=IMG_1051.jpg" target="_blank">
http://s293.photobucket.com/albums/mm45/chester_grant/?action=viewät=IMG_0397.jpg" target="_blank">