wanted: have: mrs.furn. rhodie, camellia sasanq, 2 cotoneasters
thane
(z8 Bellevue, WA)
January 5, 2007
I have for trade:
* One Mrs. Furnival rhododendron, nice-looking plant about 4' tall with lovely blooms. Currently in the ground, I can dig or help dig if you like. Here's the plant in my yard this spring: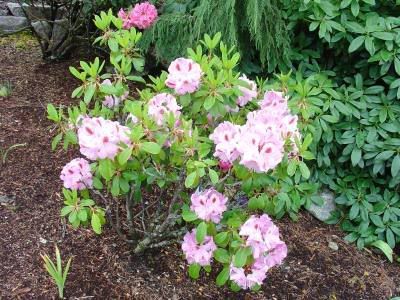 * Camellia sasanquah hybrid. Blooms pink in November. Currently in a pot, about 2' by 2' and growing vigorously.
* Two cotoneasters of unknown type. One has berries, one doesn't. Both are in the ground, both are about 2' or 3'.
Wanted:
Pacific Northwest native shrubs and trees, specifically...
Ceanothus
Holodiscus discolor
Garrya elliptica
Oemleria cerasiformis
Ribes sanguineum
Tsuga heterophylla
Tsuga mertensiana
Vaccinium ovatum
Also interested in hummingbird perennials, screening shrubs, or feel free to make a suggestion or an offer.