Hobbiton conifers of the week, June 4th
firefightergardener
(7/8)
June 4, 2012
Perma-potted tour this week.
Most of these conifers are placed in a mix of sand, bark, gritty mix, gravel and pebbles and thus far, despite remarkably wet Winters(30+ inches this last November-April), have shown very few signs of distress.
I don't fertilize, though I may in the future and I am hopeful I can have some of these beauties in these pots for a decade or more. I do water deeply about twice a month in Summer though this year I may trim that back to once a month. Someday, hopefully with a little root pruning, they can be planted in a garden either here or elsewhere.
The pots are mostly fiberglass/new hard plastic sources and are very strong, durable, immune to frost issues and have held up well - on top of being very light.
On to the photos!
Chamaecyparis lawsoniana 'Treasure Island' - Gets less then an hour of direct sunlight a day and remains dry, even in Winter. Perhaps the lack of rain/snow will help keep it's form.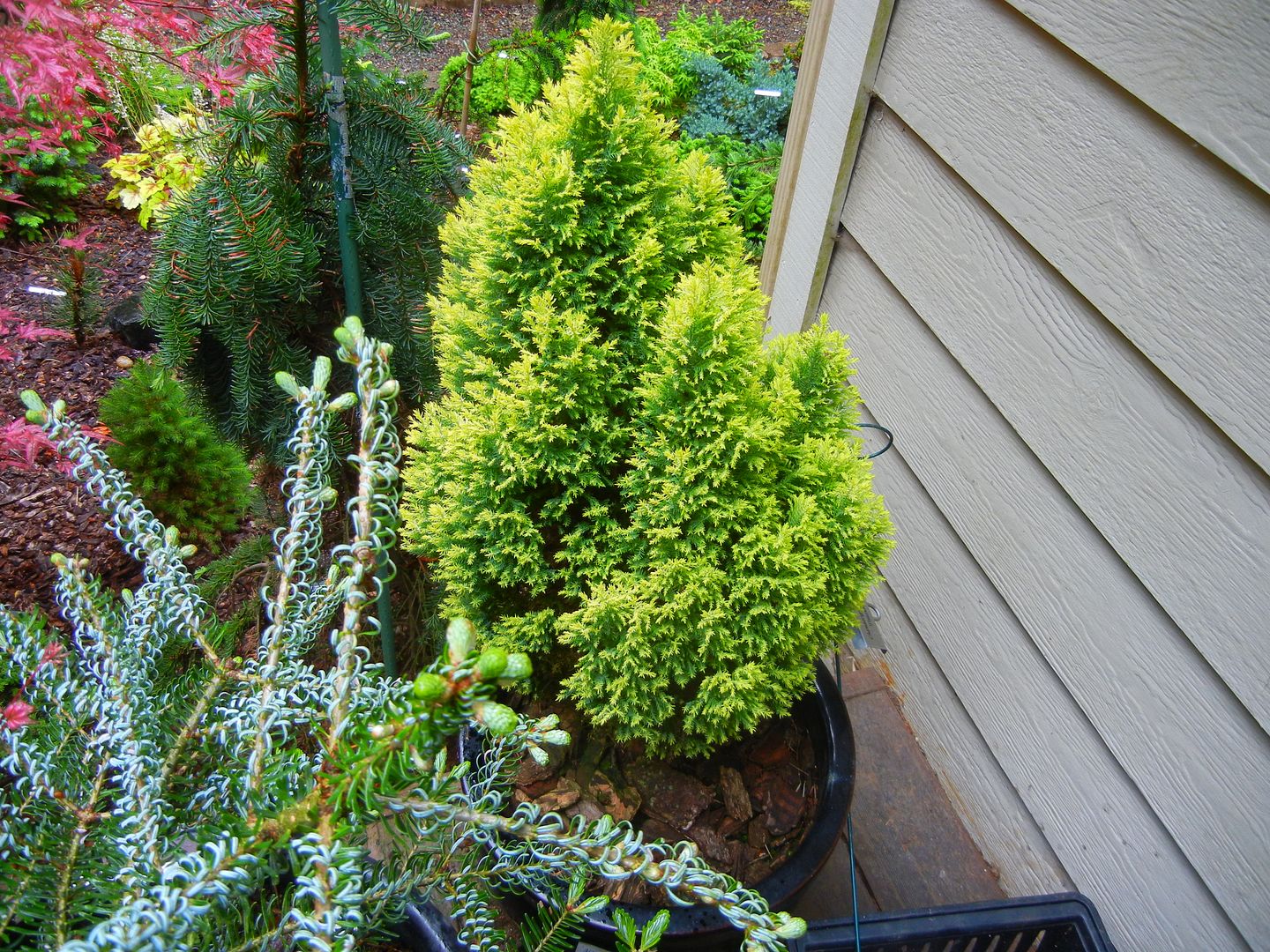 Pinus parviflora 'Ara-Kawa' - one of the Japanese white pines that has unusual bark in older age. This five year old specimen now sports some shiny new cones.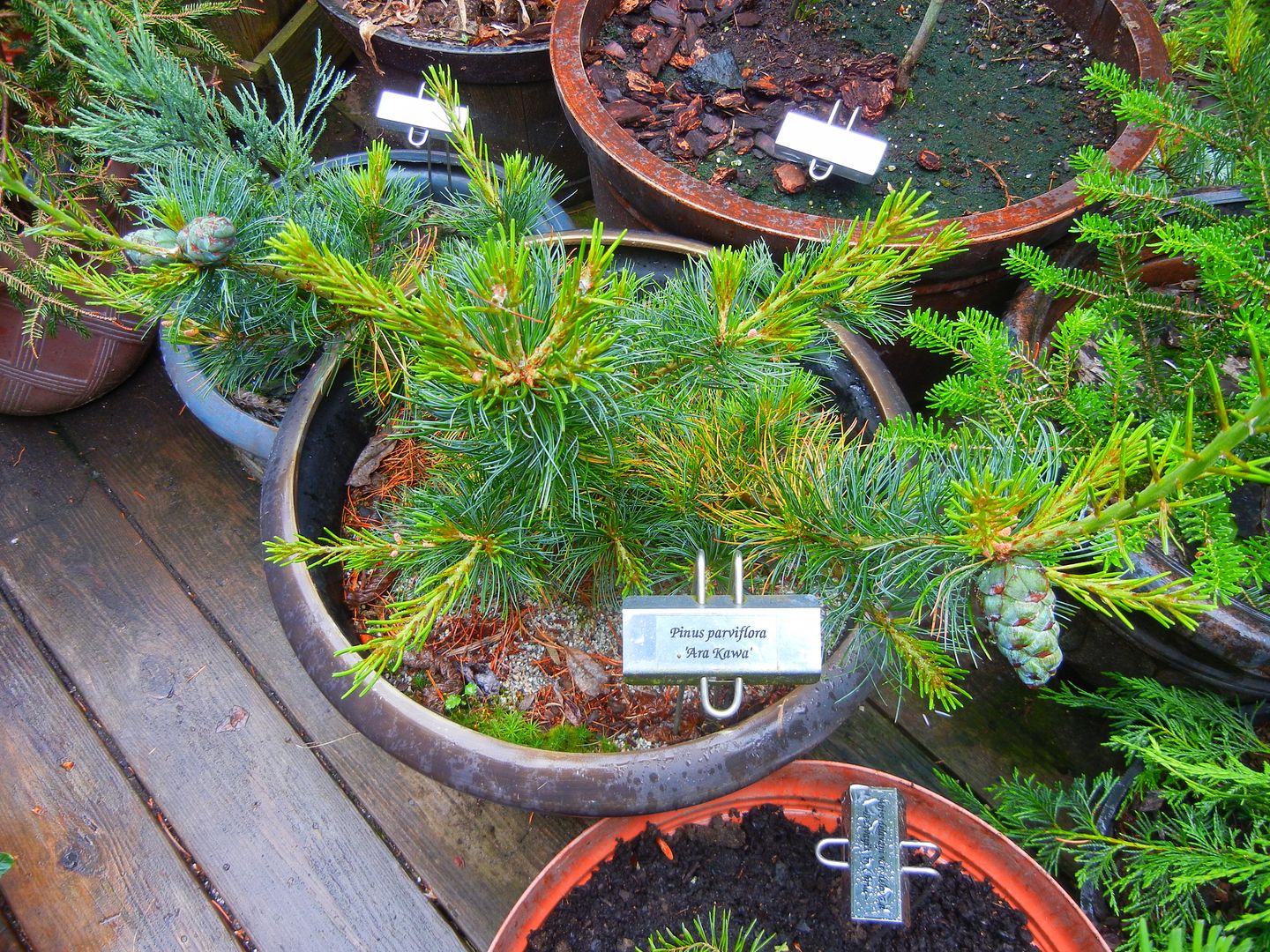 Picea omorika 'Aurea' Shows bright green growth before it turns a pale gold with sunlight. This color is prominent briefly and only on the higher edges of the needles so that in older specimens it is largely unnoticed, though still a beautiful specimen in it's own right even without gold hues. Three years in this pot now.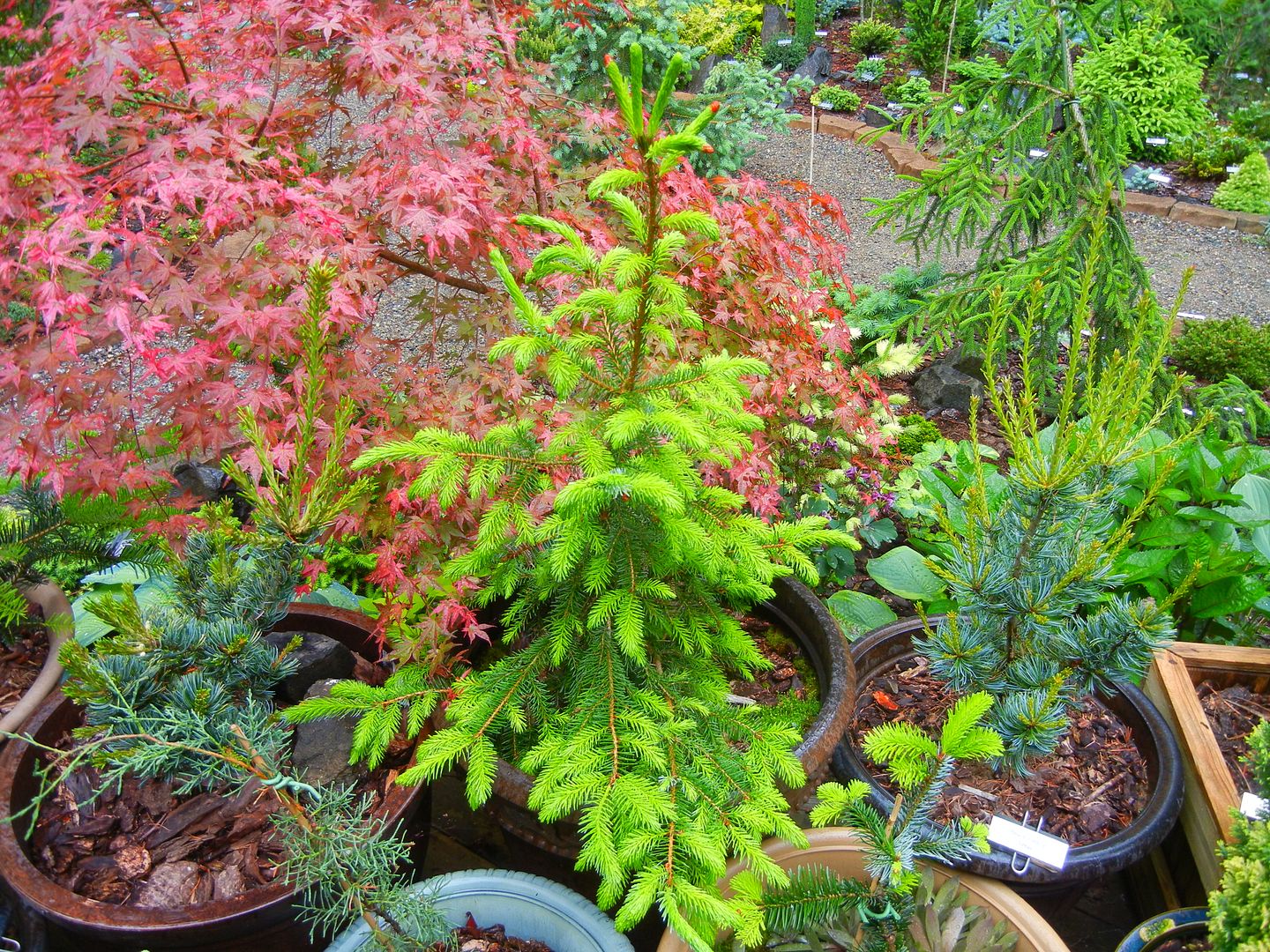 Picea omorika 'Berliner's Weeper' Very narrow and beautiful in older age, my specimens(even those in the ground), which were taken from side-branches, still haven't fully taken to a skyward leader. Someday soon...
Pinus parviflora 'Nana' - Small, blue and plentiful cones.
Picea omorika 'Pendula Bruns' - Growing like a wild animal, this specimen has been in the pot two years and though it is large and fast growing, I intend on keeping it there for a long time, perhaps until it tips over time and time again!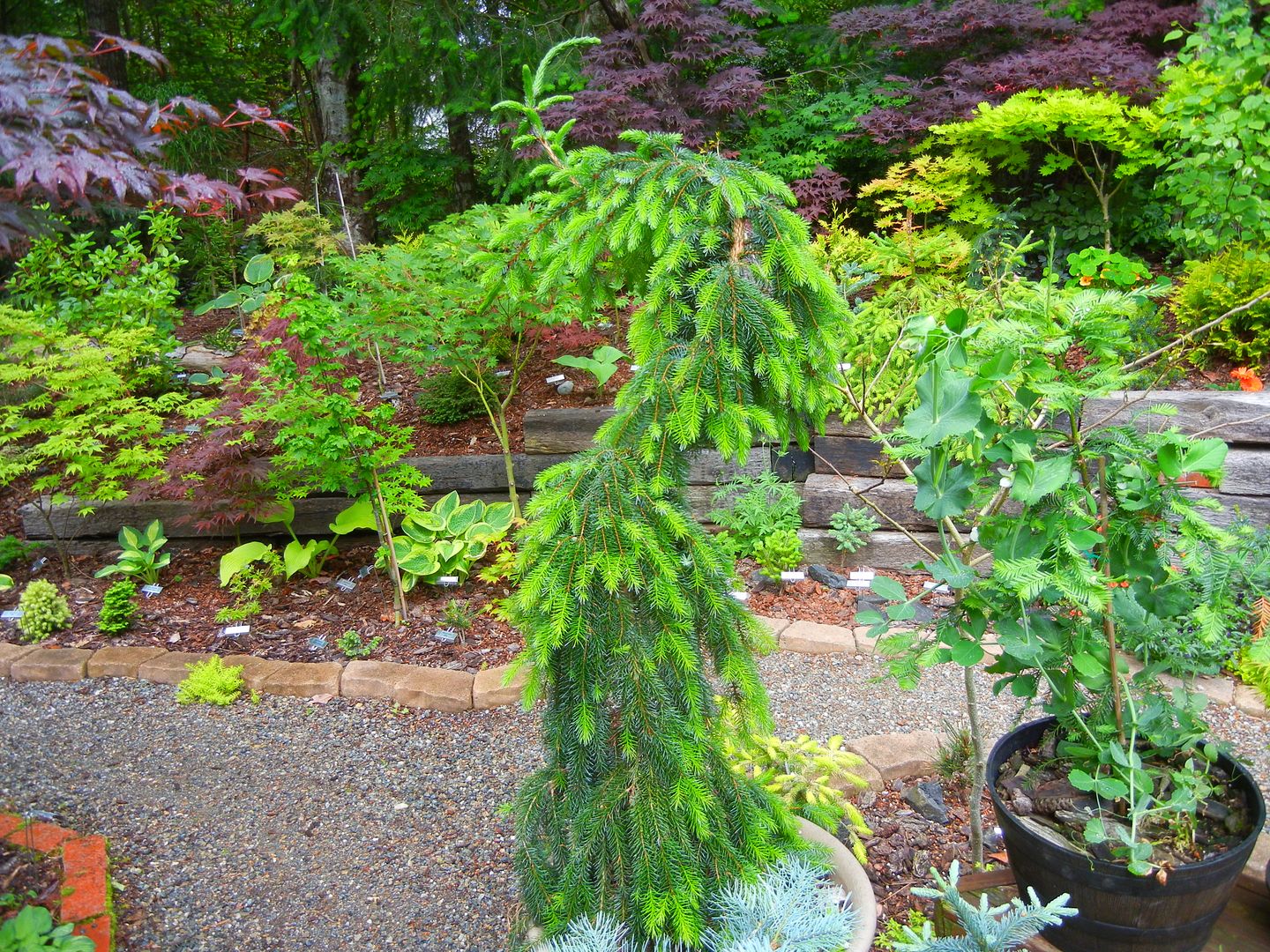 Cedrus libani var. atlantica 'Hillier's HB' About eight years old, grows an inch or two a year and very prostrate. Took a bit of a frost beating it's very first year(to about 5 degrees F/-15 C') but has recovered well.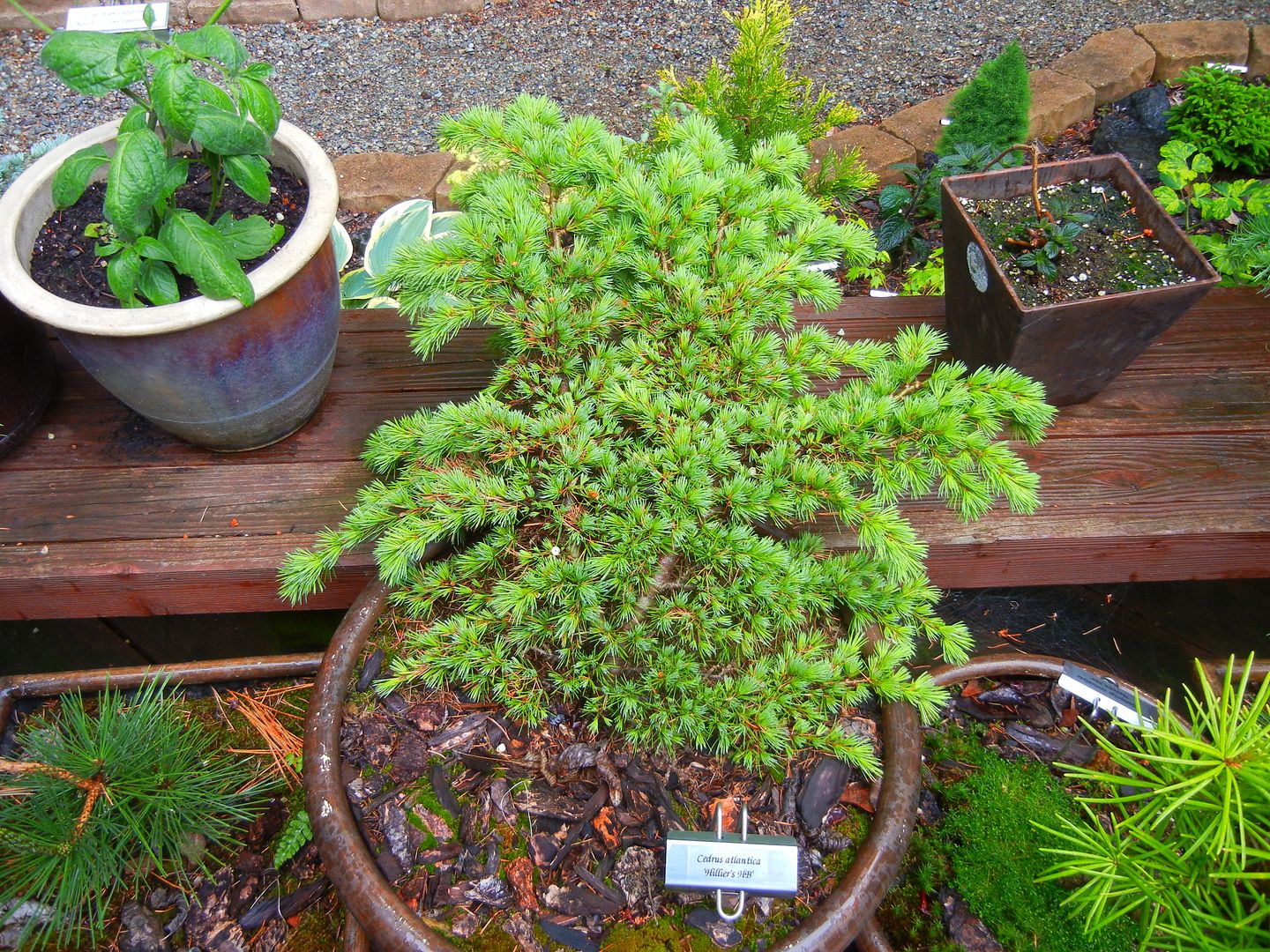 Pinus nigra 'Black Prince' - Compact and happy, I think pines are good candidates for pots given their tendencies to be very tolerant of drought and nutrient defeciency.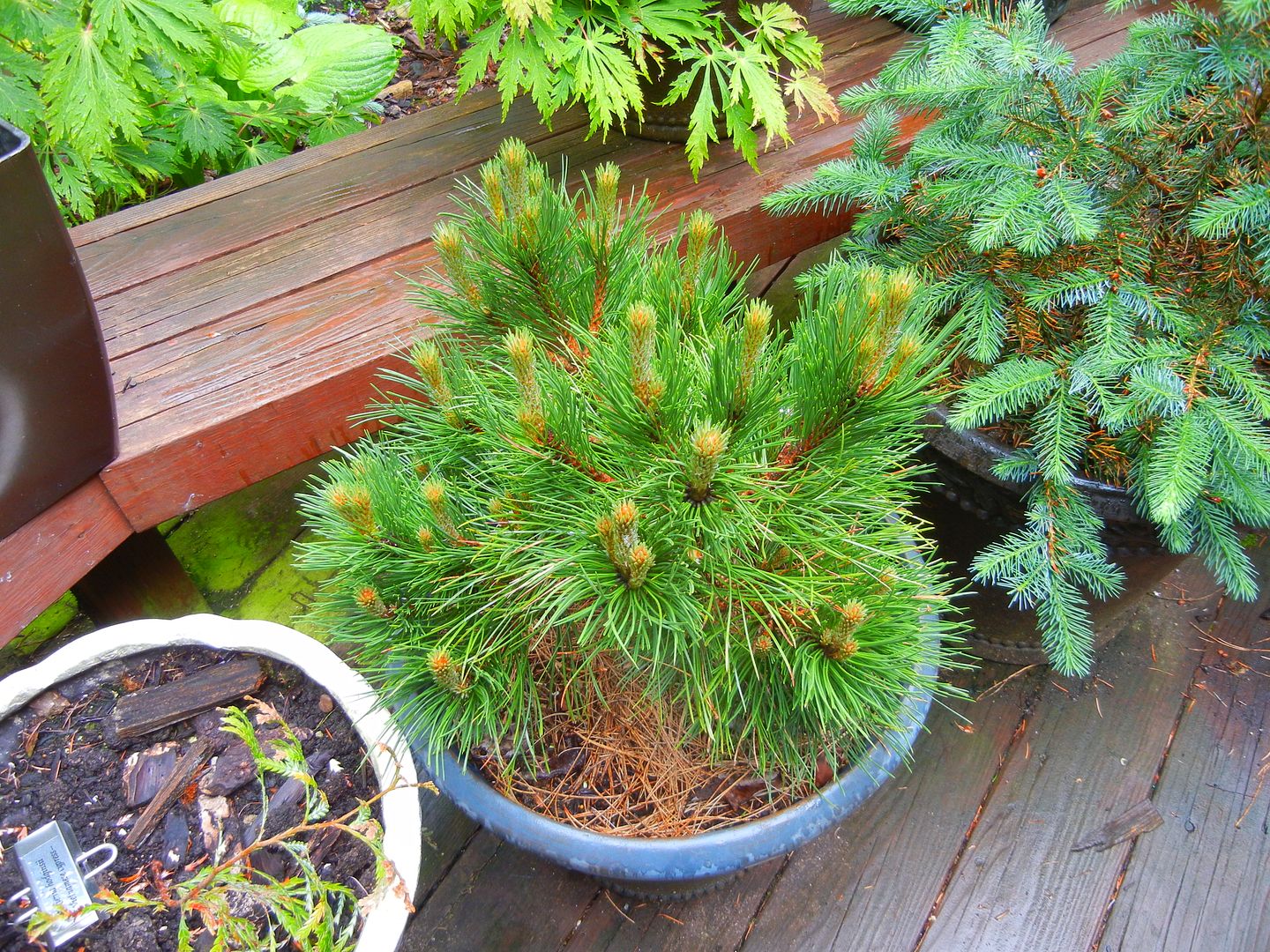 Some Iseli miniature/dwarves.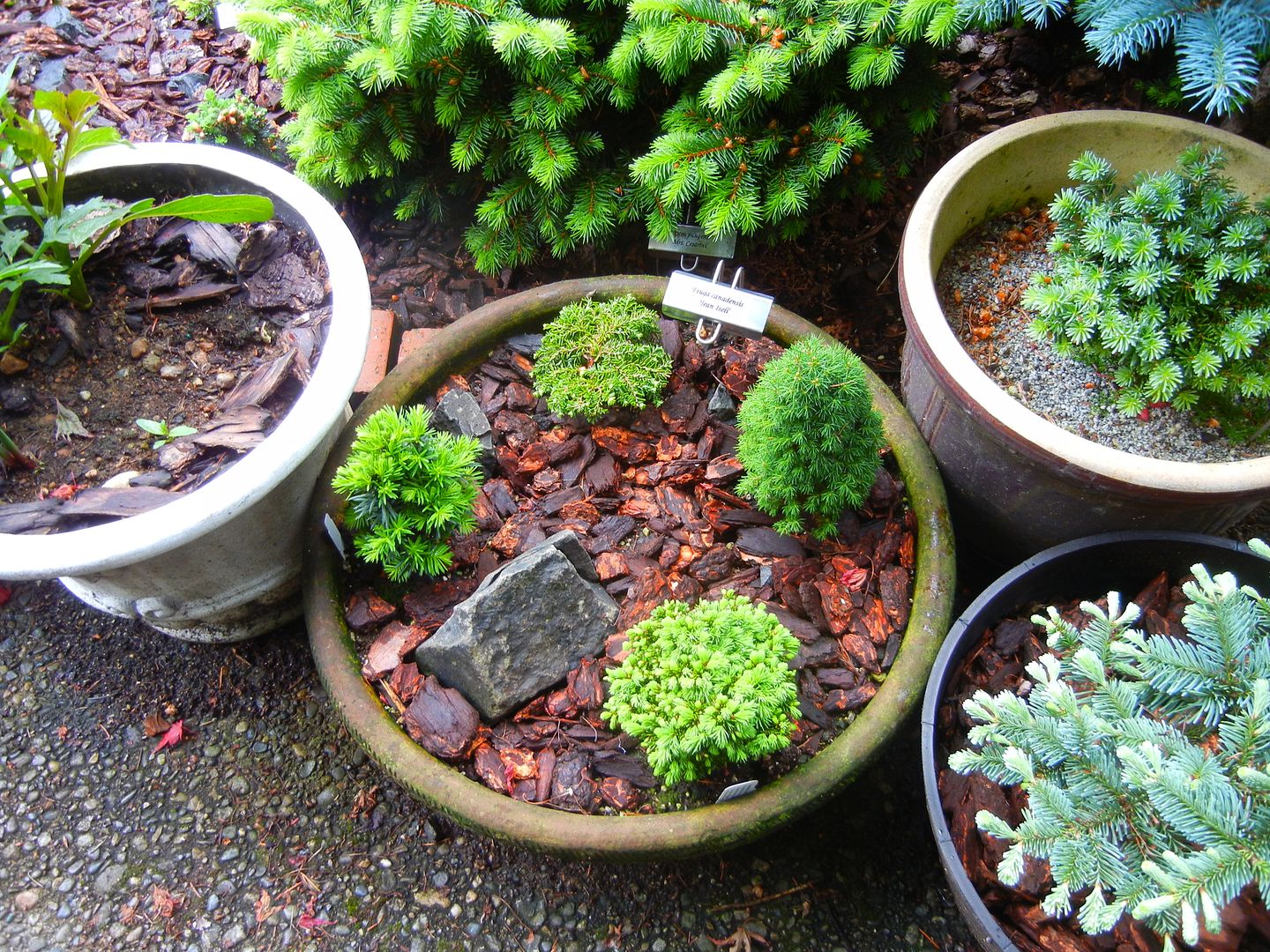 Abies koreana 'Blauer Eskimo' - Happy in part shade.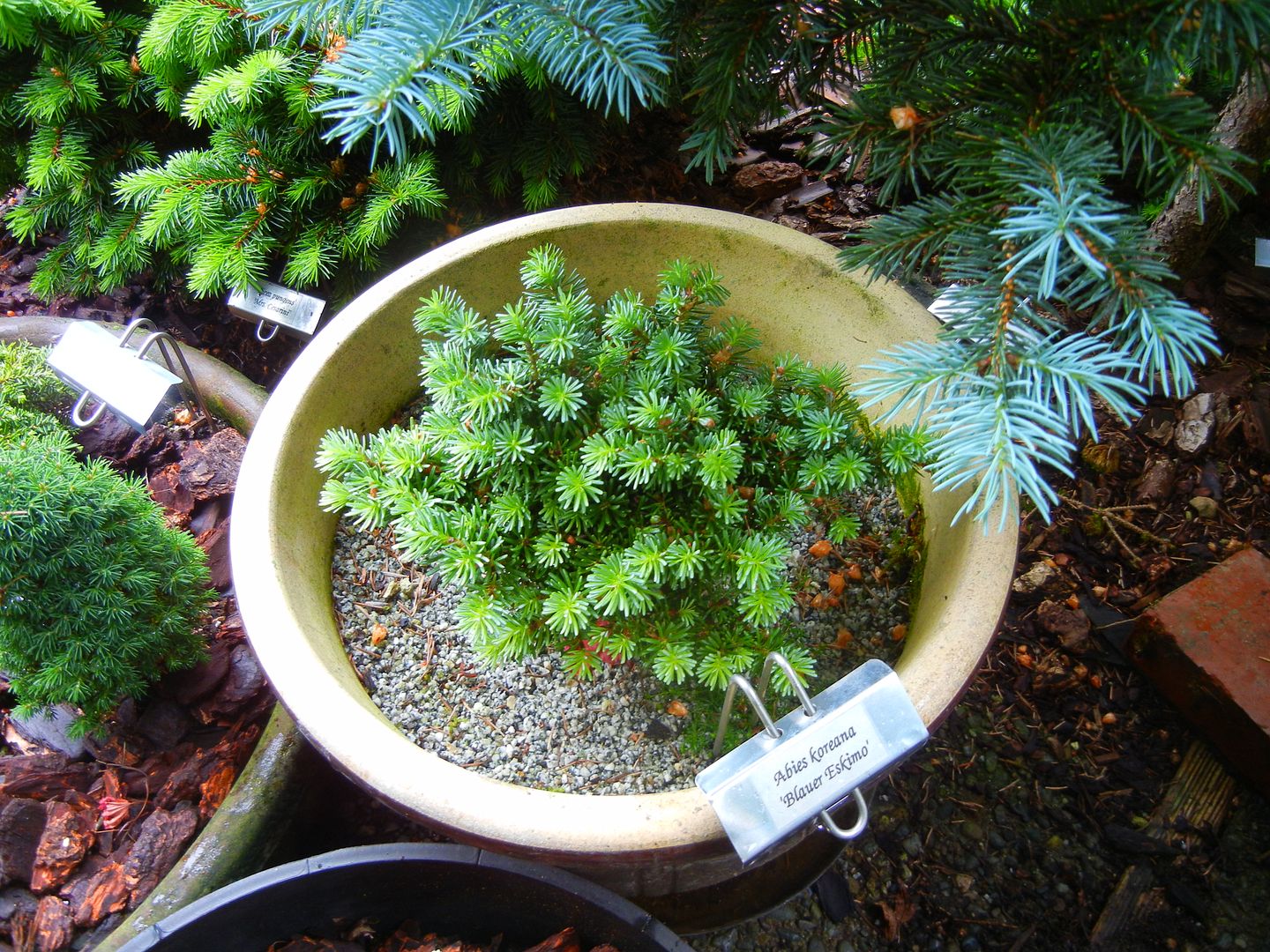 Pinus nigra 'Oregon Green' - under the eaves of the house and no sign at all that they want more water then my occasional offerings.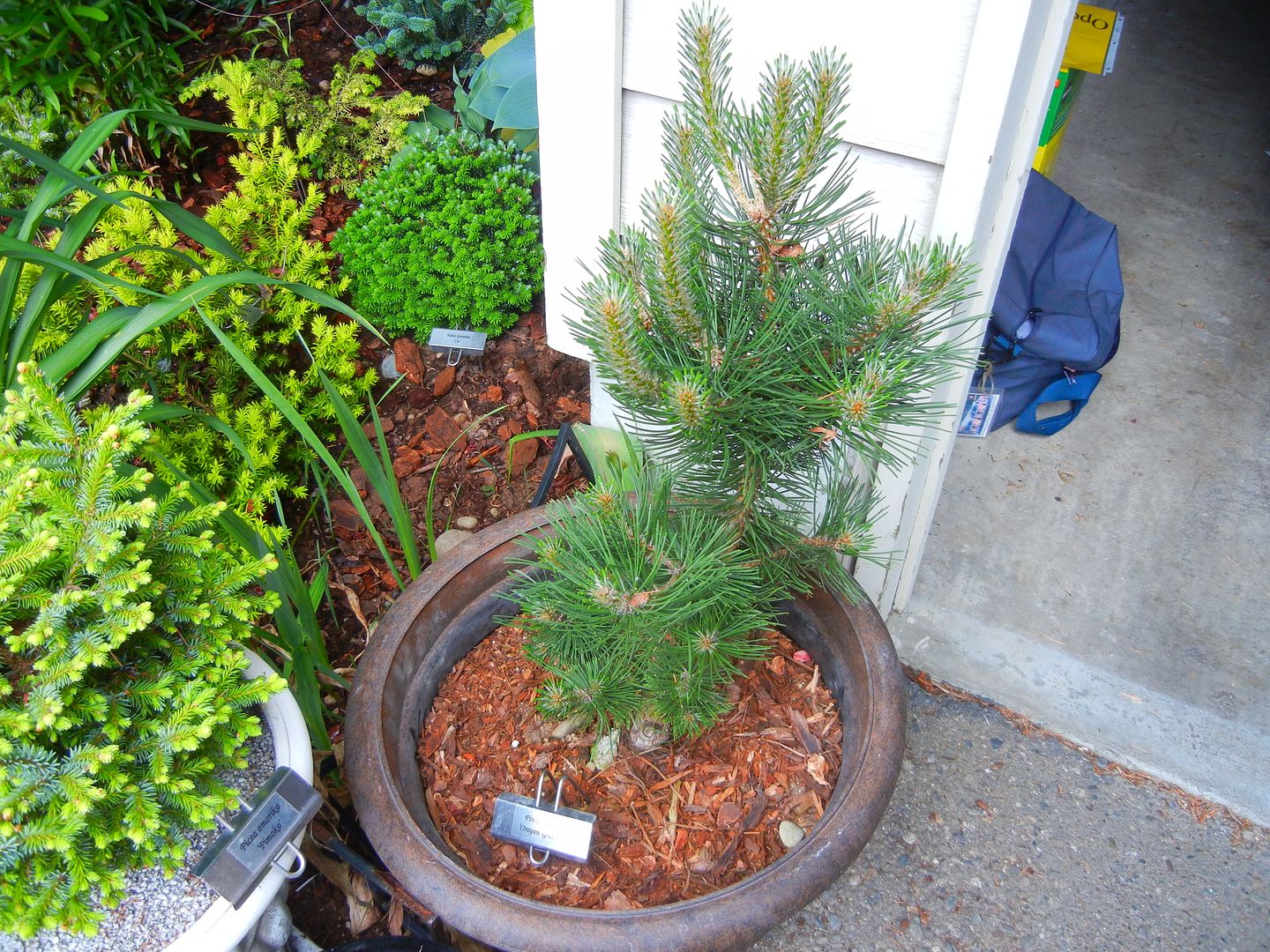 Picea mariana 'Nana' - Much older then you might think.
Pinus parviflora 'Regenhold' - A tiny, awesome pine.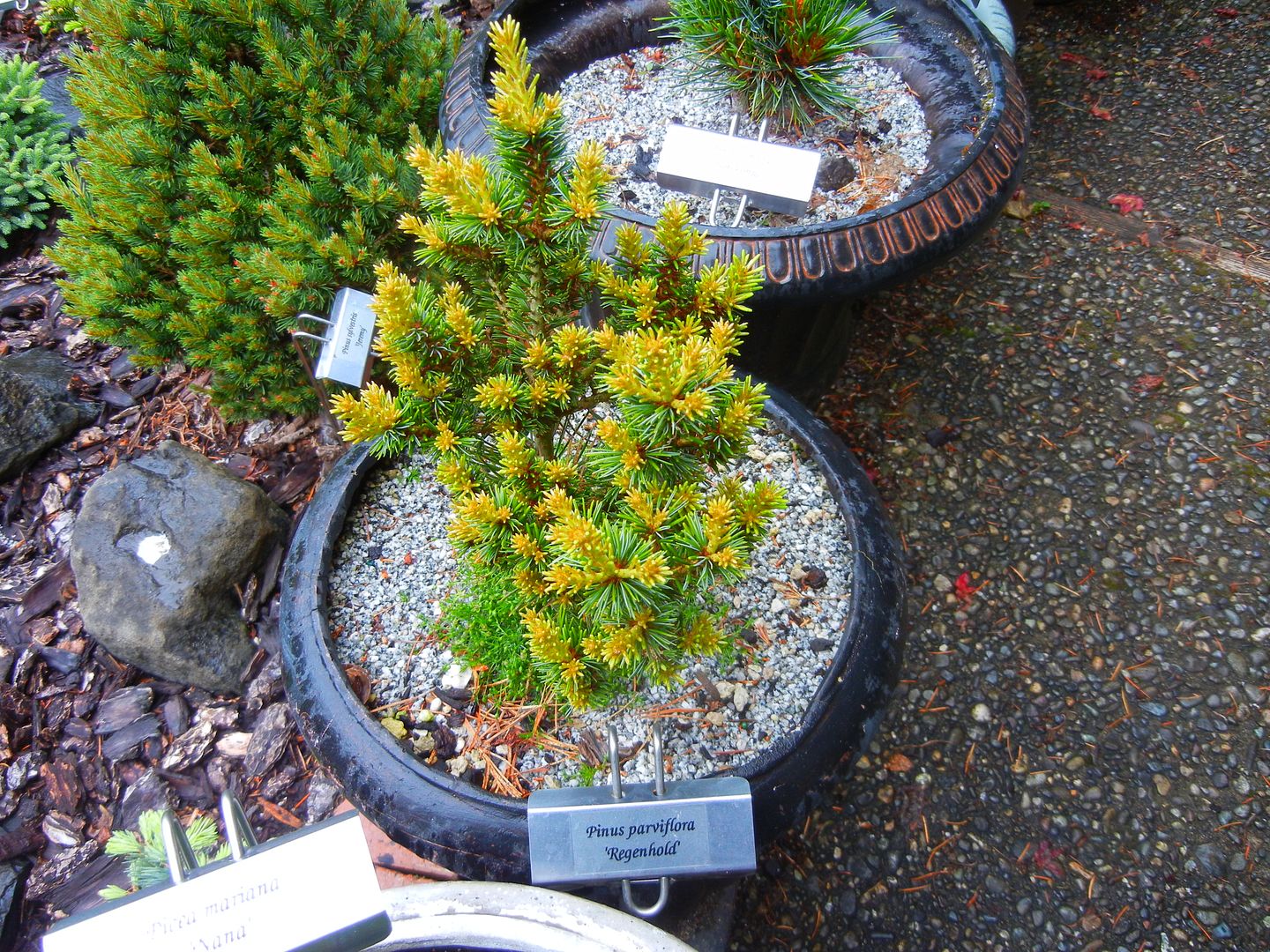 A line of pots marching.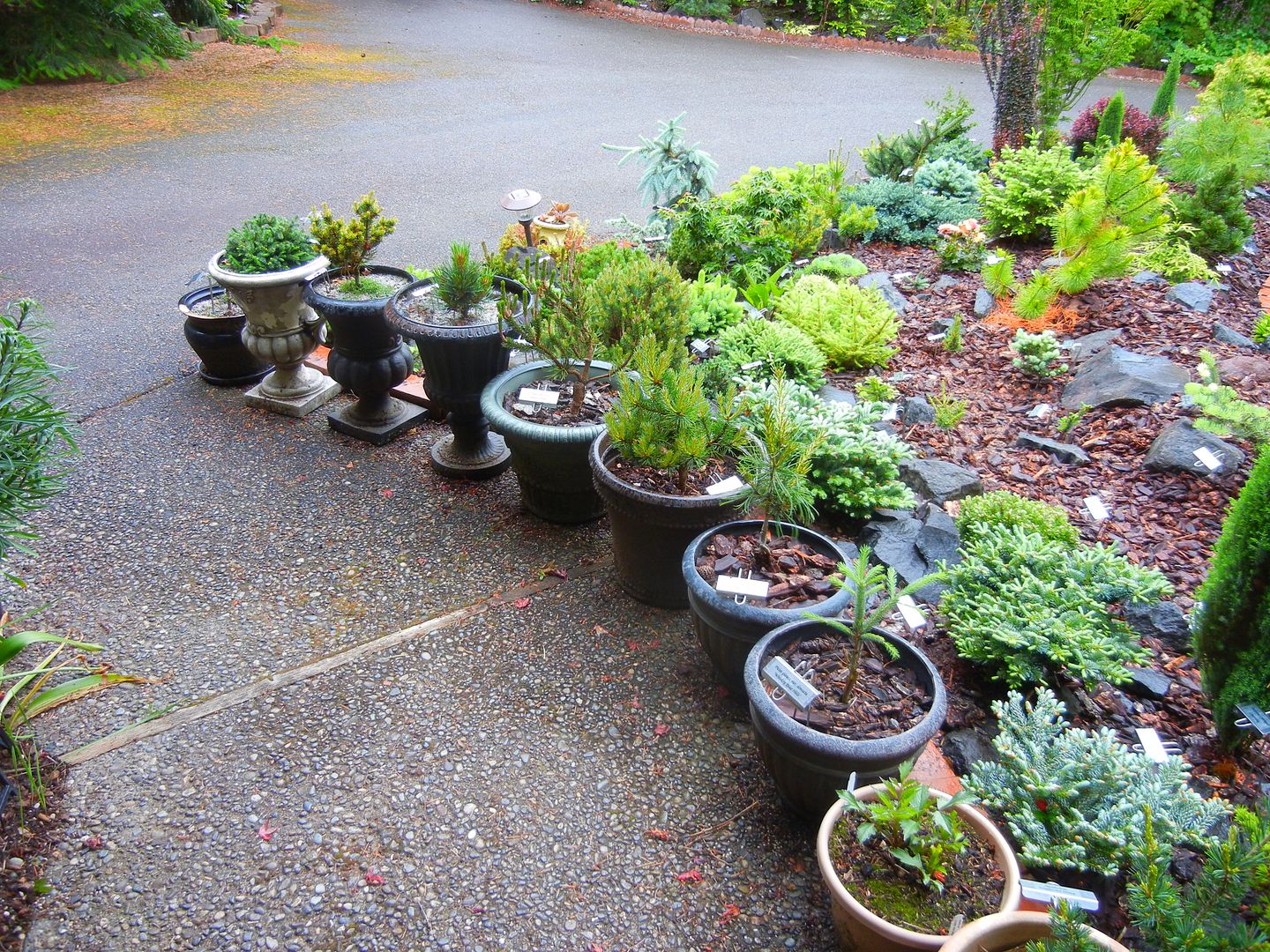 One of the most bold Japanese maples also this week:
Acer palmatum 'Shirazz'(syn. 'Geisha Gone Wild'). Extremely bright and unsual for all the growing season.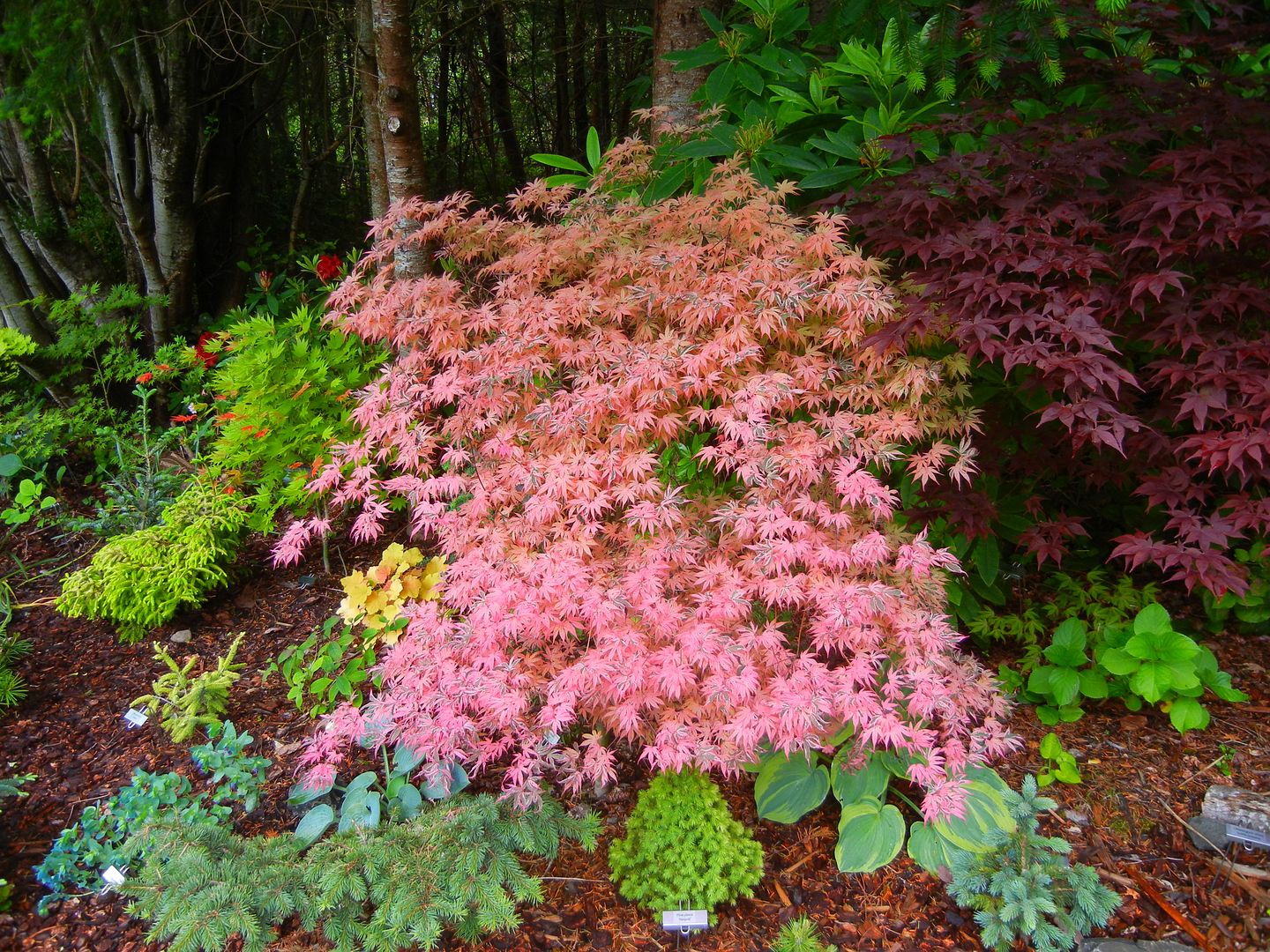 Mystery plant:
Picea smithiana... Looks like a cultivar I saw at Bob Fincham's place, but mine was bought as a species seedling from Forest Farm. Four years in the ground and very slow growing still. Possibly just not thrilled with our drier Summers.
-Will