HAVE: My Green Elephant Trade List
greenelephant
(Woodinville WA)
October 2, 2006
Here's what I'm bringing to the Green Elephant:
See you Saturday November 4.
Jim Trees:
Corunus controversa - Giant Dogwood
Cornus kousa - Kousa Dogwood, Japanese Dogwood
Cotoneaster franchetii orange cotoneaster
Pinus contorta - Shore Pine
Japanese Snowbell
Sorbus americana Mountain Ash
Tilia cordata Little Leaf Linden
Laburnum anagyroides Golden Chain Tree
Perennials Asclepias syriaca - common milkweed
Aster novae-angliae - New England aster
- peach angel's trumpet
Centaurea montana - mountain bluet
Cyperus alternifolius Umbrella plant
Darmera peltata -Indian rhubarb
Dicentra spectabilis - bleeding heart
Eupatorium dubium - costal plain joe pye weed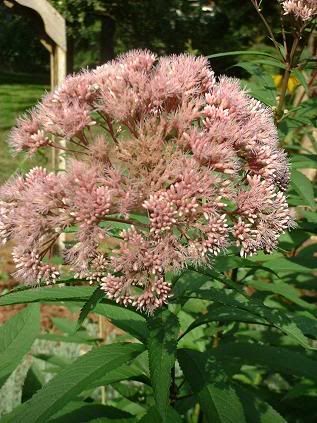 - spotted joe pye weed
Foeniculum vulgare - bronze fennel
Helenium - yellow sneezeweed
Perennial Sunflowers
Heliopsis helianthoides yellow ox eye daisy
Heliopsis helianthoides 'Prairie Sunset'
Iris foetidissima - orange seed berries in pods for dried flowers.
Levisticum officinale - Lovage
Lysimachia clethroides - gooseneck loosestrife
Lysimachia punctata - yellow loosestrife
Oenothera elata ssp. hookeri - binniel yellow evening primrose, 3"yellow flowers
Phlox paniculata - garden phlox, Hot Pink
Physalis alkekengi - chinese lanterns
Solidago sp? - 6 feet
Solidago sp? - 4' widely branching flowerhead, the best flowers
Solidago sp? - 18" well behaved
Solidago sp? - 4' Pacific NW native
Thalictrum aquilegifolium - columbine-leafed meadowrue, pink.
Verbesina microptera -Mexican or Texas Winged Crown-Beard
Here is a link that might be useful: Details and Directions to the Green Elephant