Garden Updates: Whatcha' doin'?
christinmk z5b eastern WA
April 9, 2011
I love doing these posts to see what our CG friends are up to in the garden! ;-)
We got a light dusting of snow a few days ago here, but it was much to warm to stick around. The other day was amazingly warm and sunny out, so I went and did some work in the garden.
Truthfully, I did do a lot of sitting around and sun-soaking. Hey, it was a long winter and I need to replenish my Vitamin D levels, LOL!! But a few projects did get accomplished. Last summer I took out a lot of the perennials from the front sunny side garden that I just wasn't happy with. I plan to put some interesting veggies in there this spring, as soon as I get a few more things dug out and temps warm up enough. I did get somewhat of a start on it by reshaping the bed from to humps to one sweeping rounded curve. Just the description sounds better, lol!
I wasn't entirely satisfied with the stepping stone path in the front shade garden either. Problem was it wasn't defined enough. I have the bigger rock-lined pathways in the backyard that I love the look of, so I decided to repeat that in front but with smaller rocks. Didn't have enough to complete the project, but here is a pic of what is done so far: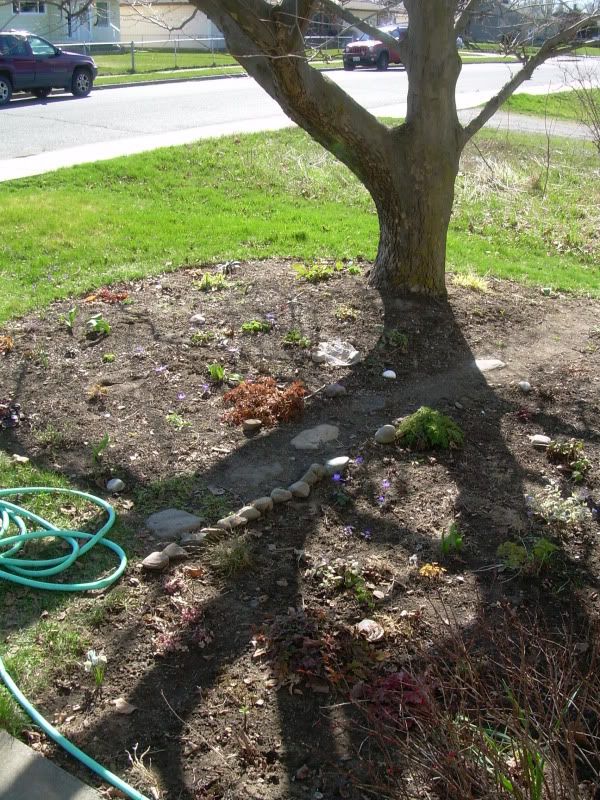 Later this week I will have to go on a 'rock hunt' to find more!
Moved a coral bell that was in too much shade, plus a couple other items in the backyard. I also found a couple clumps of violets around that I dug up and transplanted to the front lawn. Love the purple in the grass! (sorry this is so blurry, lol!)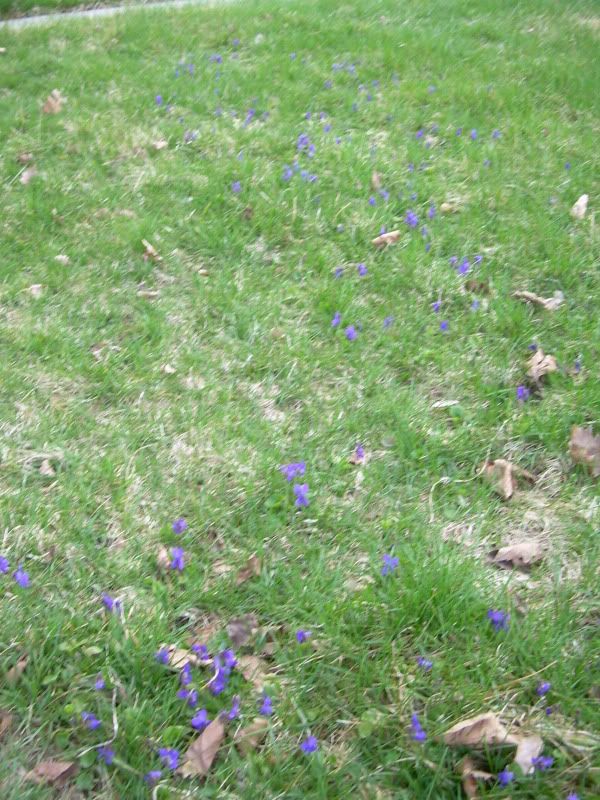 Last fall I got a big bag of crocus because I wanted to try and make a sort of 'river' of them across one of the beds. Thought it was going to be a mix of purples, white, and yellow/gold, like what I have gotten before. Not so this time. It turned out to be a mix of dark purple, white, and white striped purple. Now don't get me wrong, they are all gorgeous together! The only problem is I had two little clumps of yellow crocus nearby, so it looked incredibly strange mixed in with all this purple and white. Think I mentioned this on a recent thread, but what drives me batty is when color is not even in the garden. Well, the more I looked at those misplaced yellow crocus the more it aggravated me. So I went and moved them to the other side of the pathway where I am trying to get a second 'river' going. This second one will be dark and medium purples with the yellows.
Next I went and dug up a few Chionodoxa bulbs from the front and incorporated a few into the purple river (these glory of the snow are a nice lilac/pink) and dotted some more through out the back.
Here is a pic of the purple river of crocus. Not anything impressive yet to be sure. Hopefully in a couple years it will be more noticeable!
Last year some of you may remember I put in a raised bed for veggies. Well today I went and got a few more blocks for a small "wing" for lettuce. I wanted a separate space that would be easy to put covering over to keep those darn birds from eating it. Plus I just liked the idea of a separate bed for lettuce. ;-) Here is the start of that: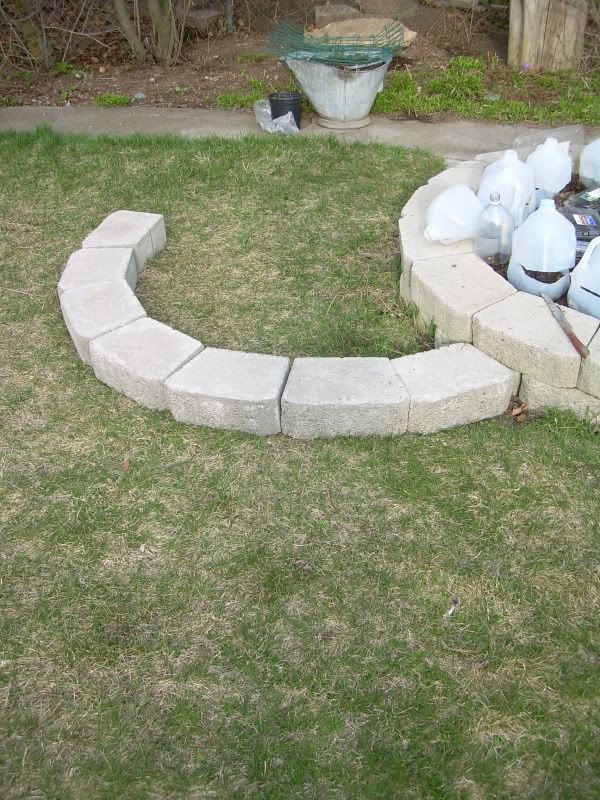 Got a big bag of potting soil today to replant some of the veggies I started indoors that have outgrown their little cells. Think I will get that done tomorrow. Maybe I will even start to bring out some of my terra cotta pots, move the winter sown containers out of the raised veg bed and spread some extra compost on it for this coming year.
So what are my Cottage Garden buds up to? Is it warm enough in your area to be doing anything outside? If it is too early, what are some of the first garden projects you hope to accomplish once things start to heat up?
CMK