Problem with Horstmann's Silberlocke Firs
lizo
(SE WI zone 5)
July 12, 2014
I noticed this problem last year on one of two small Silberlockes that have been in the ground about 6 years.
Is it the fruiting bodies of a rust or blight, needle cast or insects? I do not see any sign of aphids or beetles anywhere at the moment, only these crusty brown things left behind. They are on one, two and three year old growth on the twigs.
The needles on the more infested tree are curled more than those of the other tree.
I pruned off all the affected branches I saw last summer but this year these blister type scabs are back on the twigs and have spread to the other tree now.
The trees look ok but are not growing much. This condition is now affecting about 60% of the worse tree.
The trees are 20 feet apart, in part sun/part shade, in average soil in the lawn. I am in SE WI and my soil is not ideal for them, red clay about 18" down with a high water table in spring/early summer, water and soil are 8-8.2 pH.
Should I just remove them and burn them? Even if I solve the pest problem, they may struggle and be miserable anyway.
I appreciate any suggestions! I have combed the internet looking at all the possible pests and blights and I cannot find anything that really looks like this.
Thanks!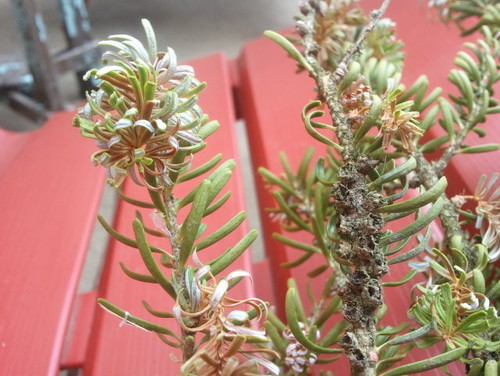 This post was edited by lizo on Sat, Jul 12, 14 at 15:10