My blank slate (pics)
deanna_in_nh
(5a/4b)
May 31, 2010
I thought I'd share my "blank slate" for gardening. I'm pretty excited! All of the people on GW forums have made such a difference in my gardening. What this garden becomes will be a testimony to the helpfulness of people on GW. I didn't take any "before" pictures, and I sure wish I had. Probably over half of the plants currently in the picture I added, and it's still got lots of room! We moved here in July of 2008. It was a huge weed bed with a few perennials sticking their heads up. Most of the perennials seemed to be tiger/ditch lilies. I had remembered peonies when we saw the house, but they were done blooming when we moved in. It was seriously neglected, but the owner had clearly put a lot of time, effort, and thought into the original design. I inherited a diamond in the rough in my opinion. Given my limited gardening experience I don't think I could have designed a nicer blank slate for me to start! It was time to roll up the shirt sleeves and do some serious hard work.
Just to give you an idea of weeds, this walkways which leads to the front door was only 3 feet wide. It is now 6 feet wide. The rest of the walkway was covered in mature irises and thick grass.
I went out to get rid of the tall grass and weeds growing between the stones and found this beautiful wide walk underneath. Once cleaned it looked fabulous!
There was a nice wood trunk trellis covered in 3 types of honeysuckle. It seemed strange that there was no walkway to the trellis, leaving it hanging in the middle of the lawn/garden where it wouldn't be used. The irises, mint, and grass/weeds were so mature, though, that I thought there was no way a path existed. Lo and behold, as I got to weeding that part of the walkway a stone path emerged!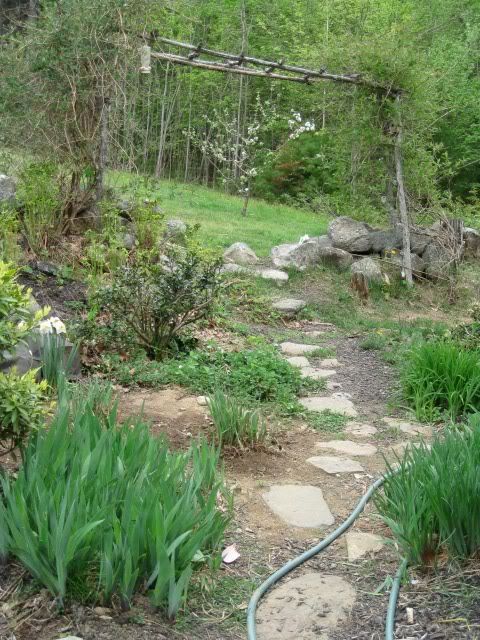 These irises had roots two to three inches thick extending to the other side of the trellis walk.
Last half of 2008 and all last year I spent a huge amount of time killing weeds. To give you an idea, this is supposed to be spiderwort. Last year I put down weed tarp, and this is the weeds growing through the opening.
You can't even see the spiderwort! This is what the entire garden looked like. Also, these irises have weeds and mint growing atop their concrete roots that I can't even touch.
I barerooted the spiderwort and a couple of other perennials earlier this year. It was the only way to get rid of the weeds. There's no telling how many non-weed plants I pulled out of the ground, but if they weren't blooming I couldn't tell weed from plant. I don't know if I could have done the weeding without being able to lay a big swath of tarp down anyway.
So now I have a mostly "blank slate" to begin. The house foundation was nicely surrounded by hostas. This bed already had a peony, weigala, spiderwort, purple irises (many of which have been removed) and the sedums.
This bed had two peonies, a shasta daisy, mint (OH NO!!!), a holly, more purple irises and a white iris, a historic iris, way way too many tiger lilies (all of which have been removed now, including the ones in the picture) and another non-flowering shrub.
This side bed hasn't been fiddled with much except to remove weeds. It is covered in yellow daylilies and has a hydrangea, rhododendron, a pyracantha stuck in the middle (can't figure out how to use that one), and more purple irises. I did move some bearded irises from a side bed into here. They only had one bloom last year, and I hope to rejuvenate them.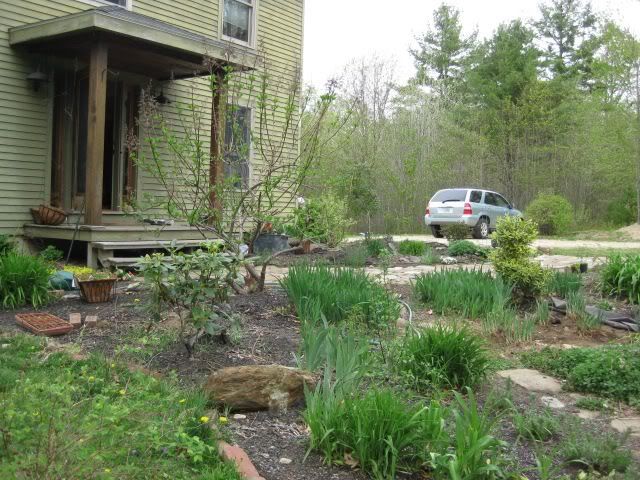 At first this place was basically full of purple irises and tiger lilies gone commando. They were everywhere. I given away so many of both that it's hard to believe how many are left. Because of that I did NOT like purple irises last year (never liked tiger lilies before, anyway). But, now that the irises are under control and not everywhere, they are truly beautiful. I LOVE THEM!!
Life got very stressful for the previous owner, and I know she didn't want to leave the house. Clearly she didn't relieve stress by gardening, but I doubt I could have had the gumption to garden with everything that she had to deal with. She put beautiful bones in this garden and I hope to bring it up to the potential with which she started.
But now I am thrilled that I have a beautiful house to walk up to. I've filled these beds up with WS things and some other plants. I have a beautiful garden to welcome me to my front door
and I am enjoying the fruits of her hard work and vision.
and I get to enjoy the fruits of her hard labor.