Alstromeria
luv2gro
(z3a AB)
March 10, 2006
After a request, I thought I would start a separate thread devoted to alstromeria. You will see it in select greenhouses shortly and it is such a lovely plant. I bought mine in a greenhouse just outside of Beaumont and it does seem that not all the greenhouses carry them. Also, if you see them and want one, buy it. Do not hesitate or it will be gone. They are out of them, usually, in a matter of days, sometimes hours. Mine are going into their 3rd year and are sprouting quite nicely now. Being fairly expensive, it is nice to know that we can easily overwinter them and divide them.
I bought 2 - 10" pots of them 3 years ago for about $12 each. Mine were sold under the name "Princess Lilies" (website below) and are supposed to be the 'Sara' variety. You will see, if you compare the website pics vs. my pics, that mine are not so yellow as theirs and more of a peachy, pink. But, I love them very much just the way they are. I brought them home and immediately transplanted them into 16" deck pots. One, I divided - the other, I just potted straight in. I didn't notice too much difference between them, either way. They put on a fair show that year but it gets better . . .
I didn't get them in at first hard frost in October and I thought I had lost them. But, DH brought them downstairs for me and we forgot about them. In late Nov., early Dec., I happened to notice them sprouting and flowering. But, everything was albino white - no colour. Whoops . . . guess these need some light. Brought them upstairs and left them in my kitchen for a day or two. My dear, sweet (rotten) cats decided that they made a really nice toilette and dirt bath. Again, I thought they were goners. I got new potting soil and started to repot them. Lo and behold, the tubers they had developed were massive and in great quantity. No visible difference, really, between the earlier divided one and the other - except that the spread was a bit better on the one that had been split. So last year, I just trimmed the tubers back, repotted them and then called the greenhouse where I bought them. They told me, seeing as it was still so early, to just pull up the white sprouts until green shoots started to appear and then pull about a third of them until you can't keep up with it anymore, at which time, just let it go on its own. The show they put on last year was spectacular and lasted all season. They were budding when I put them out in May and flowered right up to freezeup.
2005 'Sara'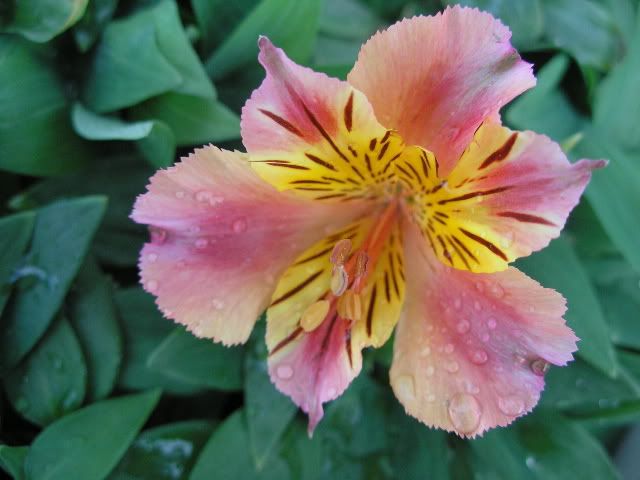 Close-up of 'Sara'
This past year, I brought them in, left the foliage on to dry, pulled it off when it was dry and piled the dry foliage on top of the pots. They didn't prematurely sprout. I repotted them about two weeks ago and they are now sending up nice green shoots. And I managed to get two new pots going.
The tubers are quite fragile and both years have absolutely filled the 16" pots with tubers and roots. But, I'm really finding them pretty easy to keep. They just go down into my unfinished basement - not hot, but not really cold, either.
I have them on my west facing deck and they seem to do very well in the afternoon sun. Mostly, they get just rainwater, but if really dry, I water them. I haven't ever fertilized them.
Let me know if you have any other questions on them and I'll try to answer or we can go to the supplier in the Netherlands and find out. I'm not sure if I can successfully get seed off of them, yet. I watched last year, but wasn't positive that it was seed and wanted to do my own trials on it first. Hope this helps.
Shauna