WANTED: Part 2, Jupiter Farms Swap, Sept. 27
cdbinfl
(z10FL)
September 5, 2009
We've reached our limit so I am starting a new one.
Sunday, September 27, 9:30 am - til ?, Jupiter Farms, for directions please send me an e-mail to cherieblick@bellsouth.net, do not use the Garden Web link. So far I have only had 3 people request directions so if you sent a request to the Garden Web link and I have not responded, please resend to my e-mail address above.
We will start around 9:30 with our swapping, and will have lunch. I'm supplying some type of barbeque, pulled pork or burgers and chicken as well as all the paper goods, silverware, and soft drinks, tea, etc. Everyone should bring a side dish or dessert, please sign up for something if you have not already.
Make sure to visit the old listing to see some recent posts for plants available. I have 2 trades of White Butterfly Ginger that I just posted there but will repost here. This is very, very fragrant and a reliable bloomer, blooms most of the summer on succesive new stalks.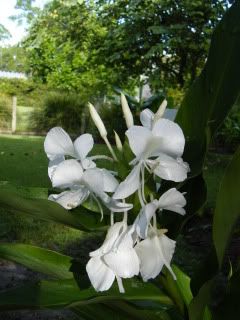 Cherie