New Here
frontiercc
(MD Zone 6)
June 3, 2013
Well, not to GardenWeb, I was around when it first started. I've been gone for about 10 years, just making it back. I am new to the cottage side though. The thread about "how did you start your cottage garden" inspired this post.
I was tired of tripping over my wife's things in MY shed, and she said she wanted something quaint for a potting shed. I gathered some recycled materials and put together this shed.
The only thing bought for it are the roofing and siding. The rest, all of the windows, the door, the framing, the brick floor, the decking is all recycled or scrounged from miscellaneous sources.
I'm tickled with how it turned out. Once the Astilbe I planted in the front comes up and I get my little Lime Hydrangea in on the right side, it will be all set.
Since this picture was taken, I have since added a raised bed along the left side for a cutting garden. The rock wall on the right was even scrounged from the surrounding fields.
I look forward to getting ideas here for our new cottage garden. I think I may spend some time in garden junk too!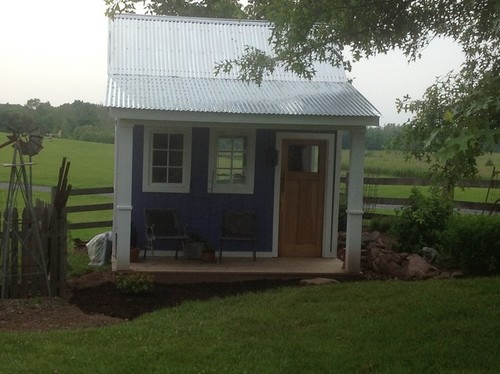 This post was edited by frontiercc on Mon, Jun 3, 13 at 14:43