Where would you put an archway in this yard?
trovesoftrilliums
(5)
June 4, 2011
Last year DH surprised me with a garden by tilling up a big rectangle in our yard. I did promptly fill it up, but it looks like a mini-field plopped down in our yard. This year I wanted to try out a lot of plants (new to zone 5) and I hope to get the garden looking a bit more ah, integrated into our yard next year. An archway/arbor is on my wish list (purely so I can grow climbers up each side) with short fence portions or just shrubs on each side, but I cannot decide where it would fit in nicely.
My first thought was off the corner of the garage, perpendicular to the house. We could have a small curved path way from the edge of the driveway that leads under the archway. But, this would create more shade right up against the house, and I was thinking of putting some hardy kiwis up that side of the house (it is the east side of our house). Also, the flower bed to the east of the house comes toward the road quite a bit, so an archway so far back might seem odd.
DH does not want an archway parallel to the driveway unless there is a good three feet between the edge of the driveway and the archway. He wants us to be able to park in the driveway and not have to worry about plants right next to the driveway. He knows this because last year I planted a patch of cosmos next to the driveway. :) Anyways, here are some pictures of the side of our house. You are looking north into a small shady area. The front is all sunny.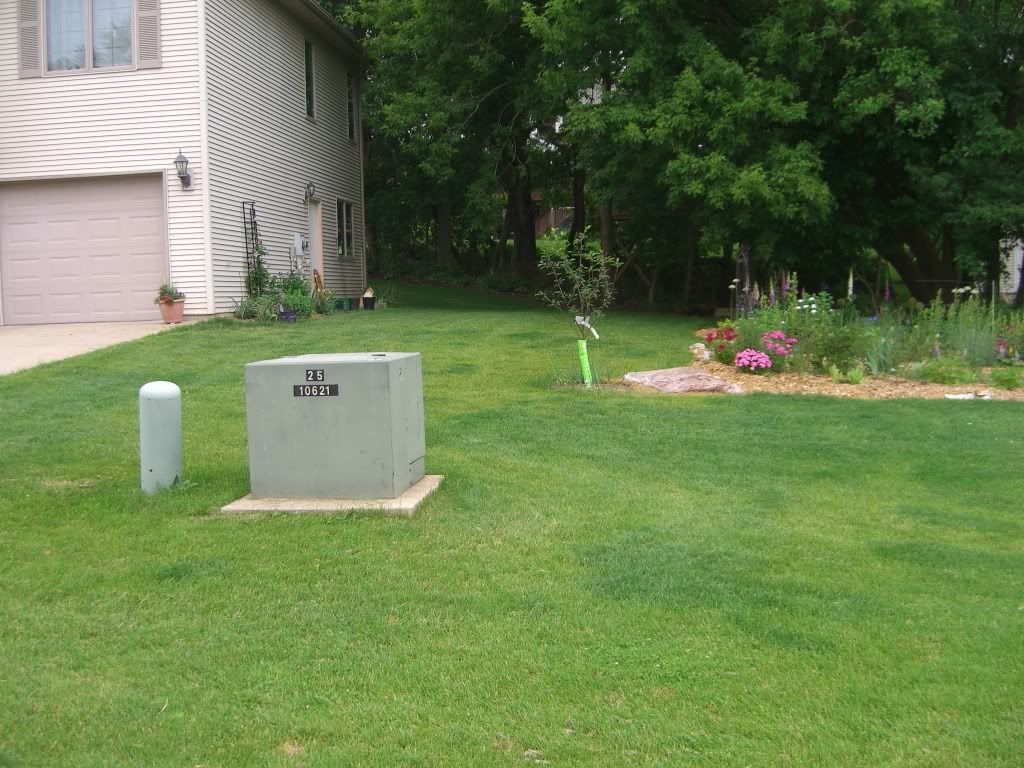 I do have this idea of a clematis covered archway fairly close to the driveway, but I wonder if instead I should try to work in an archway leading into the garden. Then I'd want some kind of seating area, and more shrubs. Or go back to having it perpendicular to the house, and then have a semi-circle of shrubs, etc, to tie into the existing rectangle of flowers.
Or, I am thinking of having something at an angle. Too many options!
Any thoughts on what you would do?
By the way, for the long term, we figure the leaning box elders will be taken out. Also, I planted some small shrubs in front of the trees to help give the garden a more gradual transition from woods to flowers.
Also you can see my erratic grass fertilizing. >.