Old Roses: photos and observations
northspruce
(z3a MB CDA)
July 10, 2014
Just posting some photos of my collection of old roses. I've had these from 2 years to 10+ years so there's a range of maturity. The Albas have this cute ugly duckling stage at 2 years where they have floppy little blooming canes around the bottom, with gigantic basal breaks coming up the middle. Good things to come.
My oldest and most beloved: Madame Plantier (Alba/Hybrid Noisette, 1835)
It lost its very tall leader cane this winter, but has grown out really nice and full over the years.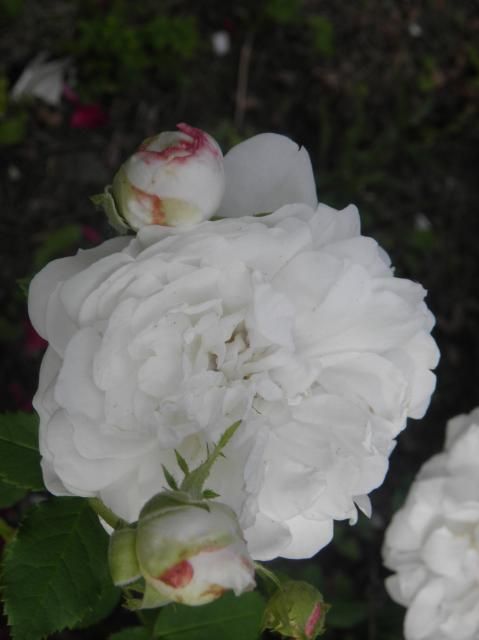 Bush shot: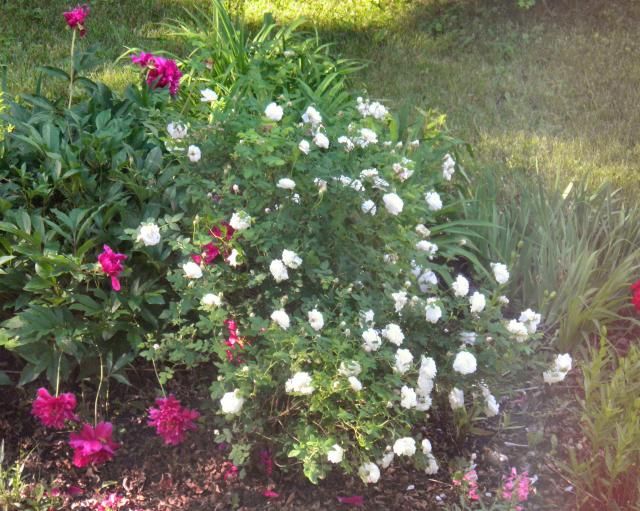 Koenigen van Danemark (Alba, 1816)
This hasn't matured quickly for me at all, but the flowers are beautiful. The darkest pink Alba that I've seen. I don't even have a bush shot but it's not big at all. It did bloom this year but I took this last year.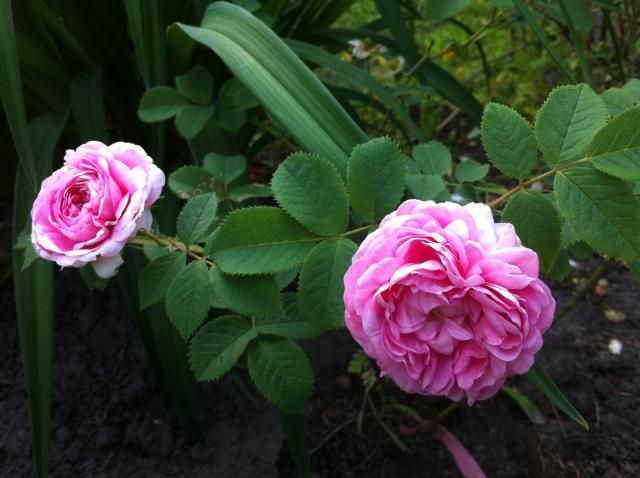 Suaveloens (Alba, pre-1750)
The bush is a little comical, but it's put on good growth in one year and bloomed its little heart out so I have high hopes for it. Nice scent and it's supposed to set good hips.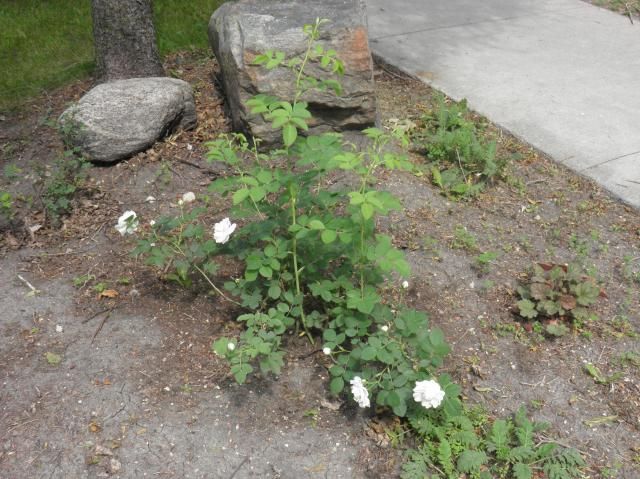 Blanc de Coubert (Rugosa, 1893)
Reliable and nicely scented but I find the bush a little scraggly/messy. It's always the earliest bloomer.

Harison's Yellow (Hybrid Spinosissima, 1834)
Just a wee baby but it made me glad to see its blooms again after 8 years without. I had to leave a monster of this behind at my old house. I was so happy that I forgot to take a photo of its blooms...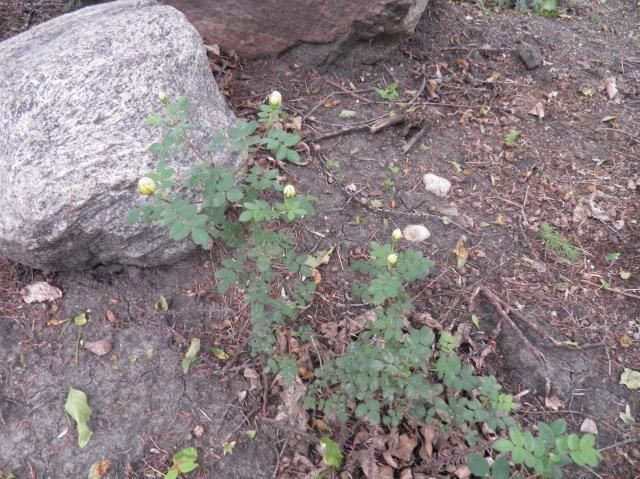 Cardinal Richelieu (Gallica, pre-1847)
Love the flowers and colour on this, but the foliage has been skeletonized badly by something.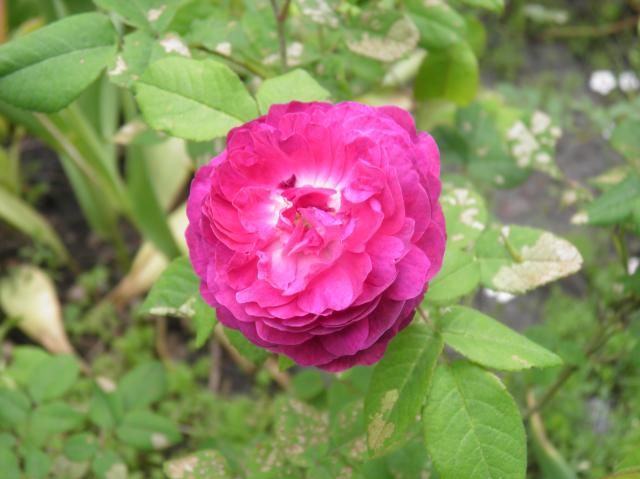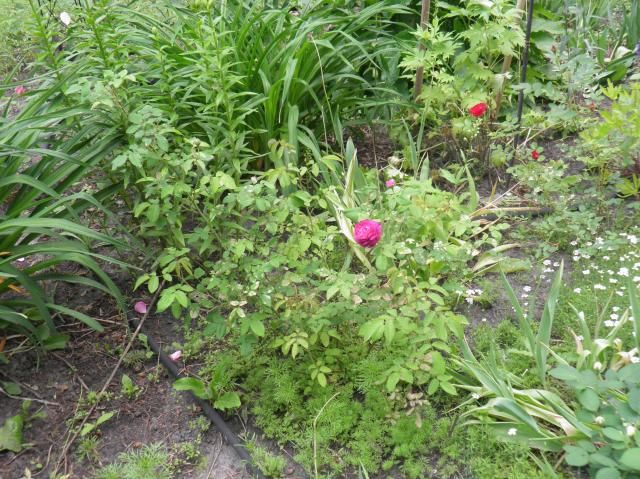 Mme Legras de St. Germaine (Alba, pre-1848)
This one has a lot of potential. The flowers are fairly large for an Alba.


Worst bush shot ever! I need to give it support next year, I think. Good vigour though and lots of flowers.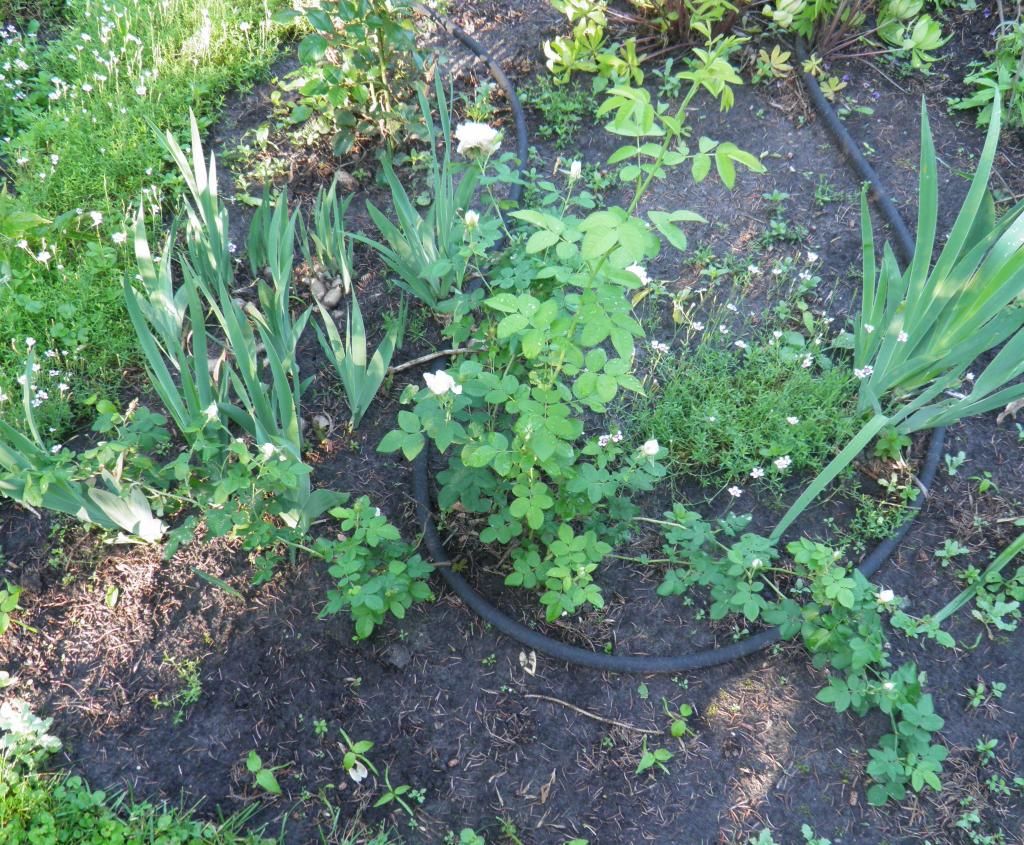 Chloris (Alba, pre-1815)
Chloris reminds me of a pink Madame Plantier. I like it a lot. It doesn't love the rain though, it wads up a bit.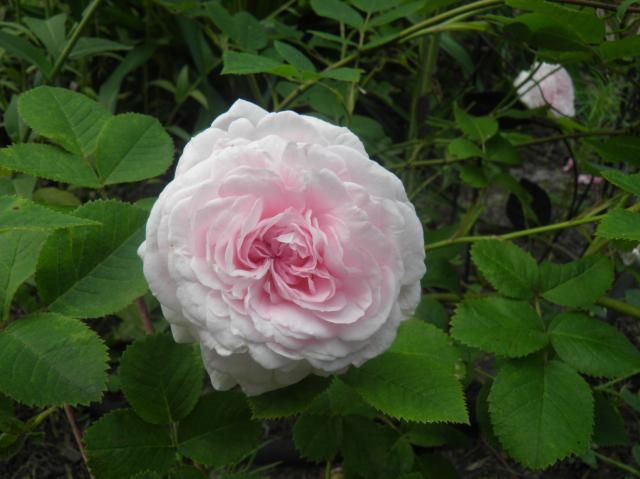 The bush put out the most incredible 5' tall basal breaks last fall, and they didn't die over the winter. It's hard to even see where it is in this photo, but the plant is going to be really big one day. Half of it is on the obelisk and the other half doesn't want to be.

Great Maiden's Blush (Alba, pre-1400)
Fantastic dense shrub, and lots of growth in one year.


(oh look, my weigela is alive after all!)
Rosa Gallica Versicolor (Gallica, pre-1518)
I have a love/hate relationship with this. It creeps all over my garden (ALL over) and most of it has reverted to the stripeless Apothecary Rose. It's still a nice pop of colour though, and never stingy.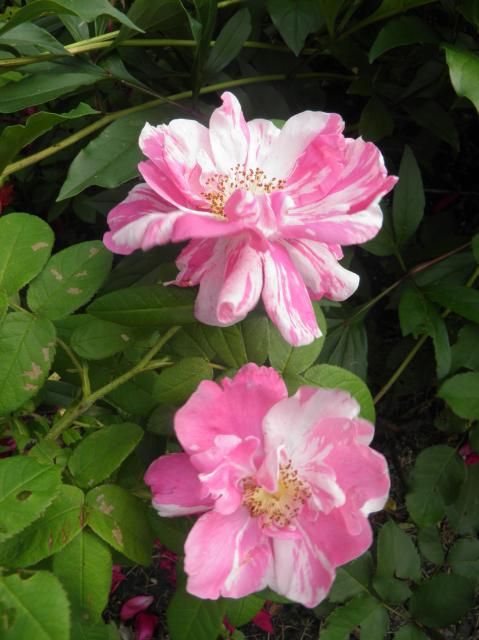 Same plant, reverted to solid

Celestial and Fantin Latour win "also ran". Neither bloomed this year - Celestial was hit really hard by the winter and is growing back nicely but won't bloom. Fantin Latour might be in a bit too shady spot. It's healthy but small and no blooms either.
At least Celestial has nice foliage.