Orlando Veg Seedling Giveaway
abnorm
(Orlando)
February 2, 2013
I like starting seeds.....I've got a decent lighting set-up and a small but devoted fan-base of Ya'll as veggie lovers....My Sister and Hubby want a variety of sweet frying pepper plants ......Em and Claude and Sherrie and Amel want those tasty 'maters and a few jalapenos and such....
Now Maxine set the bar this year.....she said "Show me the HEAT!".....so with those marching orders and Silvia's generous seed locker.....I give you the "2013 Downtown Orlando Pepper Giveaway"
HOT Pepper plants include:
Scotch Bonnet
Habernaro (seeds from a fresh pod)
Cayenne
(Amarillo,Portugal,Volcano,Cajamarca)....Gone
Also a few mixed Jalapenos available
And a few extra singles: sweet pepper or seasoning pepper orphans
Eggplant seedlings include: Orlando and Black Beauty....
(I'm trying to keep my mature Orlando eggplant for a second season)
Tomatoes ?.....Not many unclaimed extras this time around
They're all in clear 8/10 oz cups....easy to see the roots.....They are under the lights but itching to GO! You'll need to move them in/out as the weather permits .....hmmm what did Phil the groundhog say ?
I'll try to have some plastic cat litter jugs w/holes to carry your treasures home....makes moving 5 cups at a time easy......
Colonialtown North neighborhood.....32803....
Weekends...Nites...also sometimes Tues and Thurs
Send an E-mail to my name/profile for more info
dougandpam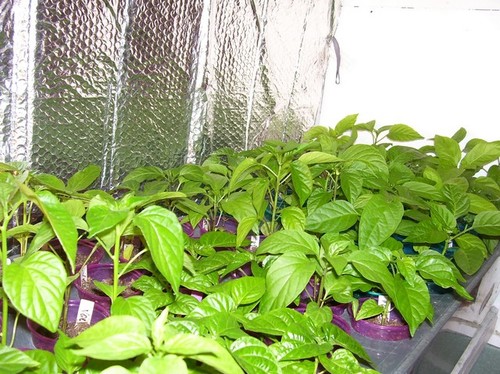 This post was edited by abnorm on Thu, Feb 7, 13 at 12:58