Harvest Pics
nc_transplant
August 14, 2010
Hi everyone, I've posted a couple of pictures of the figs I've been able to grow and sample this year. I've been following this forum for a few years, and have learned a lot about the hobby. I have about a dozen trees both in ground and potted. Beneath the pictures I have identified the type, and added some general comments. I'm in the North Carolina Piedmont region and we've had a very hot summer this year along with a moderate rainfall, so the figs have done pretty well.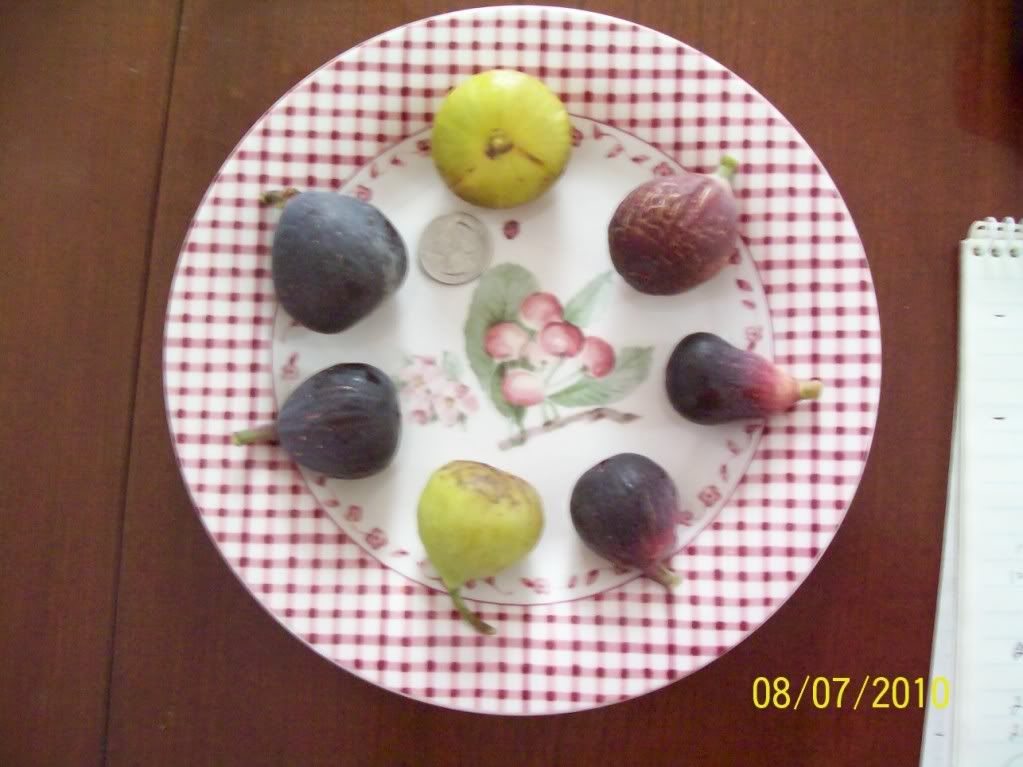 Clockwise, from top:
LSU Gold (Hidden Springs Nursery). The best tasting of all. I currently have it in a large pot, but intend to plant it in the spring. I belive Herman indicates success in NJ, so I'm hoping for the same here. The only problem I have is the tree only fruited at the terminal ends of its branches this year, not sure why.
Hardy Chicago (Edible Landscaping). First year in ground after a couple in a pot. The fruit is very good, even though the tree shows much of the effects of FMV.
LSU Purple (Edible Landscaping). Received this one in quart size from EL, didn't do much the first few years. I left it outside unprotected this winter and surprise, quite a few fine tasting fruit. I think this may confirm the need for a good chill during winter dormancy.
Violet de Bourdeaux (Edible Landscaping). Excellent tasting. I received a rather poorly formed specimen from EL, but the fruit is wonderful. I plan to air layer into several plants next year.
Hollier (Just Fruits and Exotics). I visited my sister in Tallahasse this year, and made the trip to Crawfordville while I was there. It's a real nice place, with a very friendly and helpful staff. I picked up this one and a couple of other figs. Although the tree is yet immature, the fruit was still pretty good.
Black Mission (NC State Farmers Market). I have this one in a large pot to contain its size. I'm not sure it would make it outside over winter here in zone 7, and since it can get so big a pot is probably the way to go. Tasty fruit, and quite prolific.
Petite Negri (Edible Landscaping). A small potted tree with the largest fruit of them all. Hard to distinquish from Black Mission taste-wise, but a larger fruit and quite prolific as well.
My other plants - at Just Fruits I also picked up a Scott's Black and a Champagne. Neither has ripned yet, but both seem quite happy a little further north, especially the Champagne as it's growing like a weed. I also have an Alma with unripe fruit in ground, obtained from a private plant sale in Wilmington, NC. I plan on protecting this one in the winter and sure hope it's OK, the fruit was really good last year. My Brown Turkey in a pot just recently ripened and the fruit was OK (not a big fan), I also have a small Celeste from the NC Farmer's Market which did not fruit this year. Finally, I have an heirloom fig purchased at the City of Wilmington Farmer's Market. The woman who sold me the small plant said that when her family moved from Raleigh to Wilmington they took some cuttings and started new trees there. Now I have a cutting from one of those trees, and have turned around and brought it back to Raleigh. She metioned the fruit had a strawberry interior which is great, I sure hope I didn't bring another one of the ubiquitous Brown Turkeys all the way back home from Wilmington. It's doing really well so far in ground.
Well, the fig bug has obviously bitten - I've already contacted James Robin down in Louisiana about getting a few of his figs sent my way this fall. Maybe a Ventura and a Smith.
Anyway, my thanks to all the regular contributors to this forum, your unselfish sharing of knowledge has helped me enjoy this endeavor much more than I could have flying blind - Happy Gardening, Jim