Garden Updates: Whatcha' doin'?
christinmk z5b eastern WA
August 27, 2010
The forum seems to have slowed down a lot through summer, so I thought it would be fun for everybody to catch up with what has been going on in the garden. So what have you guys done in your gardens over the summer? Any big projects get done? Any plans for fall?
Early this summer I got fed up with certain areas of the garden and decided to do something about it. Since then I have been moveing things around tossing out plants (ok, just common things that there are a repeated around the garden a lot anyhow). I am also trying to shift things around so that the plants that stay nice all the growing season (ie don't brown up, die down, or have to be chopped back) are in the front of the beds or cleverly placed to disguise the ones that do get ugly as the season progresses. The back yard garden is coming along with regards to this, but I am not happy yet with the front "rose garden" space. I think adding a few late blooming plants would help...
The porportion of things was bugging me too. Somehow the main area of the garden just didn't look "right", no matter how I placed or planned it. Put a tallish plant in and it would block something. There were already too many low plants there as it was.
Then I figured it out- I was working with too many angles in too large a space. So I put in a little pathway that is lined with rocks (like my main pathway in the garden only on a smaller scale). Now I have smaller areas to work with and design out better. Plus, you can see all of these smaller areas from the pathway now!
Forgive the mess, this is one of the areas I have been working on/moving things around in. Here is a picture of the new pathway: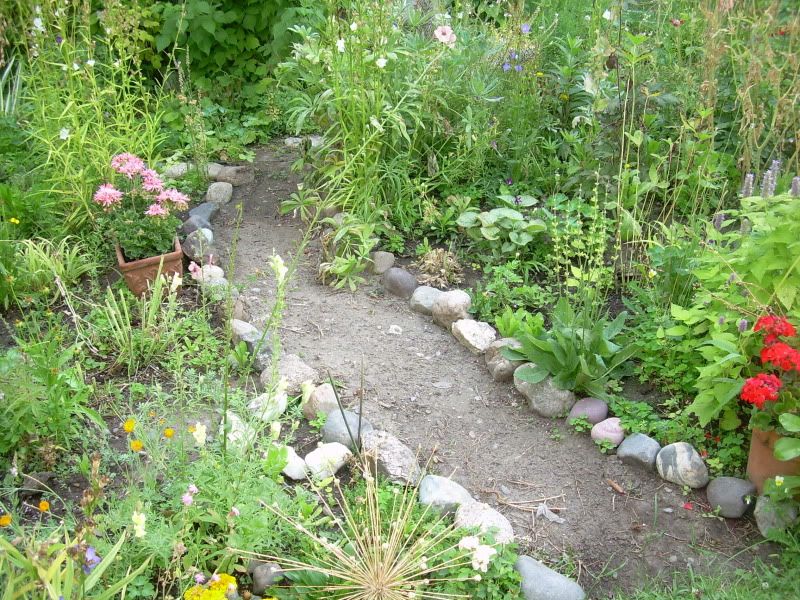 Then I also moved some flat rocks I used as stepping stones by the patio into the new front shade garden. They were of no use in the back since plants covered them up my mid spring!! I really like how is turning (still need more flat rocks!) out. Kind of naturalistic: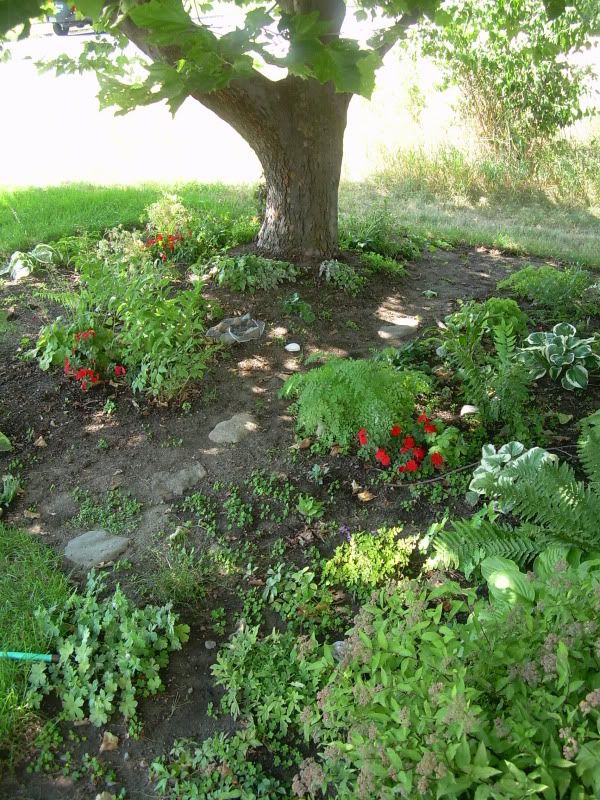 Plans for Fall: continue to shift things around in the garden. The temps are starting to get cooler, so now is a perfect time to start moving things again, lol! Then I need to place some bulb orders for the items I can't find locally. Then comes bulb planting time 8-)
Your turn! What have you been doing in the garden this summer? Got pics? What do you have planned for fall?
CMK