Yellowing leaf on fig tree
Hi guys!
I purchased my very first fig tree a few days ago, and I planted it in a large vase and watered it, not too much though.
Now I already have 2 problems with it:
1) Shortly after, two or three days later, some of the baby figs fell. Today I opened a few to see what was wrong with them and all had larvae in them. I read up on it, and presume it is fig wasps. This shouldn't be a problem as I intend to keep my fig indoors for the time being. Please correct me if I am wrong and must do something urgently.
2) Please see the attached photo. One and possibly two leaves are going yellow, like as if they were stained. I need your help in identifying this problem and in administering the proper treatment. Is it fig rust? For the time being I have left the affected leaf on the tree, but placed a transparent plastic bag over it (probably useless lol).
Thanks for reading, any help will be immensely appreciated!
Edit: I can add that the tree is indoors, in Portugal, it has new leaves appearing from top and trunk, and one fig is actually ripening quite well, while the others are still young.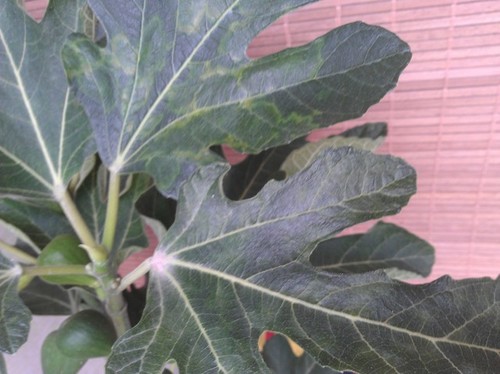 This post was edited by AnaCosta on Tue, Oct 15, 13 at 7:50