No wasp, no ripe fig?
Hi all,
I have been reading up on fig wasps and I have seen that there is an important relationship between them and ripe figs.
I have recently posted a message asking about my new fig tree, and mentioned that some of the figs it had dropped off prematurely, and that they had larvae inside them. In the meantime some more dropped too, and those didn't have any larvae in them.
I am now assuming they are dropping from repotting shock (as also suggested by a forum member), and nothing else.
My doubt is as follows: My fig tree will be indoors for a while, at least a year or two. During this time, I assume, as it is indoors, it wil not have contact with fig wasps (unless I somehow keep the ones I assume are in the figs my tree still has). Does this mean I will not have ripening figs for two years?
I can put the tree in my varanda, but I live in the city, and all sorts of nasty critters attack the plants in my varanda, ranging from red spiders, to come sort of catterpillar, to cochineals and god knows what else, and I'd like to spare her and myself from such horrors.
Please forgive my noobness on the subject, any explanation would really help.
Thanks!
P.s- Please see the photo below, I am no expert and don't really know what it is, other than F. carica. I was told it is from the south of Portugal (Algarve)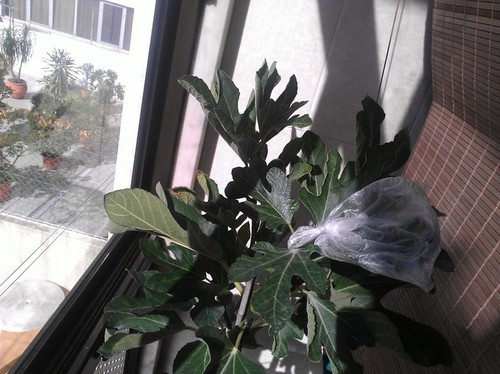 This post was edited by AnaCosta on Tue, Oct 15, 13 at 12:34