is this sum and substance?
jiggreen
(zone 6b, carlisle PA)
May 18, 2006
i "happened" across this hosta a couple of years ago, well...truth be told, i snuck out in the middle of the night and dug this hosta up that was on an abandoned property and divided it, replanted it and took a couple of divisions home with me. i'm curious as to what kind of hosta it is. i'm thinking sum and substance, but i'm not sure. the original hosta that i took my divisions from was about 3 feet wide and 2 feet high...mine aren't quite that large yet. the individual leaves are much larger than any of the leaves on my other hostas. i should have taken a photo showing my hand as comparison to the leaf size, but i forgot to. i'm hoping someone can id from this picture.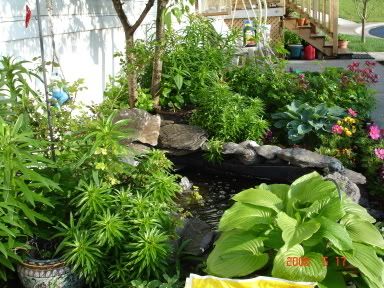 thanks!
jiggreen