2012 Best Blooms from Houston - Round 2
dementieva
(Zone 9 - Houston)
June 16, 2012
This is the follow-up to my other post from late April (I've linked Round 1 at the bottom of this post for anyone who missed it or wants to revisit it).
Since I don't have time to do this every day, I'm only posting the best photos from each cultivar in the garden. So here we go...
BECAUSE OF YOU (Maryott) - I have this and WORLD PREMIERE planted next to each other. They are siblings from the same cross, and my opinion so far is that BECAUSE OF YOU is the better of the two. It has just a slight eye that almost disappears some days.
BLUSH OF SPRING (Petit) - Planted last fall as a DF. It bloomed its heart out and tried to rebloom, but it looked stressed so I cut the scapes. Better scapes (branch/bud) than some of the plants I've had longer.
BROADWAY REVIEW (Grace Stamile) - I like the orange color into the throat of this one. Looks a lot like its grandparent STRAWBERRY CANDY.
CITRIX (Stamile) - If you've seen CITRIX before, you knew what it was as soon as you saw it. Opens well every day.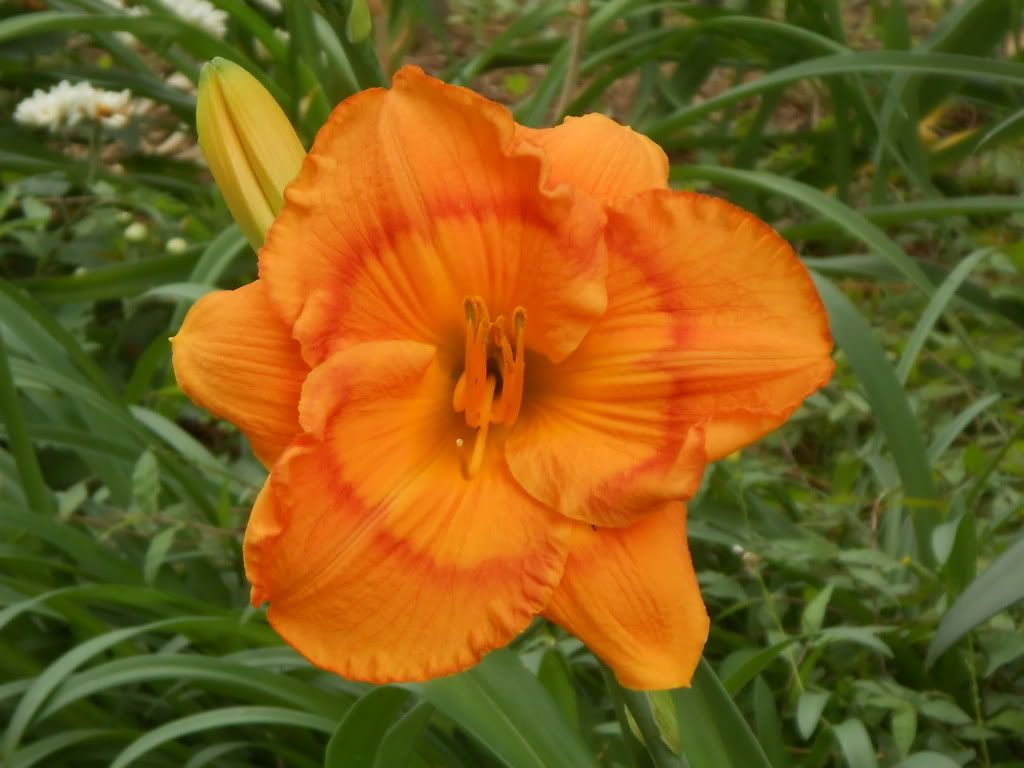 FIRE AGATE (Stamile) - This is my favorite daylily that I grow based on overall plant quality. It grows and increases very well, has not rusted despite being in an untreated seedling bed, and has good strong scapes. Floyd Cove and AHS DB both list it as 23", but I think that's a mistake, since it's consistently about 33" here. The flower is sometimes single and sometimes double and I love the color. I have a lot of pods on it. :)
FREE WHEELIN (Stamile) - I included FREE WHEELIN in Round 1, but I'm posting a new picture because this photo won best in category (Single Bloom) at our local club flower show.
JUDY FARQUHAR (Stamile) - I have to be honest; I don't care for this. It doesn't always open well, usually because the big fat edges stay partially rolled in.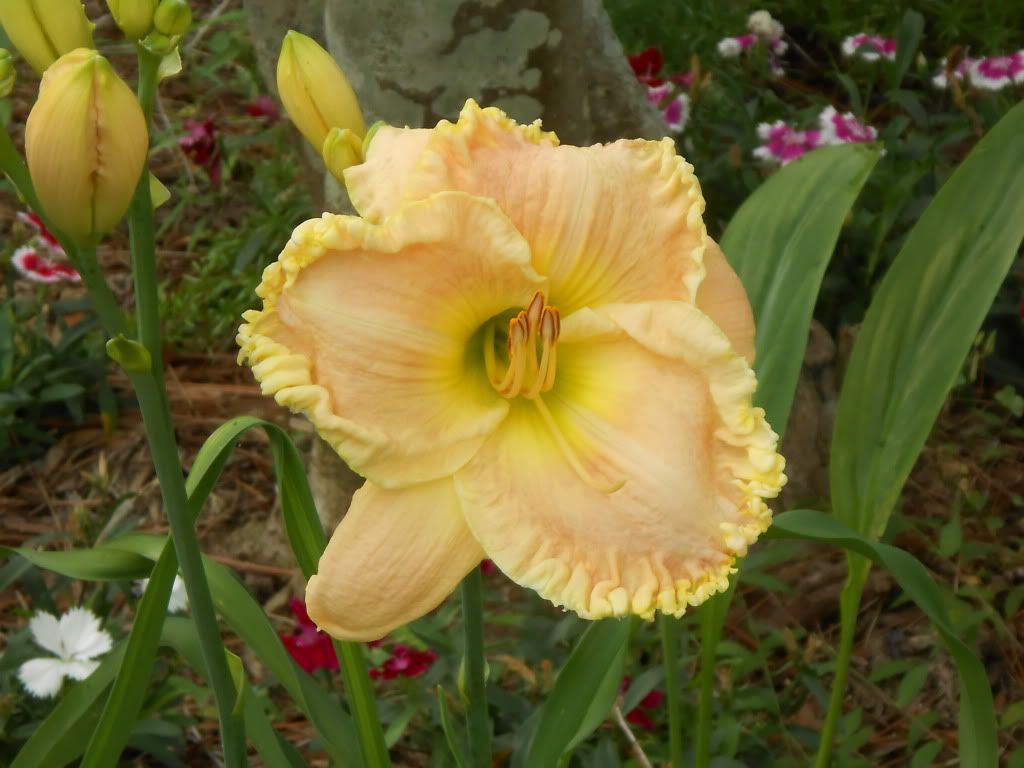 LAHOMA'S LEGACY (Travis) - Gift from the hybridizer (who also happens to be a forum member here). :) It had just finished blooming when I planted it, and now it's blooming like crazy on four rebloom scapes. Big and sturdy diploid.
RAY SOUTHWORTH (Travis) - Also a gift from the hybridizer. Also blooming like crazy on reblooms.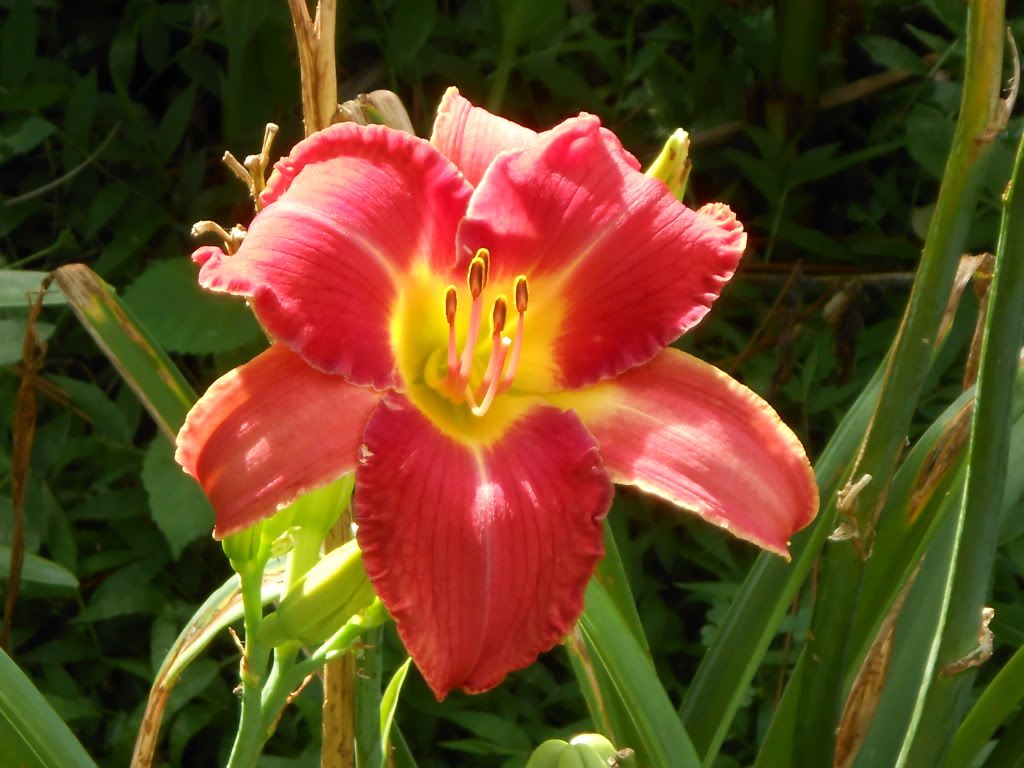 RED VOLUNTEER (Oakes) - It's just a single fan for now, but I've seen it enough gardens to know it will be great.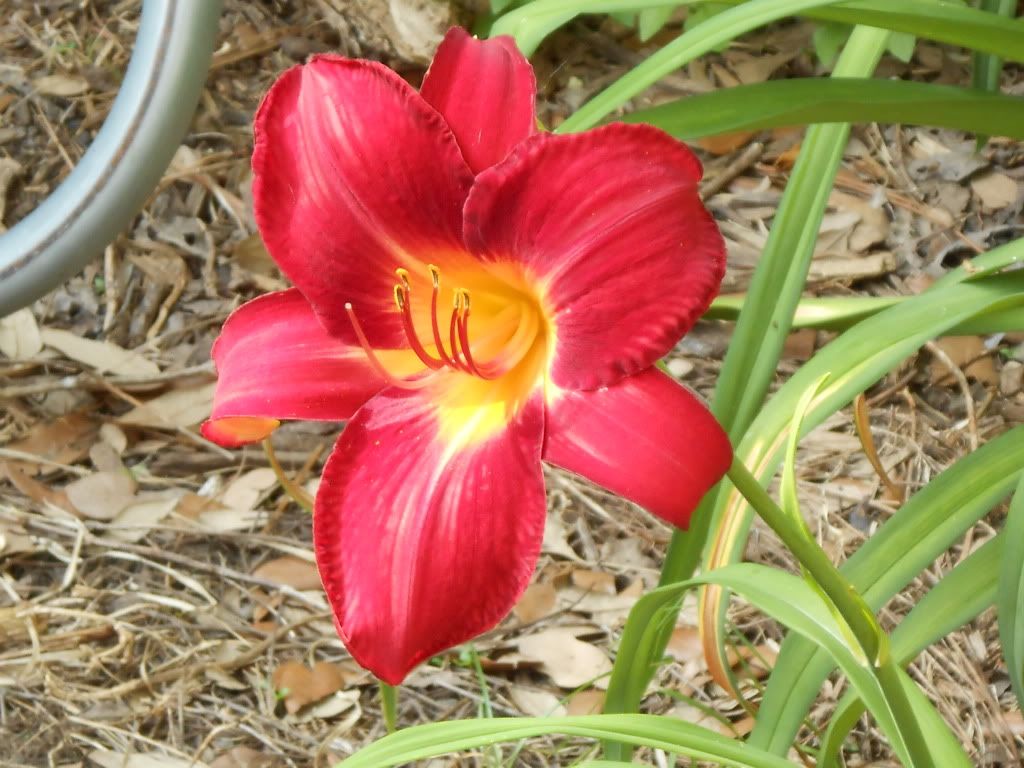 ROYAL GLORY (Breeden) - Received from the hybridizers, a local couple. It is just a single fan, and it got stomped to almost nothing by siding installers, so it was my last daylily to put up its first blooms this year (ignoring the few that haven't bloomed at all). The purple is hard to capture on camera. Another big-flowered dip.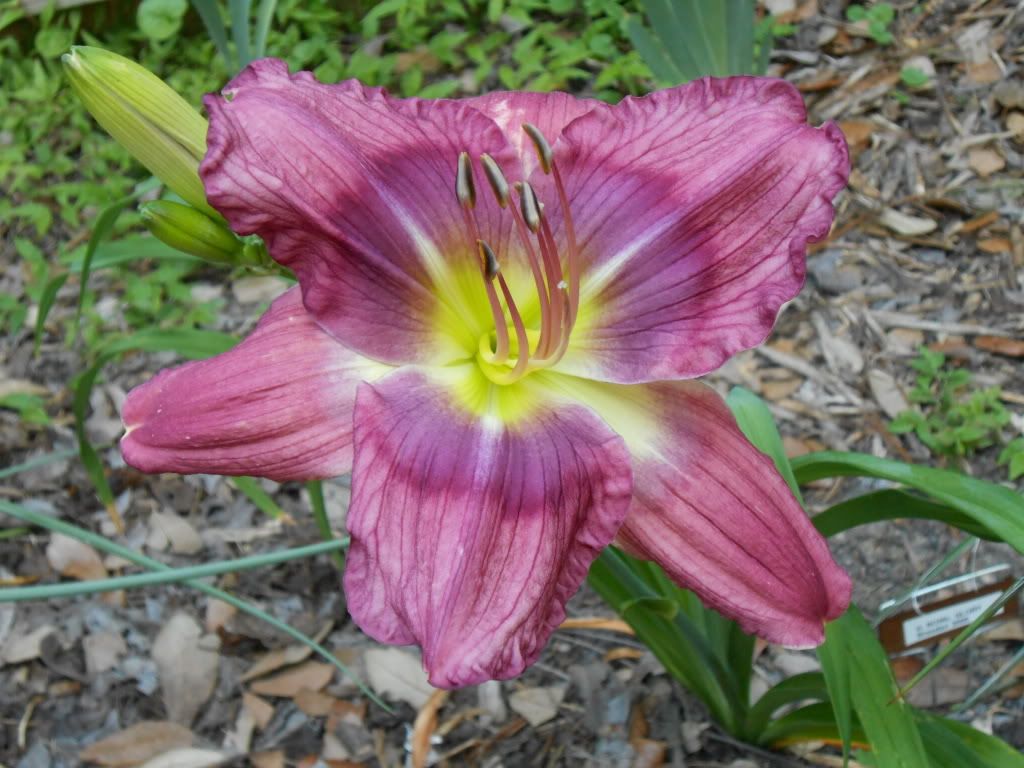 SOUTHERN WIND (Stamile) - This one looks a lot like JUDY FARQUHAR to me, but it seems to be a little better (funny since it's older). Still not a favorite.
STRAWBERRY CANDY (Stamile) - See? I told you BROADWAY REVIEW looks like it!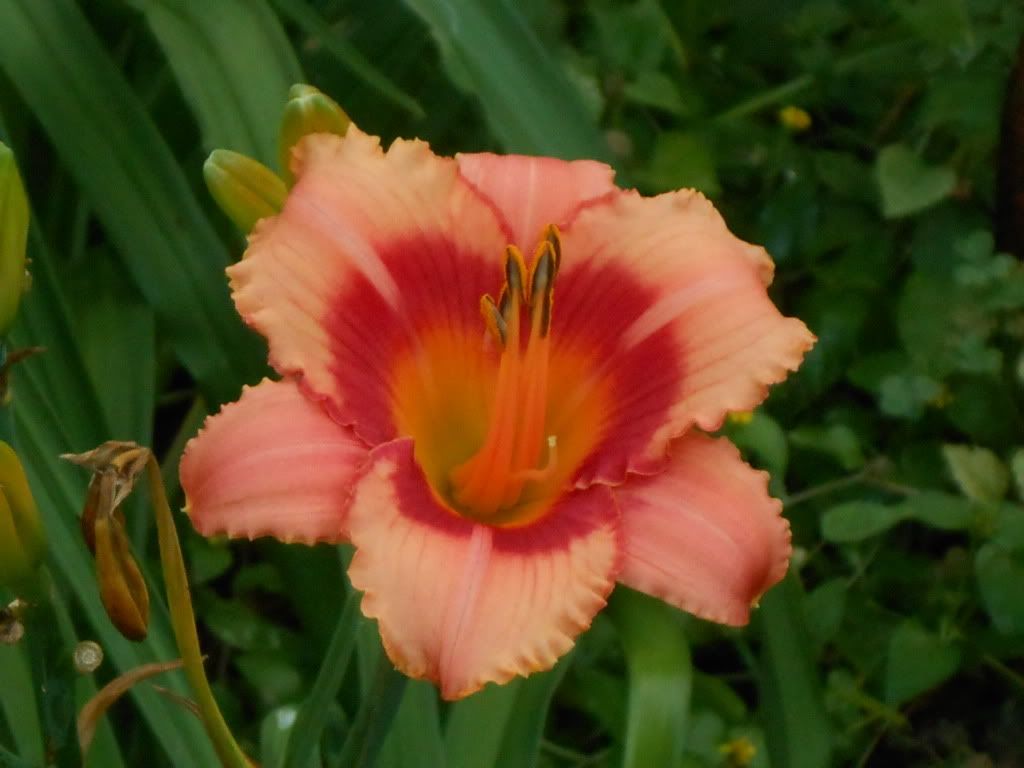 WALKING STICK (Eskine-Eskine) - Another local product from a member of our club. It is registered at 60", but my initial scapes (on a brand new plant) were *only* 44".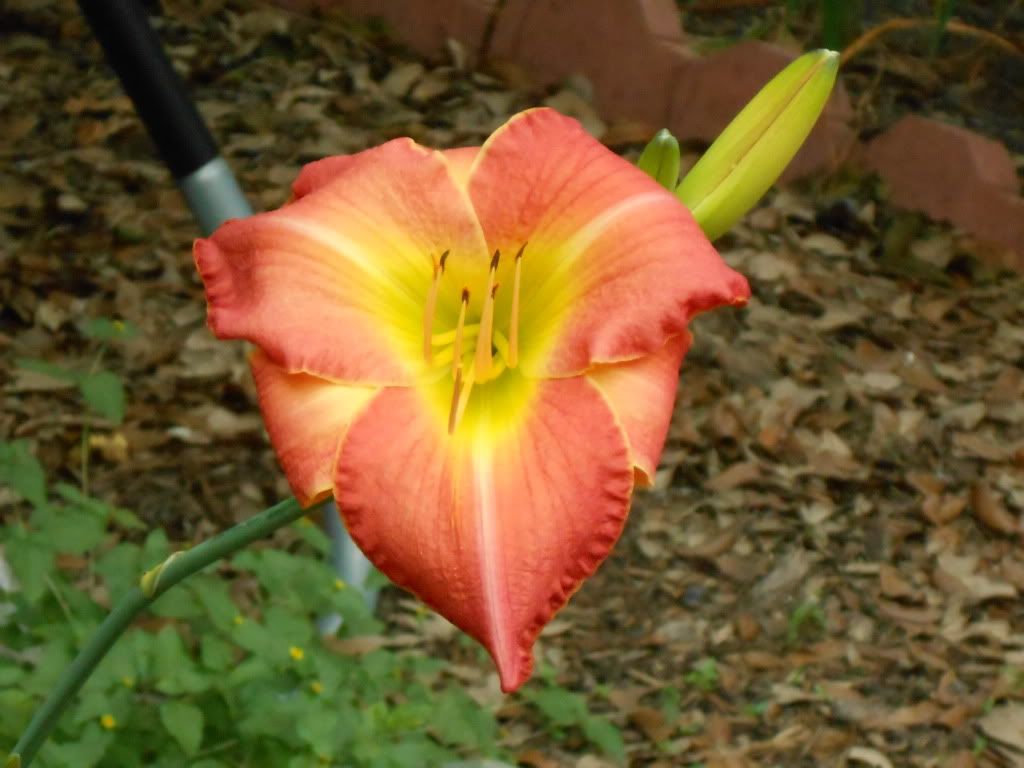 WORLD PREMIERE (Maryott) - This is the sibling to BECAUSE OF YOU. It has increased a lot, but the flowers almost never open right. Sometimes they get hung up on their own ruffles, but usually they just stop opening before they flatten out. It's a shame because they look good when they do open flat.
Garden shot - TIC TAC TOE (Maryott) foreground, DARK REFLECTION (Kelly Mitchell) on the right, and you can see BOLD MOVE (Maryott) with the brick red blooms in the background. All three of those were planted in 2010, and all have had excellent reblooms this year. The tall bluish flower is agapanthus (also known as African lily or lily of the Nile).
Garden shot - BOLD MOVE upper left with all the pods. RAY SOUTHWORTH upper right. STRAWBERRY CANDY middle. "Bela Lugosi 1" lower middle. SCREEN PATTERN (Stamile) lower left. SKINWALKER (Ned Roberts) lower right. I've described before how my "Bela Lugosi" is not right - BL 1 blooms relatively pale, doesn't open right, and only blooms for two weeks. BL 2 (the buds to the right of BL 1 in this photo) begins right when BL 1 stops blooming, and it's a little darker, also finishing in two weeks. At this point they're just keeping the seats warm for better plants.
Garden shot - These were all new last fall, and they're next to our composters in back. SOUTHERN WIND top left. WHEEL OF TIME (Petit) top middle. It has scaped a couple times, but the flowers haven't been opening all the way. WALKING STICK top right. RED VOLUNTEER bottom. The two unopened scapes on the upper right are BLUSH OF SPRING.
Nate
Here is a link that might be useful: 2012 Best Blooms from Houston - Round 1