Fuchsia Magellanica
Hi! I started some Fuchsia Magellanica from seed on 01-27-09, they germinated in a week..I had 5 seedlings.
Here is a pic I took of one the other day.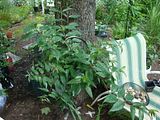 Can anyone tell me if it may bloom this year? Is there a tell tale sign I can look for to tell if it will be setting buds?
I had also started some Fuchsia Boliviana Alba seeds at the same time, they never germinated. I started a second batch about a month ago outside, still nothing. I'll give them till fall, but was just wondering if they are hard to do from seed?
Thanks,
Daniella