Fig Cuttings For Trade or Postage
I have lots of cuttings and will have more. If you would like them, let me know and I can send some, if you'll send back the postage plus the cost of the mailer. The mailers are about $1.50 and postage usually a couple of dollars. I don't want payment for the cuttings, just reimbursement for mailing.
I moved a fig tree today and pruned it heavily. I think it is Brunswick / Magnolia / Dalmatica / Madonna. It was a NOID cutting collected 10 years ago in Vancouver WA that looks most like the Brunswick type fig. The figs are large, tan color, pale cream color inside, very very sweet. Here in Maritime NW the brebas usually fall off. The Main crop is also fairly late, so I don't get a lot of figs. I'm moving the tree to a sunnier spot to see if it does better.
I will also have cuttings available for the following next month. They are listed with the name I obtained them as, first, then what I think are synonyms if there are any.
Petite negri. For me this is a slow growing small tree. It's easy for me to grow from cuttings. Sometimes I get fair breba crop but mostly main crop. I lose a few of the main crop due to rainy fall. The figs have a great "fig" flavor. Fairly small fig but great "figgy" flavor. Not as sweet as Brunswick.
Hardy Chicago. I get few or no breba, but it's the first of my main crop, and I usually get lots of figs. They have a great "fig" flavor. Fairly small fig but flavor is similar to that of dried figs, I like it a lot. Not as sweet as Brunswick.
King / Desert King. These are green outside, red inside. This is my best for breba crop. They are almost all breba, but unlike the web info I do get a few main crop. This is my most vigorous grower. Very sweet.
Lattarula / Lemon / Blanche / Italian Honey / White Marselles. Good here for both breba and main crop. Green fig, cream colored center, very sweet but less of the 'figginess'.
I am hoping to add a couple of new or novel varieties so if you have one that needs pruning and seems interesting, I might be interested. Not interested in Turkey fig, tried that and didn't like it.
The Brunswick are already cut. The others I plan to cut this month.
I've tried various ways of growing cuttings. Usually I stick them, half their length, into the soil of a planter that is being used for other plants, and just water as needed for the other plants. I get about 80% of my cuttings to root that way, which is plenty for me with minimal effort. The more involved methods are probably better and maybe faster.
The pictured figs are Hardy Chicago (left top), Brunswick (right top) and Petite negri (left bottom)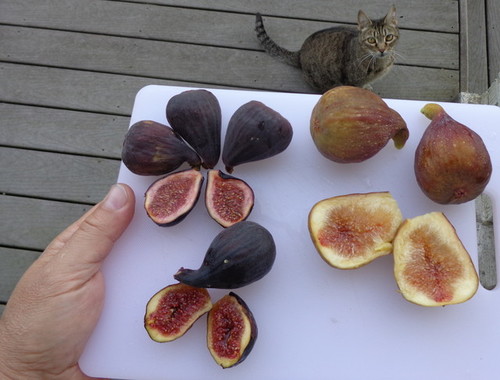 Here is a link that might be useful: Petite negri fig tree