Two for the poly lovers
polymerous
(9b)
July 2, 2012
Here are two blooms, one from Saturday evening, the other from Sunday morning (6-30 and 7-1).
OSTERIZED is registered as 50% polymerous, but for whatever reason(s) (I have my suspicions), it only produces poly blooms about 2% of the time here, at best. Yesterday saw one of these rare blooms, which I took a picture of yesterday evening. (The bloom is slightly faded, the picture was edited to amend a broken petal, and the angle is odd because it is in a raised bed.)
Despite its lack of polymerous blooms (and rebloom), I love this daylily anyway. It has lovely foliage, the blooms are always open early and well, they are a bright cheerful lemon yellow, and they are fragrant. OSTERIZED started blooming this year at the end of May, and will continue for at least a few more days.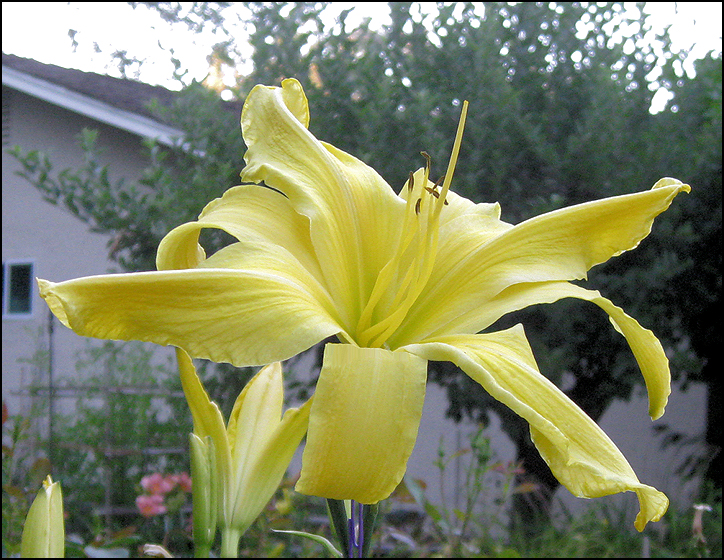 This morning the humidity in the garden was higher than normal, and I got out there while the sky was still overcast, and I was rewarded with beautiful color on these two polymerous blooms on Richard Norris' HIP TO BE SQUARE. This daylily is described in the AHS registration as being 60% polymerous (which seems about right) and a "cream yellow pink polychrome above green throat", and that is how it usually looks here - not the gold yellow pink it appeared this morning. (Please excuse the brown foliage, and also the red flag, which I didn't even notice when I was taking the picture. The red flag is to mark an area where we need to add an extra sprinkler head to the raised bed.)