Pelargonium #5 from Geraniacea.com
mark4321_gw
March 27, 2014
I bought a Pelargonium from Geraniacea.com a few days ago at the SF Flower and Garden Show. In all the plant shows and sales I've been to, I've never had more people ask me where they could get the plant I was carrying. So I figured I would post it in the appropriate forum.
Robin Parer from Geraniacea.com told me it was a new hybrid, which doesn't have a name yet. It's only being called "#5" at this point. A friend who has hybridized Pelargoniums in the past tells me he suspects P. 'Old Scarlet Unique' might be one of the parents, although I don't have confirmation of this..
They were selling many other interesting species and hybrids, including P. 'Splendide'.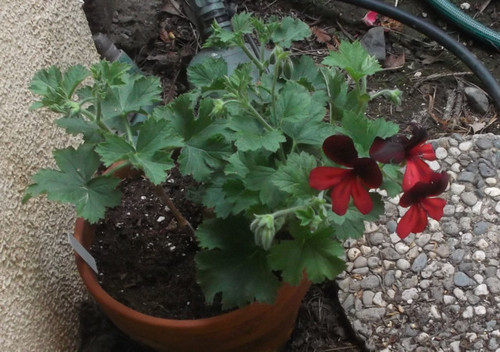 Here is a link that might be useful: Geraniacea.com