Star jasmine leaves turning red, help?
roberta_mac
(5/6)
July 18, 2007
My husband bought me this beautiful star jasmine for our anniversary in May. And with a little reading, I've kept very good care of it. Until this week it seems, the leaves are turning red! We've had a very dry, hot summer, so I've watered it every other, once every three days since June, and it didn't do this, the care I've given it hasn't changed at all. I'm not sure if this is normal or not, here are the pictures: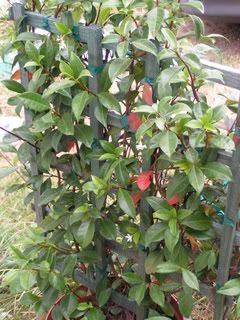 I love this plant, and hope to add more jasmine in the future, so any help would be great! Thanks in advance.
-Roberta