Giving away FREE giant vegetable marrow seeds
Brian_NY_NJ_PA
(zone 5/6 NY/NJ/)
November 11, 2005
Giant English vegetable marrows are rarely grown in the USA. They are common in the UK, and are used in giant vegetable competitions. Giant marrows can be cut while they are young and smaller, and they are similar in taste to green zucchini. In the interest of seeing giant vegetable marrows grown in the United States, and anywhere else for that matter, I'm giving away giant marrow seeds for free. The original seeds were given to me by Bernard Lavery(UK) from some of his 100+ pound specimens, and from Richard Hope(UK) from his giant specimens. My plants weren't too great this year because of the heat wave, but at the end of the year I started to produce quite a few smaller marrows. They seem to do better in places with cooler summers. Regardless, people who have grown seeds directly from me have had them up to about 90 pounds.
If you want some seeds, email me at sunflower_info@yahoo.com and ask me if I still have some. If I do, I will email you back with my address, and you can send me a self-addressed stamped envelope. If you catch me in a good mood, I may throw in a few Bott's Strain sunflower seeds with them (I saved quite a few heads this year).
If you want to be really nice to me, you can send me a seed or two to some of your giant vegetables, if you have any. However, this is NOT required. I prefer veggies other than pumpkins. I don't really have enough room for them with everything else.

Me with a 30+ pound marrow

Me with a 20+ pound marrow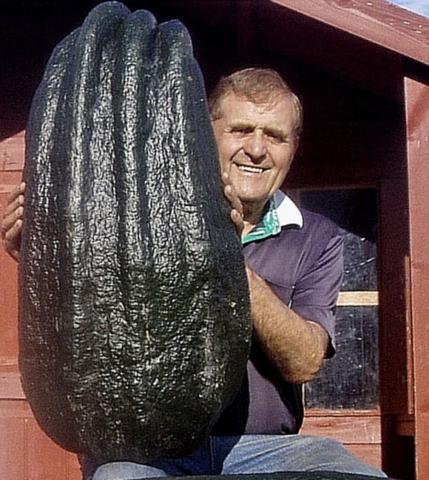 Bernard Lavery (UK) holding a 109 lbs. marrow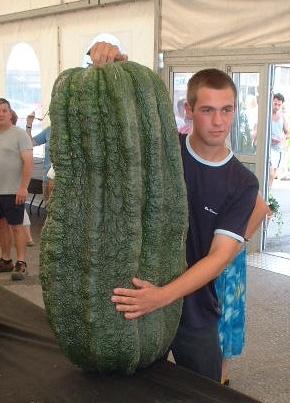 2005 world record marrow at 137 lbs. grown by Mark Bagg in the UK.
Here is a link that might be useful: my giant sunflower website