Pics of past plant swap goodies (image intensive)
squirrellypete
(z7b AL)
May 7, 2009
I've been snapping pictures of my garden as things have begun blooming and I realized the other day just how many things I've received from you generous folks these last few years. I thought I'd post some of the pictures to share. So far the biggest shows have been mostly from iris, many of which have bloomed for the first time in my garden this year.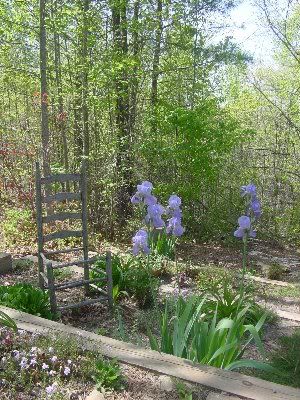 This is a shot of one corner of my terraced garden. There are some lovely pale blue Iris I got at a trade and they multiply like crazy. I've got several clumps spread around the garden now. Soon one of my hardy hibiscus will grow up through that wooden chair.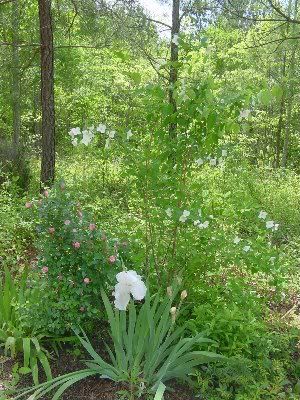 This is a shot of my overflow bed. Some of the things I've gotten in trade are crowded in here right now until I can get their final beds and planting areas built. There is a mock orange in the back, along with a lovely pink Lamarne rose and some white bearded Iris.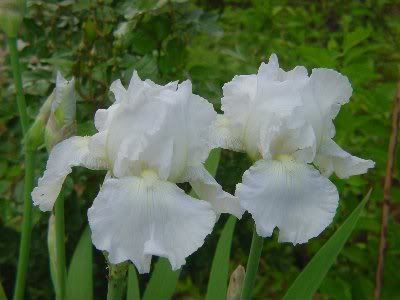 closeup of white bearded Iris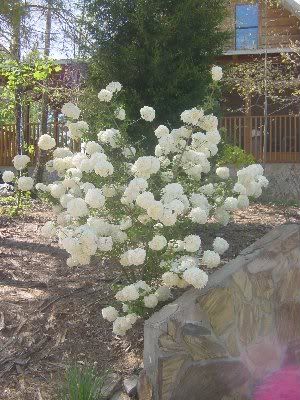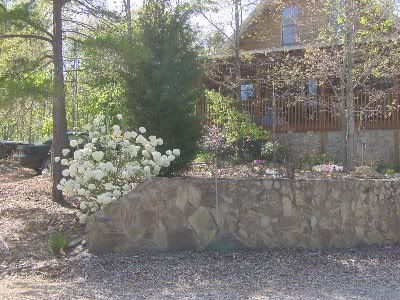 My Chinese snowball bush. One of my best discount rack buys. Still an impressive show considering it lost over 40 flower heads when that nasty wind storm blew through a few weeks ago.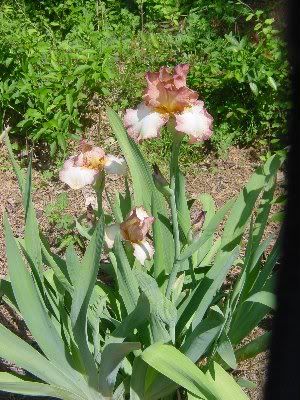 I think this is 'Cinnamon Girl' bearded Iris someone gave me in trade. First time I've seen it bloom.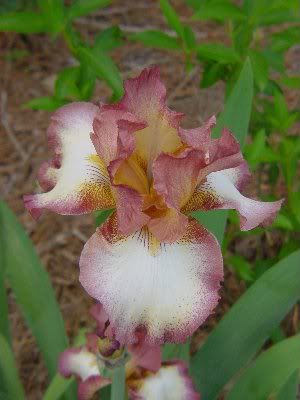 Closeup
Dark purple Iris from the plant swaps. Another first time bloomer for me this year.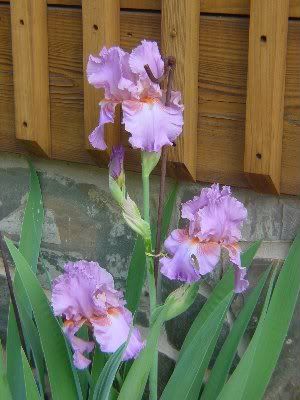 This Iris is one of my favorites and it blooms every year. I think this was from the first swap we attended at Glynis' house. My mom picked it up for me during the free for all. I don't know who it came from but I love it.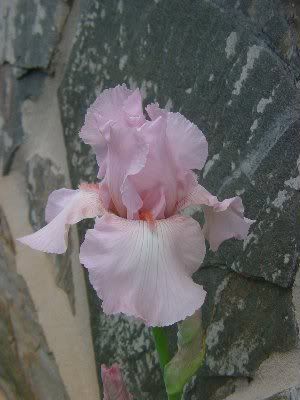 The last swap I attended I asked if anyone had any pink bearded Iris and somebody brought some for me. I had never actually seen one but it bloomed for the first time this year and I am thrilled with it.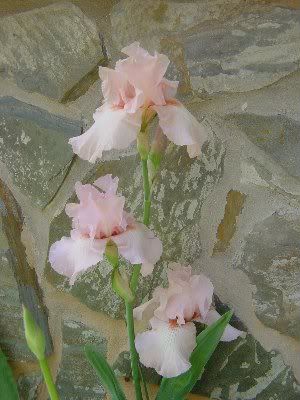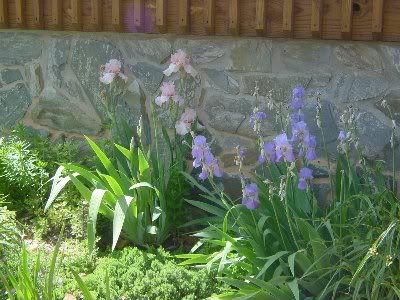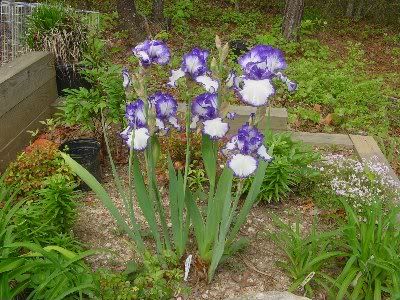 I bought this one last year and it's blooming in my garden this year. If memory serves its 'Rare Treat'. I love the color and hopefully it will multiply well.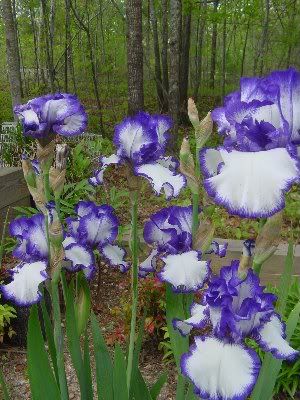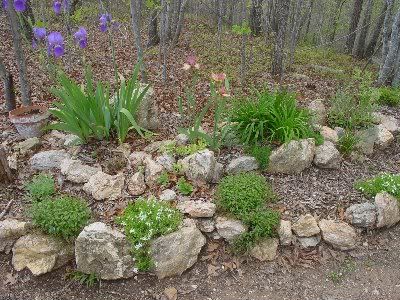 shot of part of my rock garden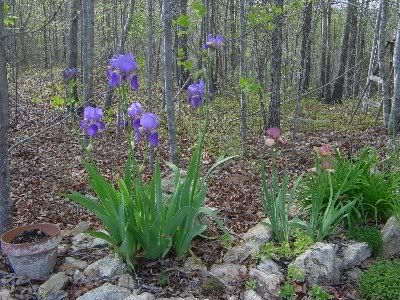 This is a very tall purple Iris I got from one of the swaps. This is the first time I've seen it bloom. It sent up stalks a year or two ago when we had that awful easter freeze the first week of April. I tried to protect it but it turned to mush.
Same purple Iris along with shorter 'Rock Star' bearded Iris in the rock garden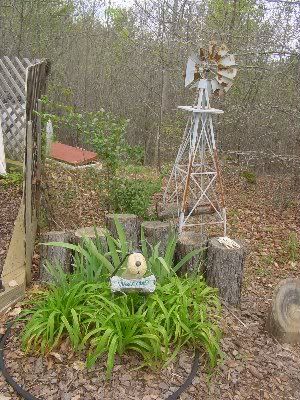 If you're visiting our place, this is the first little bed you come to along the drive. My sister just gave me this little metal yard art dog and he fit right in. That bed will explode with red President Betty Williams daylilies in a few weeks.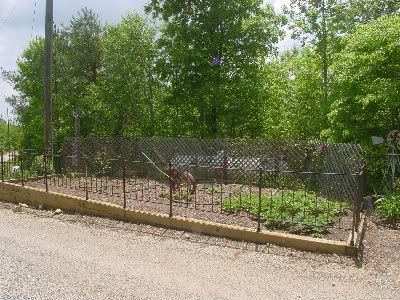 A broad shot of the vegetable garden. Still have some planting to do and need to mulch it and hide the hoses.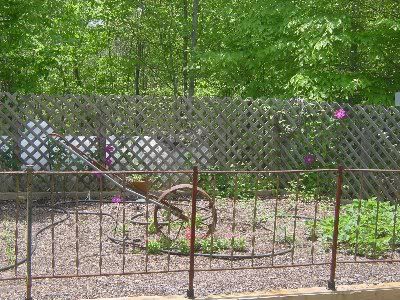 Closer shot of veggie garden. I pulled that old plow wheel out of a freecycler's scrap metal garbage pile and I love it. Planted some petunias there this year for a splash of color. We have an ugly propane tank behind the lattice but I have golden Showers climbing roses and a variety of clematis starting to fill in to hide it.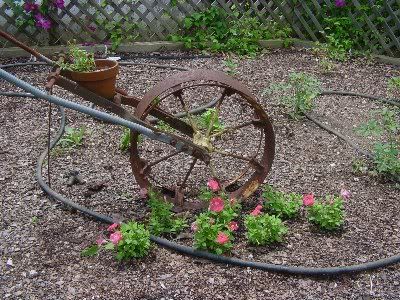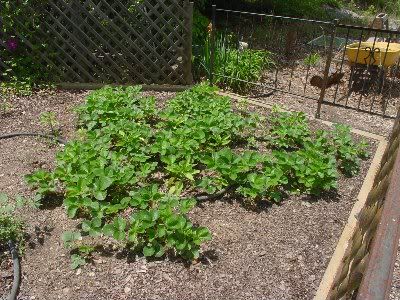 My spreading strawberry patch. Gets bigger every year. There are actually pepper plants hiding in there too lol.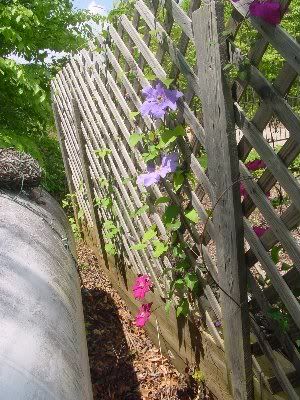 I swear this violet purple Clematis refuses to bloom on the front side of the fence lol. Only one who can appreciate it is the propane tank.
Still not a whole lot blooming yet. I'll post more as the garden comes alive. I'd love to see pics of ya'lls gardens too!
Danielle