Peanut Crown Pumpkin
French growers say "Potiron Galeux d'Eysines" (Gd'E) and fruits look like this:
http://www.utopaille.fr/legumes-bio/images/potiron-galeux-d-eysines.jpg
Although it was originally bred as a crown pumpkin (like Turk's Turban) some centuries ago, here's no crown anymore, because growers select to have only warty lingerie...since the name Gd'E just means warty one form Eysines (Girondes, Bordeaux).
Also the whole world seems to dislike the old crown around the blossom end and that nice bonnet in it, we love this virtue!
Therefore we simply name our breeding-line of the Gd'E "Peanut Crown Pumpkin".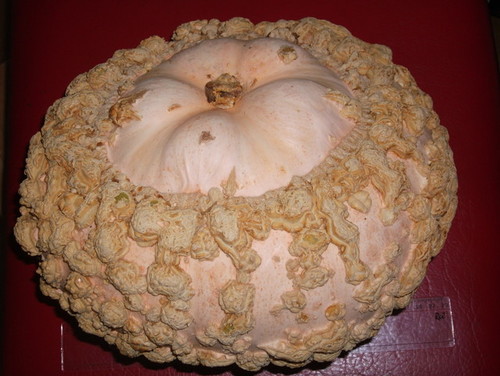 This post was edited by acorneti on Sat, Aug 30, 14 at 9:34