Wrong time of year, but who else is dreaming of the Spring Swap?
squirrellypete
(z7b AL)
November 17, 2012
We've barely stepped foot into winter here and already I am chomping at the bit to go to a Spring Swap this year, we weren't able to attend the last year (or has it been 2?!).
Since this forum has been kinda quiet lately, what all do you think you'll have to share next year and what will you be looking for? I know there will be an official thread on the exchange page as it draws closer, this is just for fun right now. I've been daydreaming of green Spring plants lol!
I just rooted and potted up:
Rooted Butterfly Bush cuttings (all colors)
Stella De Oro Daylily divisions
Leebea Orange Crush Daylily divisions
Rooted 'Pink Princess' Weigelia cuttings
Knock Out roses (2 colors)
Golden Showers climbing rose cuttings
Strawberry Plants out the ears! (Annapolis)
Loropetalum cuttings
Rosemary cuttings
Mock Orange Cuttings
'Vielchenblau' rose cuttings
'Limelight' and 'Silver Mound' Artemesias
Crape Myrtle Cuttings (bubble gum pink color)
Leyland Cypress cuttings
'Walkers Low' Catmint cuttings
'Green Mound' Juniper
Possibly some Boulevard False Cypress cuttings
Nikko Blue Hydrangea cuttings
Probably have some veggies from seed available too
Wishlist:
Heirloom Tomatoes and other veggies to try
Fruit trees
Brugmansia
Confederate Roses
Rose of Sharon in different colors
Daylily varieties I don't have
Red Crape Myrtle (not magenta.....RED)
Tall Bearded Iris in different colors
Black or unusual Elephant Ear
'Mona Lavender' Plectranthus
Most of my garden is looking kinda bare this time of year but as you can see, I still have something growing in my hanging baskets: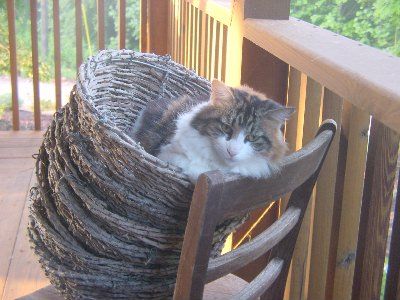 And a couple more pics of my garden helpers:
Starbuck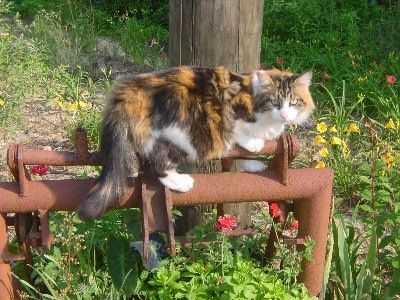 Jynx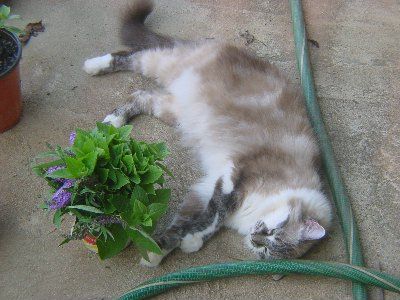 Danielle