What a mess. Project pictures.
newyorkrita
(z6b/7a LI NY)
July 11, 2012
I am still working out there. Dug and moved Fancy Face from the first row, and dug and moved (replanted) LOTUS POSITION and BUTTER DISH. Then I went along the rest of the row and lifted all the rest (except for one) of the clumps of daylilies along in there which were in the second row. I just have them sitting around in the shade along with the iris that I dug out yesterday.
Here is the section of driveway side garden being worked on. Lilies in back staying put. Used to be a double row of daylilies along in there. Now there is a mess, ha-ha.
Here is a lot of clumps (iris and daylilies) that need to be replanted. On the daylilies I was able to mostly get them compleat with soil so they can be replanted more easily.
Now WHY did I have to dig up all these daylilies along there? Because I have some tomato seedling new that I had to find a spot for in the garden somewhere! I really should make this area into an iris garden but for now, tomatoes are going along there in front.
Cucumber row. I was working up here yesterday.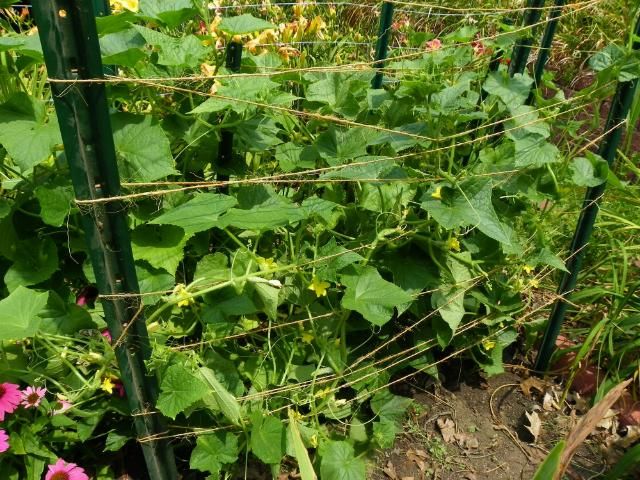 Here are my posts and string tied for the cukes to climb up.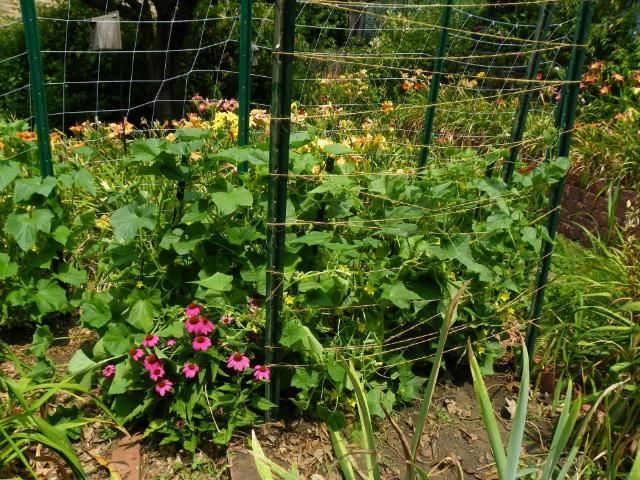 This is the back view and along at the bottom of the fence posts is were I dug out the iris clumps yesterday.